News
California Legalization Could Bring Unexpected Changes
Indoor Marijuana Growhouses Planned, but Outdoors Could Prove More Cost-Effective
What kind of changes will California legalization bring to the cannabis industry? Some key players see this more as a natural part of "the movement" and look to continue helping companies navigate the regulatory process while seeding innovative new businesses. Seasoned Los Angeles players see it opening up investment in the Golden State, which they contend has always been the king of cannabis. Others forecast a seismic change in cultivation practices as the Central Valley gets involved.
Colorado Expansion
Patrick Rea of Canopy Boulder, the leading seed-stage cannabis business accelerator, sees legalization in California as an important step for federal approval. Instead of engaging in regional bias, he welcomes influential leaders in every state. "We don't see this hurdle as crossing the finish line. The industry is just finally getting to the starting line."
Canopy Boulder plans on opening a business incubator in the San Francisco Bay area later this summer to capitalize on legal growth. Compliance is the key issue for California, and this is where his company's experience can help. In Colorado, government and industry have worked well together in drafting regulatory guidelines. California does not have a history of cooperation between government and business, so expect a rocky ride. Consultants from Colorado will help in this transition.
The Los Angeles View
The shift in power will come but slowly. "Unless and until the federal government provides for interstate commerce, California will not replace the industry in any market. We'll just have a market which is 20 to 30 times larger," according to Justin Beck of Cultivation Technologies. Beck has many years of experience in California cannabis. His company is due to break ground in the California desert on an ambitious 111,000-square-foot indoor project this fall. He will lease the space to four growers all producing under the popular "Coachella" brand name. This state-of-the-art facility has everything a grower needs including testing, delivery, and marketing.
California has always been the powerhouse with an estimated $10-billion-plus grey market. The move to regulation will confirm these numbers. "There is more product being produced in California than anywhere in the world" says Beck. He sees a huge boom on the investment side, which has been curtailed due to regulatory problems and zoning ordinances. Legalization will help clear the muddy waters and open the floodgates to investment in California. Beck also thinks there will be a mass migration of support services personnel from Colorado to California.
Contrary to many new participants in the cannabis industry who believe future supply from outdoors will render indoor cultivation obsolete, Beck thinks there will always be a market for high-quality indoor cannabis. Just as there is a market for premium spirits or wine, no amount of supply from lower-tier and lower-cost producers will supplant premium products for connoisseurs. And California is full of cannabis connoisseurs.
Some also believe that the regulated system in California will lead to over-production. "We are literally five-ten years away from such a market, because California already has more supply and production than anywhere in the world," according to Beck. In the regulated market, which requires a "closed loop" where retail or dispensaries must acquire product from licensed producers, it will take many years for licensed production to meet what demand already exists in California. And wholesale prices in California are still strong.
Will the Central Valley Eventually Rule?
Traditional ideas about where to grow pot are sure to come into question. Greg James, publisher of Marijuana Venture Magazine in Washington, wonders why the industry hasn't considered this already. The business has always operated in secrecy either indoors or in remote locations. This will change. Can expensive indoor grows really compete with traditional agriculture? Most of the indoor grows in Washington drew up plans when prices were $2,000 per pound. Now they are closer to $500/lb. "A typical large indoor grow might have a $70,000/month nut versus just a fraction of this for an outdoor grow. Indoor grows are going to go bankrupt," according to James.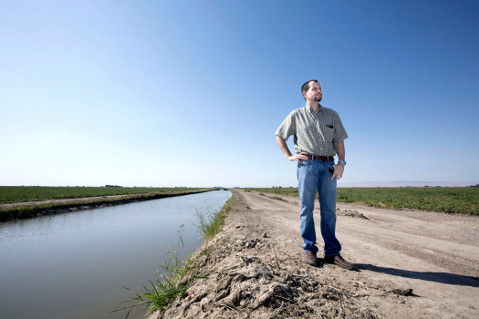 Cannon Michael of Bowles Family Farms in Los Banos, California, confirmed these numbers. His traditional farming operation covers 11,000 acres and has survived six generations. He is taking a close look at growing cannabis after an unusual discovery. They found several illegal grows right on their own property producing robust flowers.
With legalization Michael sees cannabis as just another product that can do well in the Central Valley. He was surprised at the $70,000 per month number I quoted on an indoor grow and expected his costs would be less than $70,000 for an entire year based on, say, a 100-acre grow. "Many customers are going to want a mid-level THC product that is consistent. The Central Valley has ideal conditions to grow a consistent product." As the regulatory process plays out, Cannon thinks it could favor large distribution players, similar to Anheuser Busch or Gallo Wines' position in the beer and wine markets. This will also favor larger cultivation operations similar to those in the Central Valley.
James of Marijuana Venture sees California's Central and Imperial valleys poised to take the lead in cultivation. "Humboldt and Mendocino were ideal places to hide grows. But in a legal environment, they are not the best places to grow." He maintains that no ag product is successfully grown on a large scale indoors. "Marijuana will be grown outdoors in rows like any other ag product." He did add that greenhouses maybe the best of both worlds for cannabis.
A Shift in Power
Rather than a regional shift in influence, California legalization may pave the way for an even more dramatic change. As marijuana goes mainstream so too will its manufacturing and distribution. Places like Humboldt will have to focus on the high end market and compete with indoor grows throughout the state. Long-held industry beliefs, such as the merits of indoor grows, will be challenged. Legalization in California could be a large step in the direction of mass outdoor cultivation in places where traditional agriculture has flourished.