Arts & Entertainment
When Dogs Become Architects
Architect Dennis Thompson Jumps from the Drafting Table to Children's Literature
Architect Dennis Thompson is renowned for pushing sustainable building techniques to the forefront of Santa Barbara design since the 1980s as a partner in the firm Thompson Naylor Architects. But he's aiming for a younger set with his latest project: the children's book Dogs Build a House, which he just published with illustrator John Haugse.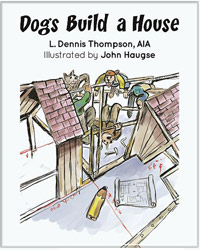 "I wanted to give children and adults a sense of what it's like to get a house built, which can be a difficult, trying process with a lot of people involved and unpredicted problems along the way," said Thompson. "I also wanted to give the architect a chance to save the day!"
After years of success in building modernist creations around Santa Barbara, Montecito, and Carpinteria, Dogs is Thompson's maiden voyage into the less complicated waters of children's lit, but it's not his first writing attempt. "Years ago, I had an idea for a crime novel with an architect as the detective hero," Thompson said. "I quickly realized that it was beyond my capabilities."
Dogs is also a culmination of a friendship between author and artist, spanning three decades. "I met John 30 years ago when he had an artist studio downtown," said Thompson. "John is a fine artist and experienced film animator and had written children's books himself."
Initially, Haugse wasn't interested, but then his schedule freed up earlier this year. After engaging in "a spirited creative dialogue" through the first months of 2016 with Thompson, Haugse dove into the assignment. "He has a lighthearted, free-hand style," Thompson said. "His work gave the characters personality and added a great deal of humor to my simple story."
At this juncture, Thompson does not envision this book growing into a series, but he doesn't rule it out. "My architectural practice keeps me very busy, but who knows?" he said. And for once, Thompson didn't need to submit his work before a review board to get it done.
Dogs Build a House is now available on Amazon.com, with a Kindle version available this month.