Sports
Andre Barbieri Pushes for Paralympics
Triathlete Ranked 11th in World; Plus Remembering Larry Crandell and Toasting Phil Womble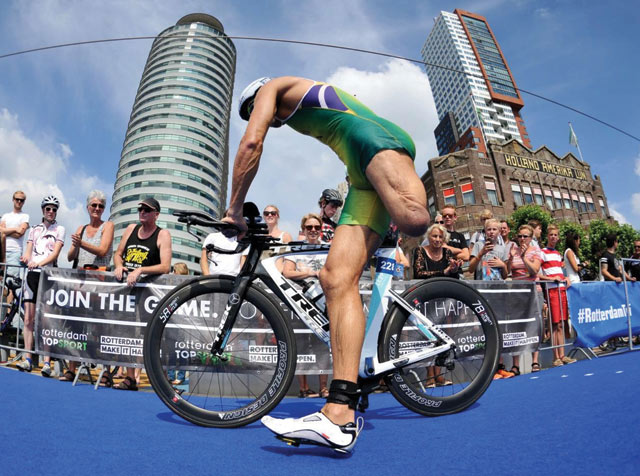 As he entered the physical prime of his life, Andre Barbieri had no intention ever to compete in a triathlon. He had played soccer in his youth — naturally, he was a native of Brazil — and when he followed his brother Diego to Santa Barbara in 2007, surfing was his favorite pastime. He was a strong swimmer, but he could not run. "I had a bad knee," he said.
On March 11, 2011, a horrible snowboarding accident at Mammoth Mountain changed Barbieri's life in many ways. It made him aware of his mortality. It made him grateful for first responders and doctors who saved his life. It gave him a new faith in humanity when friends and strangers raised money to help him get back on his feet. And it took care of that bad knee.
"Lucky me, I got rid of it," Barbieri said.
After he crashed into a fence on the snowboarding slope, his left leg was mangled so badly that it had to be amputated above the knee. That transformed Barbieri into a new breed of athlete, one who is physically challenged. It was not exactly a whoopee deal for him, but he was encouraged to know that he could continue to pursue an active lifestyle.
Barbieri pursued it to the limit. He took advantage of new prosthetic devices to practice cycling and running in addition to surfing and swimming. He started to compete in triathlons after learning that, for the first time, the sport would be part of the Paralympics, a sports festival for athletes with disabilities that is an extension of the Olympic Games. The 2016 Paralympics began this week in Rio de Janeiro.
Barbieri traveled all over the world in the past year, attempting to qualify for the Paralympics. There was room for 10 triathlon entries in his classification. But when the final rankings were posted, he was in 11th place.
"I had a goal that I'd never had before, something really worth fighting for," Barbieri said. "I saw I really had a chance at it. But as you know, with the Olympics and Paralympics, sometimes it's one mistake that takes you out of the race."
His mistake occurred a year ago at the World Triathlon Grand Final in Chicago. The transitions between events — swimming to cycling and cycling to running — are tricky for amputees such as Barbieri. He is allowed to have a supporter provide crutches when he comes out of the water from the swim. He mounts his bicycle without a prosthetic, putting the stump of his left leg into a special holster. It is the transition to the run that is most challenging. Precious time ticks away while Barbieri attaches his prosthetic leg before taking off.
In Chicago, he said, he took a shortcut at the finish of the cycling stage. Instead of securing his bike in a designated slot, he leaned it against the rack. What was worse, he failed to take the penalty that was imposed for his infraction. "You're supposed to see your number on the penalty box when you run," he said. "Then you stop and pay a 10-second penalty. I was so focused, I was just looking straight ahead. If you don't pay your penalty, you're automatically disqualified."
Ten measly seconds in an hour-plus race, and he was gone. Why not add the penalty to his time at the end of the triathlon? Because it would not be fair if he were to cross the finish line ahead of the true winner. "The rule is clear," Barbieri said. He was no threat to finish in the top three, but the disqualification left him with zero points in the rankings. "I never recovered from the points I lost," he said.
He tried. He competed in five international triathlons this year: the Pan-American in Florida, and events in South Africa, Australia, Japan, and the Netherlands. But he could climb no higher than No. 11 in the world.
Jon Beeson, a Santa Barbara resident who is the U.S. paratriathlon representative to the International Triathlon Union, estimates that with the addition of his potential points in Chicago last year, Barbieri would be No. 5 or No. 6 in the rankings.
"He is an unbelievable kid, a great athlete," said Beeson, whose advocacy helped put the triathlon into the Paralympics. "We have only limited slots in Rio. We'll have at least double in Tokyo [at the 2020 Paralympics]."
Barbieri is an inspirational figure both in Santa Barbara and his native land — he hails from the state of Rio Grande do Sul, homeland of Brazil's gauchos — and he is there now for two speaking engagements. "I'm going to tell my story, how I bounced back from a near-dying experience and what did I learn from it," he said. If there is a last-minute opening in the Paralympics men's triathlon on Saturday, he is ready and willing.
"He's in good shape right now," said Jack Bianchi, who has been training Barbieri for the rigors of the triathlon. Competing in his age division at the Santa Barbara Triathlon two weeks ago, the 35-year-old Barbieri finished seventh among 25 men. "All the others were able-bodied," Bianchi said. "He's running at an 8:35 [per mile] pace, down from 10 minutes."
Barbieri, who has been working as a nighttime cab driver so he can train during the day, said he has "no regrets. It has been about the journey. I've had so much fun with it; I traveled to a lot of places. I've met a lot of good people. If I had to do it all over again even knowing I wouldn't qualify, I would do it again. With all that said, I'm still shattered that I didn't make the cut to be in my own country."
He'll never forget the people who helped him out after his injury. "The Boathouse did a fundraiser, my friends here did another, my friends in Brazil," he said. "It was insane, the amount of support I had. I would cry every day. You know you have good friends, but even people you've never met …. I feel like I'll never repay that debt from what everybody did for me."
His girlfriend, Karina Peil, stood by him, and they are now approaching their first anniversary of marriage. He has a big life ahead of him. Beeson, for one, thinks he can continue in the paratriathlon.
"I tell him, 'It's less than five years into your journey,'" Beeson said. "'This is not the end. It's the beginning.'"
JOCULAR JOCK: Larry Crandell's self-deprecating humor disguised the fact that he must have been a pretty good athlete in his day. Basketball was his sport at Syracuse, and in his fifties, he played quarterback in touch football games with his kids and men half his age. When he was emcee of the weekly Santa Barbara Athletic Round Table luncheons, they could have been billed as a stand-up comedy show. Seemingly every charity function in town featured his grandiloquence, and long before he died at 93 last week, Larry came to be known as Mr. Santa Barbara.
FOUR SCORE: UCSB's Phil Womble Hall of Champions was named in tribute to a man who inspired people to never give up by his own example of living with cerebral palsy. It was the site of a joyous birthday party last Sunday for the man himself. Against considerable odds, "Gaucho Phil" turned 80.