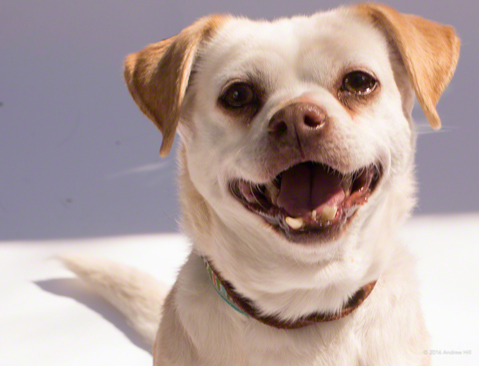 This gorgeous little gal is named Chatterley. Chatterley got her name from being a bit on the vocal side when she first meets new people. However, this girl settles down once the barriers are lifted, and she can meet you nose to nose. Chatterley is pretty easy-going. She loves her toys and plays nicely with other dogs, both big and small. She will sit and stay for her treats and is overall a great pup! When Chatterley is not socializing in the DAWG office, she spends her days in Little Dog Land hanging with the crew and getting her suntan on. She is a very special girl with a very sweet under-bite. Please call Dog Adoption & Welfare Group at (805) 681-0561 or e-mail us at adopt@sbdawg.org to learn more on how you can give Chatterley the home she deserves.
DAWG (Dog Adoption and Welfare Group) is a no-kill, not for profit dog rescue/adoption organization located at 5480 Overpass Road in Goleta. For more information or to view more adoptable dogs, visit: DAWG
All of the dogs at DAWG have been spayed/neutered, micro-chipped, are current on their shots, and have flea/tick/mosquito protection. We ask for a minimum adoption donation of $250 for young dogs (under three years), $150 for adult dogs, and $125 for seniors (dogs 8 years old and over).