Sports
Gauchos Need Goals
UCSB Soccer's Big September Schedule; Plus, Undefeated Women's Teams and Athletes of Week
Ohio was UCSB's battleground state during the first month of the men's college soccer season. The Gauchos made two trips there. They notched a pair of victories on the first tour, including a 1-0 shutout of Ohio State that gave them a boost in the polls. On their return last weekend, a pair of nationally ranked teams inflicted their first setbacks, 4-2 to Butler and 2-0 to Akron.
With a 4-2 record, the Gauchos are still a solid top-20 team, and they have a chance to go into Big West Conference play as the alpha dog if they are successful in their upcoming home stand (all three games kicking off at 7:05 p.m.):
• Saturday, September 17, vs. UCLA
• Wednesday, September 21, vs. Loyola Marymount
• Saturday, September 24, vs. Cal
UCLA has a decided edge in its series with UCSB, but the Gauchos have scored two significant victories. In 2006, they faced the Bruins in the NCAA championship game at St. Louis and won the College Cup, 2-1. In 2010, they blanked UCLA 2-0 before a Harder Stadium crowd of 15,896, the largest on-campus regular-season attendance in NCAA soccer history.
"I saw a video of that game, and that's one reason I transferred here," said Kevin Feucht, UCSB's junior midfielder from Germany. "I'm excited to play UCLA in front of a big crowd."
Santa Barbara has led the nation in college soccer attendance for nine consecutive years. Harder Stadium is festooned with banners, including a large one that blankets the southwest corner of the stands. It reads as follows:
LOUDEST
STADIUM IN
COLLEGE
SOCCER
The fabric sign may be removed to open up seats for the upcoming matches.
Feucht (pronounced: Voy-sht), who scored the goal that beat Ohio State in overtime, will play a big part in making the stadium noisy, as will Nick DePuy. They combined on the winning goal in UCSB's last home game, a 1-0 win over St. Mary's. Late in the second half, Feucht threaded a pass to a closely guarded DePuy.
"He put it between two or three guys to my right foot, which was good," DePuy said. "It was at an angle where if I turned that way, I could spin around the defender." The ball rocketed off DePuy's right foot into the net.
The Gauchos are undefeated (18-0-4) in games when DePuy, a senior from Irvine, scores a goal. The 6′5″ striker hit the net 15 times last year. He is on the watch list for the Hermann Award, college soccer's Heisman.
It has become obvious to UCSB's opponents that their chances of winning are improved if they can shut out DePuy, and he usually has to bang against two defenders. "Everybody says, 'Be on him. Be on him. Be on him,'" Feucht said. "I always look for him, but we don't have just Nick. We have 10 players who have to be able to score."
The 6′3″ Feucht himself leads the team with three goals. "He hits the hardest ball on the team," head coach Tim Vom Steeg said. "His shots would always sail over the top. We talked to him about taking something off. It's like baseball: You don't hit a home run by swinging harder but by making good contact." Feucht did just that against San Diego, smacking a ball 30 yards into a corner of the goal.
Vom Steeg praised both Feucht and DePuy for their work rate. "It's unbelievable," the coach said. "We have GPS on our players. Kevin and Nick are consistently the top two in terms of miles run. They go somewhere between eight and nine miles a game."
DePuy hopes his hustle pays off with more goals. He has two this year, as do junior striker Ahinga Selemani and freshman Daniel Amo.
On the defensive side, the Gauchos have had issues trying to clear loose balls out of the penalty area. Their freshman goalkeeper, Titouan Le Roux, has acquitted himself well.
UCSB will be under siege Saturday night. Akron came out west two weeks ago with a No. 1 ranking. UCLA scored an astounding three goals in 32 seconds and humiliated the Zips, 6-1.
"You saw how explosive UCLA is," Vom Steeg said ominously, "and you knew Akron was going to be ready for us after a bad weekend."
WINNING WOMEN: After opening the soccer season with a 3-2 victory in overtime at Fresno State, the Gaucho women made the most of a six-game home stand. They extended their record to 7-0 with six consecutive shutout wins. Dynamic junior Amanda Ball has scored seven goals. Now they hit the road for four games, including a visit to Texas, before returning home October 2 against Hawai'i.
Westmont College's women also are unbeaten (6-0). The Warriors are ranked No. 7 in the NAIA and have a scoring machine in senior Brooke Lillywhite (nine goals).
PARALYMPICS: Santa Barbara amputee Andre Barbieri had to sit out the triathlon at the Paralympics in Rio last weekend. The winner was Andy Lewis, a 33-year-old Brit who lost his right leg in a motorbike accident at the age of 16. n

GAME OF THE WEEK
9/16: High School Football: Santa Maria St. Joseph at Bishop Diego Two of the county's perennial powers meet for the first time since 2009. Bishop's Cardinals (3-0), the No. 2–ranked team in CIF Division 5, have won 15 consecutive regular-season games. St. Joseph (1-2) has lost to a pair of Division 2 juggernauts, Sherman Oaks Notre Dame and St. Bonaventure. Bishop's junior running back John Harris has already rushed for 588 yards and seven touchdowns. The Knights are led by quarterback Dino Maldonado (471 passing yards and five TDs). 7:30pm. La Playa Stadium, S.B. City College. $5-$7. Call 967-1266.
S.B. ATHLETIC ROUND TABLE ATHLETES OF THE WEEK Sept. 4-10
Jesse Morrison, San Marcos water polo
The senior scored 19 goals as the Royals went 4-1 in the Santa Barbara Invitational, losing only by a goal to top-seeded Orange Lutheran.
Mikala Triplett, Dos Pueblos tennis
The 9th grader swept all three singles matches, including a victory over the defending league champion, as the Chargers defeated San Marcos, 11-7.
S.B. ATHLETIC ROUND TABLE ATHLETES OF THE WEEK Aug. 28-Sept. 3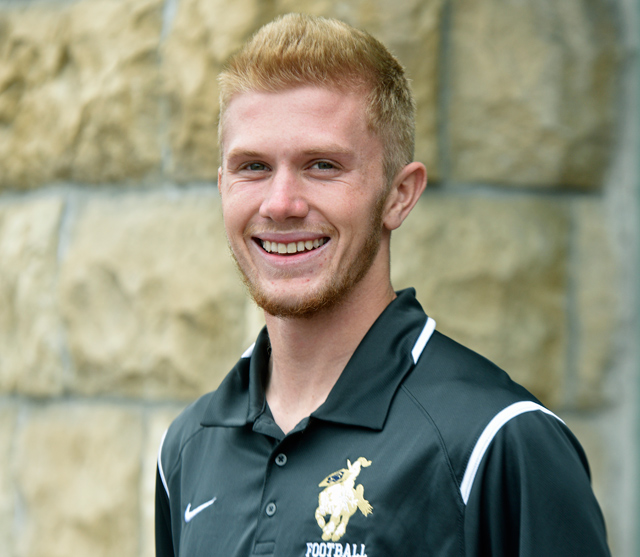 Kellen Roberts, Dos Pueblos football
The senior passed for 362 yards, including four first-half touchdowns, and scored on a quarterback keeper in a 37-0 win over Cabrillo.
Kelly Bickett, Laguna Blanca volleyball
The sophomore was MVP of the Laguna Blanca Invitational for the undefeated Owls, who later scored a sweep over Santa Barbara.