Arts & Entertainment
UCSB Professor Analyzes Sting's Brain
Scott Grafton Helps Evaluate How Sting Processes Music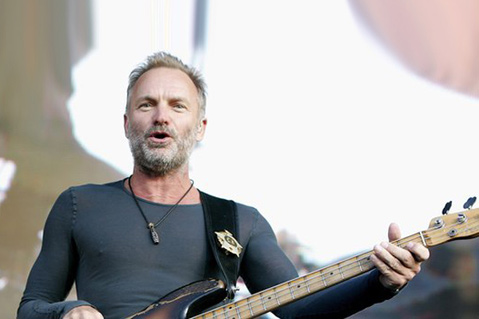 His career has spanned decades; his music is legendary. But what is it that sets Gordon Sumner, a k a Sting, apart from the multitude of other talented composers? Daniel Levitin wondered the same thing, and in 2010 he had the opportunity to find out. Levitin is a neuroscientist and the author of the 2007 best-selling book called This Is Your Brain on Music, a brilliant exploration of how music and the brain interact. Sting read the book, happened to be in Montreal ​— ​where Levitin's lab is ​— ​for a concert, and asked if they could meet. Levitin, in turn, asked Sting if he could scan his brain.
Using imaging analysis techniques developed by UCSB psychological and brain sciences professor Scott Grafton, Levitin's team mapped how Sting organized music in his brain. "Sting was asked to do three things while in the fMRI scanner: create music in his mind, listen to selected pieces, and imagine songs," Grafton said. "The goal was to take someone who knows how to do these tasks really well and then see if there are any patterns in the brain that reflect those capabilities."
In August 2016, Levitin and Grafton's findings were published in the journal Neurocase. One revelation was that Sting's brain activity showed he found two disparate-sounding songs ​— ​the Beatles' "Girl" and Astor Piazzolla's tango composition "Libertango" ​— ​highly analogous. Another surprise, according to Grafton, was that "brain activity will demonstrate similar patterns for similar types of music. That has not been shown before."
So what does this mean for understanding how people create and/or process music? "This is just the start, in terms of developing novel methods, for understanding how we organize different kinds of music or songs in our mind," explained Grafton. "With that tool, future studies could ask more sophisticated questions: Do experts (like Sting) discriminate between different songs more, or perhaps the opposite? Do compositions emerge from underlying patterns (based on similar songs)? What drives the patterns (timbre, rhythm, lyrics, harmony)?"
To read Levitin and Grafton's published findings in its entirety, see tinyurl.com/stingbrain.