Books
'Indy' Food Critic Releases 'Feast Days'
David Starkey Interviews George Yatchisin About His New Book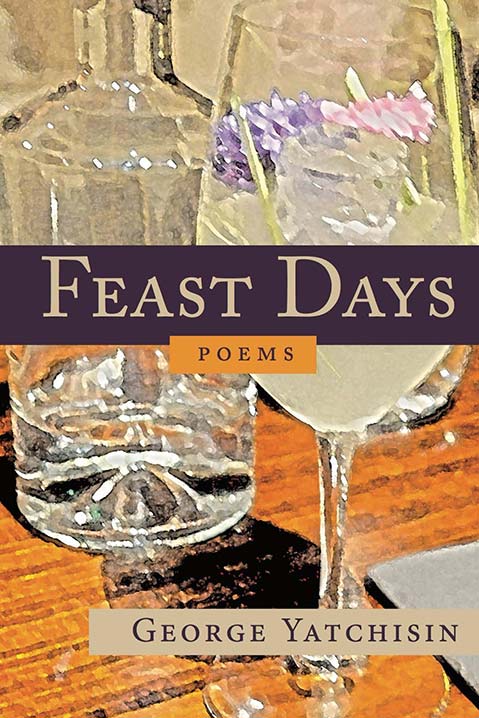 George Yatchisin's newest collection of poetry is Feast Days. Yatchisin is the communications coordinator for the Gevirtz Graduate School of Education at UC Santa Barbara, and he writes about food and drink for venues such as The Santa Barbara Independent and Edible Santa Barbara.
You took some time off from writing poetry. Can you talk about that a bit and discuss why you've come back to it? It was a good, no pun intended, 15 years off, actually. I came up with two half-jokes to explain it. The first was, either I could write poetry or be happy. The second was, you can only write the "language is a tool that fails us" poem for so long before you at least convince yourself. It was also that I didn't feel language coming to me in poetic ways; I didn't stop writing prose, but you get to be easier on yourself in blogging and journalism — there's not that same need for precision and concision. I say that with all apologies to brilliant journalists like Joe Posnanski, Ellen Willis, Molly Ivins, etc. Then in some ways, poetry came back to me.
I'm guessing that being married to former Santa Barbara poet laureate Chryss Yost was a factor? Having a very talented poet as a wife, I was at a lot of readings, in that world again. Then to help Chryss write more during her laureate-ship, we would do write-a-poem-a-day months every three months. And, lo and behold, how do you get to be a poet? Practice, my son, practice.
The poems in your new chapbook, Feast Days, are all about eating and drinking. In a way, that seems natural for someone who is also a food and wine critic, but I'm curious about some of the differences — and difficulties — you might have had approaching this subject matter through poetry. One of the fun things to do in a poem is write about something un-poemly. Food and drink can seem very mundane since we consume both every day. So I decided I wanted to use poetry's keen focus, and music, on food and drink — which, of course, is usually not just food and drink. I like to say the book's real themes are want and need, and where the line between the two blurs. Indeed, half the poems might just be sublimated sex poems.
Not surprisingly, the mouth is a recurring image. I guess a Freudian would say I never got over my oral stage. Beyond my stuntedness, one of the difficulties with these poems is the issue of exposition — working in actual information in poems can be little fun for a writer or reader. Nonetheless, I often chose in food poems to write about what people might not know, from the Latin names of things to how we ended up eating something like a celery root in the first place. I'm one of those odd tidbit collectors, and I like to share.
What are the oddest of the oddments you've included in the book? There's a whole poem about this amazing mineral serpentinite that helps make some vineyards great in the Santa Ynez Valley. Turns out it's the California state rock — yep, we have a state rock — but almost got demoted because it contains some asbestos, too, which for me is irresistible. What better than to romance the good-bad thing? But finding the right balance of explanation or fact-giving and not putting someone to sleep or turning them off isn't easy.
"Lines for Uni," one of the poems in Feast Days, begins: "It's incredible discovering whatever's edible." There's a lot of music and wordplay in just that one line. To what extent is it representative of your overall aesthetic? That line is a good example of my fear I might push the musical to the singsong too much. My hope is that line is a sort of Ouroboros, which makes the kickoff of the poem more intriguing. But, yeah, it's poetry. It's supposed to sing. One of the things that bugs me the most about current poetry is so much of it is prose chopped into arbitrary line lengths. No, you don't have to write metrically or rhyme. But there better be a rhythm, a music. And it better have some relation to your content, and that can work either way, by reinforcing it or tugging the opposite way. And in that line, that "edible" is eaten by/contained within "incredible" is the whole point. How nice!