Voices
Orcutt Hill Project Expands Risky, Dirty Oil Operation
Planning Commission Correctly Denied Project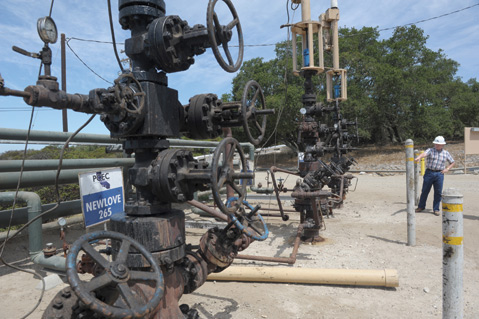 Why would our county supervisors, with the sole exception of Janet Wolf, take a radical position in the guise of "moderation"?
Pacific Coast Energy wants permission to drill 96-plus new wells at Orcutt Hill, doubling its activity there. Pacific Coast is already one of the riskiest and dirtiest oil operations in the county. Just ask people who live in the vicinity. And unlike operations of the past, the field is way out of normal bounds.
Existing activity is causing oil to seep uncontrollably in more than 100 locations. If the project, or any proposed alternative, is approved, the seeps will continue to grow in number and destructive effect. PCEC should not get a permit to add new wells while current ones are shut down due to well failures.
It would be an "extreme" act to dramatically expand drilling in a field with that many seeps, explosive well-casing failures, surface cracks, heaving, and other problems — and to allow a drilling process that would require almost 2 million gallons of our precious freshwater.
Voting for any expansion in Orcutt is an "extreme" position. It would be an "extreme" act to pretend that the possible benefits of approval, like short-term construction jobs, one or two permanent jobs, and unknowable tax revenues, come close to outweighing the project's significant and severe impacts to water, habitat, and air quality.
It would be an "extreme" act to take on the risks to the county of major health and environmental damage, including pollution of our water resources. Already financially stressed, PCEC might not be able to afford the costs of a major cleanup. This could leave us with the consequences and all taxpayers in the county with the tab.
There are no grounds for the claim that any PCEC proposal would reduce the incidence of seeps, spills, and well-casing failure. None of the PCEC proposals would contribute much of value to the county. If more wells are not approved, not a single existing job would be lost. But, and not surprisingly, PCEC owners and shareholders stand to profit handsomely by more drilling there.
Some Orcutt residents are already suffering from toxic chemicals and odors from the site. That would only worsen if the project is permitted. Allowing any more drilling at that location is immoderate and irresponsible.
When our county supervisors cast their votes, the interests of our county, its residents, and local businesses should count more than any potential short-term gain for PCEC shareholders. After long and careful study by our County Planning Commission and by expert civic organizations, the conclusions are clear, the right decision is obvious. The appeal by PCEC should be denied, and no form of the project should be permitted.
Let's hope our supervisors take the reasoned path and vote in our behalf on November 1.