Visual Arts
Altar Artist Danny Gonzalez Discusses Cultural Significance Behind His Works
The Artist, His Altar, and the Día de los Muertos Community Day
For those who are missing out on the concert Saturday but would still love to celebrate Día de los Muertos with the community, head over to the S.B. Bowl on Sunday, November 6, when the venue hosts a free community day from noon-4 p.m. filled with live music and art from more than two dozen artists and community members, put on by the S.B. Bowl Education Outreach.
The event will be the perfect family activity, with performances by Grupo Bella, the all-female mariachi ensemble, and Ballet Folklórico de Los Angeles, the Mexican folk-dance company, plus contributions from the Franklin Community Center and S.B. Arts Alliance, Adelante Charter School, Mariachi Monarcas from the Goleta Valley Community Center, Everybody Dance Now, and the Franklin Elementary Folkloric Group in the form of children's dances and after-school programs.
On display will be altars from many artists and community organizations. The altar, the spiritual and artistic centerpiece of any room in the days leading up to Día de los Muertos, honors the memories and spirits of departed loved ones. We spoke with one master of muertos imagery, L.A.'s Danny Gonzalez, about the meaning behind his altars.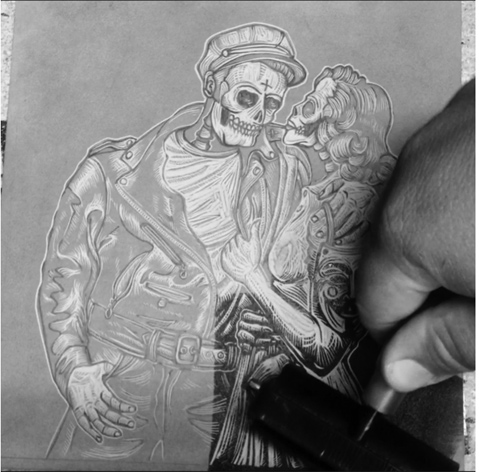 What does Día de los Muertos mean to you personally? Día de [los] Muertos for me is very special. It's a time to be with family and friends to share the memories and celebrate the lives of people who have passed on. We gather to retell their lives, eat the foods they used to like, and, if we can, be with them at the place where they are buried. It's important for me to create the time for ceremony and reflection, to really connect with ancestors and reflect on their lives and the meaning they have given mine. Celebrating with community is a part of it, too, but unfortunately some people focus on the revelry and aesthetics and turn an opportunity to have a meaningful experience into a cheap theme party.
Tell me about your altar. Who or what are you honoring? What themes play into the piece? My ofrenda is honoring the memory of the thousands who have disappeared in Mexico, but in particular the 43 students from the Ayotzinapa Rural school who were disappeared on September 26, 2014, in Iguala, Guerrero. These students were studying to be teachers in one of the most impoverished rural areas in Mexico. What is most sad is that their disappearance has been linked to the local and federal government, as well as the military and police, by independent investigators. The administration of Mexican President Enrique Peña Nieto has done little to find those responsible and bring them to justice. Particular to this ofrenda, people will have the opportunity to take a pencil from it with the name of one of the disappeared students. By keeping their memory alive, we keep them close with us and give their lives meaning.
To what extent do you play upon tradition, and to what extent do you strive to innovate or adapt to more contemporary themes or motifs? There are always traditional elements in my ofrenda. By honoring tradition, I am honoring my ancestors by connecting to a spiritual practice that is meaningful and sacred. However, there is always room for innovation and adaptation. That is how Día de [los] Muertos has been able to survive conquest and shifting political landscapes. Culture is not something that is stagnant. It's ever changing and transforming. For me, as long as you are being true to yourself and your intentions are to honor your departed loved ones, there is always room for innovation and participation.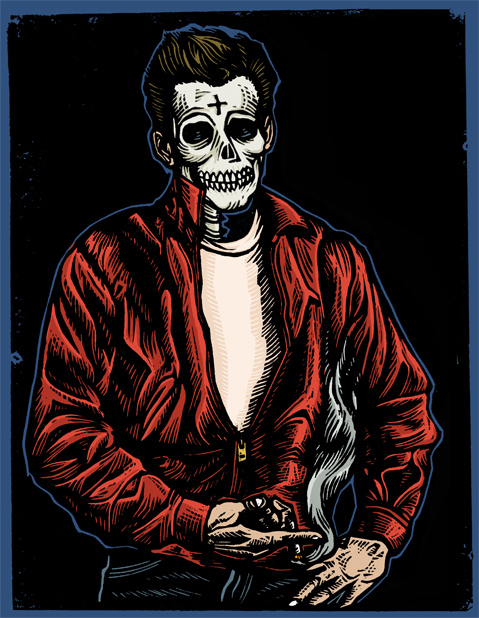 Tell me about the poster art for this year's concert, which features James Dean and Marlon Brando. I'm a big Morrissey fan, so I am aware that he has a fascination with James Dean and how he represented his generation and as a symbol of self-destruction. … I grew up in the working-class neighborhood of Boyle Heights in Los Angeles and went to an all-boys Catholic school, and our style of dress at the time came from our fathers and the culture they grew up in: 1950s rock 'n' roll and low-rider oldies. When my friends and I started listening to Morrissey and The Smiths and saw these images on the album covers and during performances, it only reinforced what we were already doing, but it also made it into a trend. … The decision to make [Dean and Brando] into skeletons came from the influence of Mexican printmaker José Guadalupe Posada. His work during the turn of the last century made the calavera a symbol of Día de [los] Muertos that is still found in a lot of art today. He lampooned Mexican society by creating skeletal images of rich and poor behaving as if they were still alive. … If you look at Mary Murphy and Marlon Brando, they are both holding loosely in their hands Guy Fawkes masks. The concert date serendipitously falls on November 5, Guy Fawkes Day, and today these masks are associated with anti-establishment groups. As we head to the ballot box on November 8 to make a choice between what I believe to be some of the most deplorable candidates for president, I see no other choice than but to be against the status quo.