Arts & Entertainment
The Morrissey Interview That Never Was
Former Smiths Frontman Says No to 'Indy' But Yes to Día de los Muertos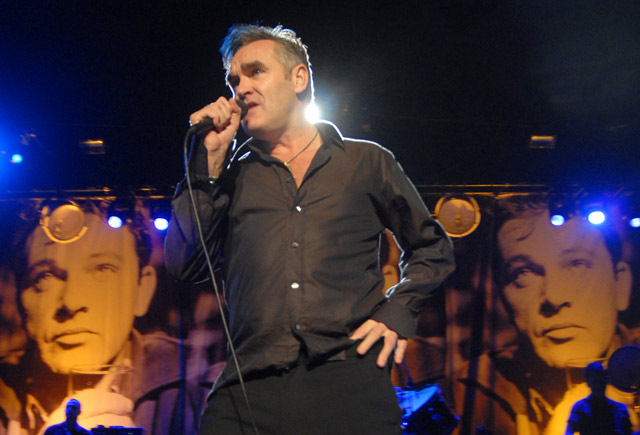 Morrissey is coming. If you haven't noticed, his music has been playing with even greater frequency in every sleek espresso café and cool bar around town as we approach his Santa Barbara arrival. He hasn't been here in almost a decade. Chances are, like Dorian Gray, he'll look exactly the same.
He's playing at the Santa Barbara Bowl on Saturday, November 5, in honor of Día de los Muertos, the Bowl's annual celebration of the Day of the Dead, with Mexican Institute of Sound as the opening act. November 5 is also notoriously known — in Britain particularly — as Guy Fawkes Night, referring to the countercultural hero who attempted to blow up the House of Lords in 1605, and whose mask from the film V is for Vendetta has become synonymous with anarchism, protest, and hacktivist causes. And that's three days before we decide between Hillary Clinton and Donald Trump on Election Day.
Morrissey's loyal, young Mexican "Moz" disciples will surely be there as well as crying grown men and women throwing themselves at him, desperate for one Morrissey hug before security drags them off. It should be a perfectly loaded night for a provocative, working-class Manchester Brit such as Steven Patrick Morrissey to sing. So what should we expect when he takes the stage? Will he be making a statement? Wearing a mask? Ripping his shirt off? Oh, he always does that.
I was pretty excited at the chance to interview "This Charming Man," the notoriously outspoken vegan, for The Santa Barbara Independent — until he bailed, unsurprisingly. After all, the former Smiths singer has canceled more concerts than your dad owns pajamas. He's still the most temperamental rock singer alive today — no Oldchella for him, that's for sure. Despite the lack of interview, and in the spirit of Guy Fawkes, the patron saint of lost causes, here is the Morrissey interview that never was.
You've said you never intended to be controversial, but you are. How have you remained politically relevant over so many decades? Relevant? Me? No one could be less so. I don't believe good people succeed in politics. It's impossible. All whingebags actually. I've never wanted to be controversial; it's just very, very easy in this business because no one is. Some people are famous for being famous. I'm famous for being Morrissey.
You're vegan, and you've said, "Be kind to animals or I'll kill you." And there's a Smiths song called "Meat Is Murder," so I'm wondering what spirit animal would you like to come back as when you die? I feel very much like an animal now. You know, we're all animals. I don't think it matters what I come back as or whether I do. I'd like to come back as a gazelle or a giraffe, but I'd probably be a pig. At least no one would complain about my behavior. Pigs are quite nice actually.
You've famously said, "I wish I was born Mexican, but it's too late for that now." Why does the Latino audience love your music so much? My dislike for America, and probably my hair. I think Latinos are full of emotion, and whether it's laughter or tears, they are ready to explode and they want to share their emotion and they want to give and show and show. When I sing, it's very expressive. So many people make music and tell you nothing about themselves. It's very regimented, and I think it's important to be as open as possible — give the heart; all of this is temporary. That said, I do maintain if your hair is wrong, your entire life is wrong — another reason for them to like me.
You've written a mournful ballad called "Mexico." What do you think about Donald Trump's comments about Mexicans? I am very skeptical of a future where Donald Trump is running the White House. On the basis of his name alone, he can't be allowed to represent America.
You've sang a famous extended cover of "Moon River." Will you be singing that song to the moon at your Santa Barbara Bowl show? Only if Audrey Hepburn is there.
You've said, "I think about life and I think about death, and neither one particularly appeals to me." But if you had to choose, which would it be? If I had to choose between life and death, I'd choose getting old. Boring, I know. The older I get, the better I feel. There's something nice about the way that sounds. Hmm … I wonder why. There's nothing automatically interesting about being young.
What does your "chattering mind" say about the future and where you will be in 10 years? I have no vision of the future; I never have. There is nothing to consider other than today. I'm saving tranquility for when I'm dead. An end to interviews would be nice though, don't you think?
And so the interview that never was ended. Morrissey hung up the phone he never picked up and walked away, preserving the enigma that he's spent a lifetime creating through sarcasm, disdain, and his inspiring music that transcends borders, culture, and the planet, making him one of the most riveting performers of our time.