Food & Drink
Empty Bowls Benefit Chefs Talk Soup
19th Annual Foodbank Fundraiser on November 13 at Ben Page Youth Center
Empty Bowls' magical formula — warm bread and hot soup made by expert chefs served in a ceramic bowl handcrafted by hometown artisans — is simple but effective, raising more than $115,000 each year for the Foodbank of Santa Barbara County. The 19th annual benefit occurs on November 13, and in a land awash with charitable affairs that often cost more than $100 a head, it's also a feel-good bargain for attendees: Tickets are just $30, and you walk home with a brand-new bowl.
"It struck me as the right format from the get-go," said Chef John Downey, the dean of Santa Barbara cuisine who's supported Empty Bowls since the beginning. "You're standing in a soup line. There's bread and there's soup, the lifeblood of our people. There's such a wonderful feeling. And we've got bowls all around the house. I can't tell you which year each came from, but there's a lot of happy memories."
To get a sense of what to expect this year, I talked soup with Downey as well as participating chefs Greg Murphy from bouchon and Bryan Foehl from Helena Avenue Bakery. Here's what they're making and why.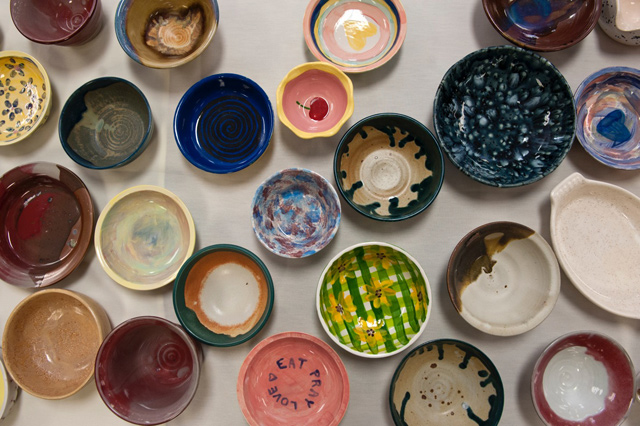 Greg Murphy's Spiced Butternut Squash: "I'm looking for something pretty autumnal," said Murphy, who's been head chef at bouchon for seven years. "We use a little bit of star anise, some pickling spices, some warming spices, possibly some apples, as well." The base of the soup is simply garlic, squash, and vegetable stock, boiled and then simmered and pureed, which also keeps it vegetarian.
"We basically do two soups," said the UCSB grad and SBCC culinary-school-educated chef of bouchon's usual menu. "We always have the French onion, which is with veal stock, and then we do a market-driven one and try to keep that vegetarian because of all the health-conscious people on the California coast."
Bryan Foehl's Chicken and Wild Rice Soup: "It's going to be that style of soup that you had as a kid when you're sick and your mom is in the kitchen," said Foehl, who runs the kitchen, bread, and pastry programs at Helena Avenue Bakery with sous chef Bridget Bottoms. He's using Mary's organic chicken, black wild rice, celery, carrots, onions, garlic, and lots of fresh herbs. "That makes it really, really homey," said Foehl, who uses Suzanne Goin's technique of adding layers and structure to his soups as they cook.
The bakery, which will soon offer a half-sandwich/cup o' soup combo, always has at least one soup on hand, whether it's the popular butternut squash or the ribollita, a brothy soup that pairs toasted bread with white beans. "It makes a nice, hearty, bread-porridge-type soup," said Foehl.
John Downey's Red Lentil Soup with Curry Cream: "This is a spin-off of one of my favorite soups at the restaurant," said Downey, who opened his State Street restaurant in 1982. "In the restaurant, I float a little curry cream on top to order. I call it an Indian Irish coffee. You drink the hot soup through the cool cream. But I can't do the floating cream thing at the event, so I have to just put it right into the sauce with the soup."
Though he agrees that it's a soupy time of year, Downey sells it steadily all year long, including chilled soups in the summertime. In his 52 years of cooking, he's seen soup go in and out of style but thinks its popularity is on the rise again. "I have my four-course tasting menu, and I find that if I put a soup as part of that, then I sell more soups à la carte, as well," he explained. "It gives people the idea."
4·1·1
The 19th annual Empty Bowls fundraiser for the Foodbank of Santa Barbara County is Sunday, November 13, 11 a.m.-2 p.m. at the Ben Page Youth Center (4540 Hollister Ave.). Tickets are $30. See foodbanksbc.org or call (805) 967-5741 x110.
---