Arts & Entertainment
Vocalosity Forms One Voice Out of Many At Granada
Director Deke Sharon Discusses Diverse 10-Piece A Cappella Group
We are all of us singers, said Vocalosity director Deke Sharon — singers like the birds, crickets, and whales. Singing, he said, is the oldest art form, with communities joined together for millennia in times of celebration and struggle, music note by music note, through religious songs, bar songs, fight songs, all kinds of songs. For most of history, everyone sang. When the members of Vocalosity harmonize together on the Granada Theatre stage on Friday, November 11, at 8 p.m., Sharon feels his 10-piece a capella group will inspire audience members to find their own inner voice, as the internationally membered vocal group showcase their uniquely diversified and inventive style covering works from across pop music history.
Sharon is the contemporary a capella visionary behind the Pitch Perfect films and The Sing-Off series, which televises worldwide in the U.S., China, the Netherlands, and South Africa. He feels Vocalosity is in many ways the culmination of his previous projects, namely in their ability to bring the joy of a capella off the screen to a live stage. "A capella music is best live, and always has been, because it builds a connection between people," he said. While most people have fallen in love with a capella through works like Pitch Perfect and YouTube sensations such as Pentatonix, "these are all on screens — Vocalosity brings an amazing all-star group into people's hometown, and they feel the connection and power that the vocal music has."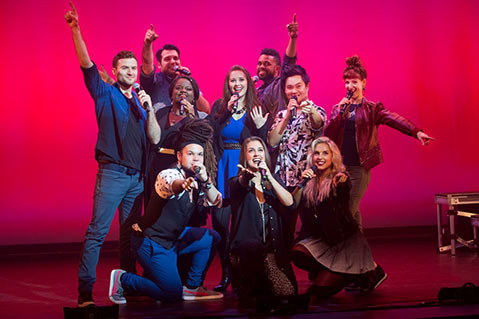 The group is known for their imaginative medleys, and Vocalosity is not simply content to sing a playlist. Instead, they build narratives, like a love story told through the lyrics Motown's greatest hits, or telling a history of song from 10th century Gregorian chants to the Beatles. "Every set is different," Sharon said of their concerts, which are choreographed by Stomp original cast member Sean Curran.
To recruit some of the group's members, Sharon looked far and wide across the international song competition circuit, finding bright stars such as tenor Cheeyang Ng, who won Campus Superstar, Singapore's equivalent of American Idol. The result is a truly diverse set of singers and singing styles — "We look like a United Colors of Benetton ad," Sharon joked — wherein each singer is given their moment in the spotlight and creative say, and oversized ego energies are left out of the picture. "You can't have harmony without harmony. We cannot have any divas. In the same way that I create a vocal blend, I can create an atmosphere in which everyone feels respected and listened to, and everybody gets a different chance to shine," he said. He notes their recent video covering Ariana Grande's "Dangerous Woman," wherein no one body type or one style is solely represented by the singers in the group — a rarity for female vocal groups.
Sharon hopes that by using one of civilization's longest-standing energy resources — the power of song — Vocalosity can bring about greater acceptance and understanding among us all. "We live in an incredibly divisive, bifurcated society, lines drawn, walls put up — people don't even agree on the facts, let alone the interpretation of those facts," he said. "We have lost the ability to listen and work with people who are different than us, but we are greater than the sum of our individual parts, and Vocalosity is the living embodiment of that." Sing with them at the Granada, and feel the power of coexisting in greater harmony.
4·1·1
Vocalosity performs Friday, November 11, 8 p.m., at the Granada Theatre (1214 State St.). For more information, call 899-2222 or visit granadasb.org.