Living
Patagonia's New Recycled Clothes
Inside the Ventura Outdoor Company's Nano Puff, Wool, and Other Lines
Patagonia has been weaving recycled materials into its products for nearly 25 years, initially milling discarded plastic bottles into fleece pullovers. Today, the Ventura-based outdoor clothing and equipment giant is constantly tinkering on the edges of the green frontier, producing everything from neoprene-free wet suits to online tutorials on how to repair damaged apparel.
Its latest efforts include upgrades to the Nano Puff jacket, an enduring classic that now sports recycled content inside and out. Since 2009, the lightweight zip-up has featured a shell and liner woven from 100 percent recycled polyester. The problem: Its insulation was 100 percent all-new material. That's changed. The Nano's new line, launched this fall, features insulation that's 55 percent recycled material, without a drop in performance. The company estimates that the technology — called PrimaLoft Gold Insulation Eco — will save two million plastic bottles from landfills in the first year alone.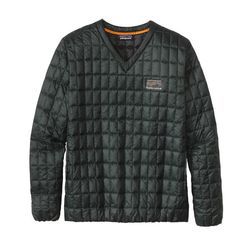 Speaking of landfill diversion, Patagonia's recollection doesn't exactly scavenge cast-off material from the sewing-room floor — but almost. These exceedingly well-built jackets, vests, pullovers, and pants feature goose and duck down reclaimed from cushions, bedding, and other used comfort items that generally can't be resold. The V-neck pullover specifically is lightweight and toasty and comes with its own tiny stuff sack.
On the wool front, Patagonia utilizes a technology that converts threadbare sweaters into blankets, adding quality controls that sort by color prior to shredding so that dyed materials can be matched and blended during manufacturing. This eliminates the dyeing process, which saves water and forgoes certain chemicals. The jackets — warm, comfortable, stylish — are made from 100 percent recycled wool plus reclaimed-down insulation and polyester.
"I tell people to think twice before buying anything, including our stuff," Patagonia founder Yvon Chouinard has said. "But if you really need it, we're making the best-quality stuff you can buy." Plus, with these new offerings, it's high-quality stuff made mostly from stuff readily available in Patagonia's vast consumer loops.