News
Edison to Bring Pesky Below-Ground Vaults Upstairs
Eight Street-Level Transformers Will Soon Appear Downtown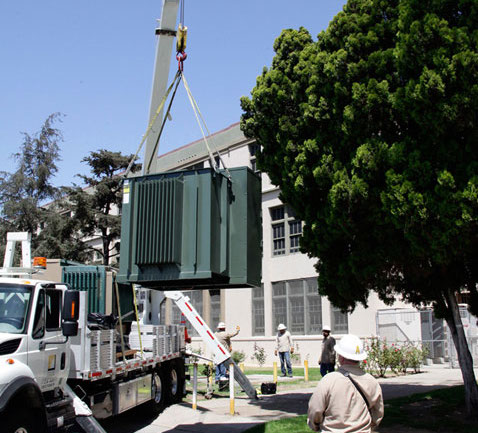 They may be out of sight, but they're hardly out of mind. Santa Barbara's underground electrical vaults, buried below streets and sidewalks more than 50 years ago to keep downtown as picturesque as possible, are a big reason for the city's ongoing blackout blues. They often flood and become clogged with debris, and when there's an outage accompanied by a gas leak, workers sometimes have to wait hours for the all-clear to climb down.
In March, Southern California Edison will start replacing some of this subterranean equipment with aboveground transformers. Eight large, pad-mounted boxes will appear next to parking garages, in parking lots, near the police station, and in the Anapamu Street pocket park. They'll emit a humming sound, Edison officials told the City Council at last Tuesday's meeting, but won't break any noise ordinances. "Sometimes they're quiet, sometimes they're a little louder," said District Manager Alicia Pillado. "You probably won't even notice it."
Normally green, the boxes could be painted different colors to blend in with their surroundings, or they could be hidden by hedges, Pillado said. Other cities, such as Glendale and Burbank, adorned theirs with murals. It will be up to Santa Barbara's design review boards to settle on a visual strategy.
The work will cost $11 million and include new circuit ties and automation systems. Edison representatives have estimated construction will take three to five years, depending on phasing and accounting for complications. "We don't know what we'll find down there," said Pillado. During that time, a number of road closures and planned outages will take place.
The downtown project is part of the utility company's wider-reaching efforts to shore up existing infrastructure, install new equipment, and improve reliability, the last an issue that has frustrated residents and angered business owners for years. Santa Barbara ranked among the worst performing of Edison's 35 coverage districts in 2014 in terms of outage frequency and duration, records show, though improvements were made in 2015 and 2016.
In their presentation to the council, Edison representatives stressed their commitment to getting Santa Barbara better wired. They recently met with the Downtown Organization and the Community Environmental Council, and organized a personal tour by Edison president Ron Nichols. They also discussed strategies to the address the region's "transmission vulnerability" — the precarious reality that Santa Barbara's power is provided by two 220-kilovolt transmission lines that snake through rugged backcountry from Edison's Santa Clara node to Goleta.
Should those lines fall in a landslide or fire, more than 80,000 South County customers would lose power until backups kicked in, which don't provide nearly enough energy to accommodate normal demand. Peak load is typically around 265 megawatts; backup in the form of a 66KV system running up the coast only provides around 160 megawatts of electricity.
In normal times, Edison relies on its Goleta "peaker plant" — essentially a water-cooled jet engine in the Ellwood area — to turn on during peak hours when demand is putting too much pressure on the grid. The company has a pending application to upgrade the facility to run another 10 years. That project is expected to cost $51 million.
Thinking longer term, Edison will soon put out a request for proposals for renewable and distributed energy projects to be created here in Santa Barbara. Kathy Hart with Edison's public affairs said it's "a new direction for the company," which views Santa Barbara as a "test bud" for new ways to make the region more self-sustaining. A recently released white paper by the company identified rooftop solar, onsite battery storage, and electric vehicles as ways to achieve cost savings, cleaner energy, and enhanced reliability.