News
Lung Damage by Car Exhaust Tallied
American Lung Association Releases Report Analyzing Zero Emission Vehicle Benefits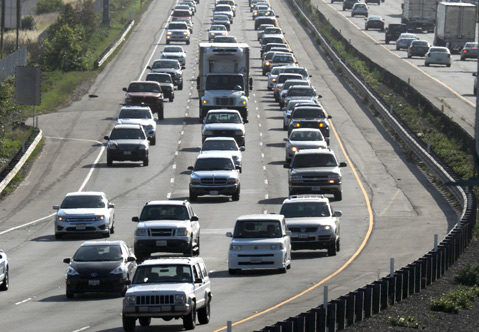 Pollution from traffic, especially for those who live close to major roadways, can cause a range of health problems, says the American Lung Association. The group's latest report, Clean Air Future, states zero emission vehicles (ZEVs) not only reduce the carbon that drivers release into the atmosphere but also consequently lessen the incidences of asthma in children, impaired lung function, cardiovascular problems, and premature death. For adults, less ozone and fine particulate matter in the air means less asthma, fewer deaths from heart attack and related emergency room visits, and less time lost from work.
In California, one out of every seven vehicles sold by 2025 are to be a variant of electric, battery-electric, plug-in hybrid, or hydrogen — instead of fossil-fuel burning. Nine states adopted California's more-stringent-than-the-feds' air quality rule — Connecticut, Maine, Maryland, Massachusetts, New Jersey, New York, Oregon, Rhode Island, and Vermont. The Lung Association's report states that compared to 2015's approximately $37 billion in health and climate costs due to passenger vehicles in these 10 states, if they reach their zero emission vehicle goals, that number should drop to $15.7 billion by 2050. Pollution-related illnesses and lost work days would drop by more than 85 percent. The death toll would drop by 1,429 fewer premature deaths by 2030, and to 2,246 fewer in 2050.
The Lung Association report, which was released in October, makes clear that the public currently bears a high health cost from the burning of petroleum-based fuels. As well as calling for the federal Clean Power Plan to be implemented — probably not in the cards once the Trump administration takes power — the Lung Association concludes that making ZEVs more affordable, promoting carpool lanes, building charging stations, and pushing for 100 percent ZEV sales by 2050 — a pledge signed in Paris in 2015 by eight U.S. states, including California, and Germany, The Netherlands, Norway, the U.K., and Quebec — will benefit the 166 million Americans who currently live in counties with unhealthy air. As well as cars, the report also sees electricity generation by utilities as playing a large part in both supporting the ZEV market and also turning to renewable energy sources.