Arts & Entertainment
Stand-up Comedy for Gray Winter Days and Nights
Tig Notaro, Michael Che, and Others Crack Wise About Politics and Personal Experiences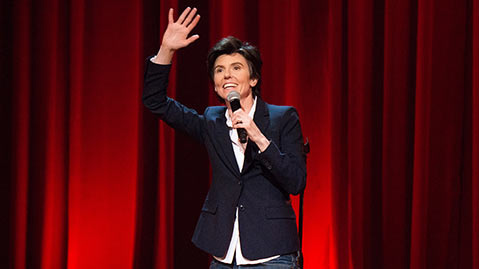 When the weather outside is frightful, binge watching comedy specials on Netflix is one sure way to perk up the gray mood. Nothing is better than curling up in bed, wearing your favorite fuzzy socks, and laughing until hot cider comes out of your nose. From the recent presidential election to miscarriages, cancer, and dodging ill-fated flights, these comedians will have you laughing at things you probably shouldn't and keep you giggling all winter long.
Tig: I stumbled upon this documentary about comedian Tig Notaro, and while not technically a stand-up special, it had me laughing and crying the whole way through. It chronicles the everyday woman's mid-life crisis: breast cancer, a mother's untimely death, a breakup, infertility issues, and a Clostridium difficile diagnosis — all of which occurred within one year. Instead of falling victim to her tragedies, Notaro turned her pain into humor at a routine gig at L.A.'s Largo comedy club, which eventually made her a viral sensation. The film follows Notaro's deeply personal journey in the year following the legendary set and her struggle to deal with her newfound notoriety as the woman who makes jokes about cancer. By complementing reels of old shows with her new material, Notaro offers a humorous and inspiring look into how comedians use wise-cracking to make light of personal strife.
Michael Che Matters: This past year, the entire world saw politics turn personal. For Michael Che, no topic is off the record when it comes to exploring contemporary society's racial, sexual, and religious views. As a co-anchor on Saturday Night Live's "Weekend Update," Che is comfortable speaking honestly about politics, and he plays on his audience's expectations of what is considered politically correct. For example, the audience reacts with dismay toward his approval of Donald Trump at first, but Che throws them off when he states that the Donald shouldn't be president but that he is one funny dude. Che questions Jesus's carpentry skills ("Why would he be a carpenter if he could perform miracles?"), legitimizes white supremacists' anger ("You can't be a racist if you're insecure"), and satirizes black peoples' fight for civil rights ("Why is it that if you're black you have to let things go?") to provide much-needed comedic relief. Admittedly raunchy, he does sort of resemble Trump: He says things people are too afraid to say in public.
Ali Wong: Baby Cobra: Comedian and TV writer Ali Wong accomplished something not often seen: performing a live stand-up special while seven and a half months pregnant. Don't worry; it's not all just jokes about what to expect while you're expecting. She takes a dark stab at miscarriages, Asians, and her definition of feminism. At the beginning of the set, Wong makes a tongue-in-cheek criticism jab at modern feminism, asking women why they let men in on the joke that they are fully capable of working. She fully commits to her jokes, even twerking and frolicking around on her back on the floor. Her dark sense of humor, deadpan energy, and storytelling will have you glued to the screen until the very — unexpected — end.
Kathleen Madigan: Bothering Jesus: With Irish-Catholic roots and a Midwestern upbringing, this funny femme intertwines personal stories and mainstream news headlines to provide her perspective of the world. Madigan's stand-up gig in Wisconsin begins with her telling the audience about growing up in Ferguson, Missouri, and how she isn't surprised by the racial divide — in fact, she wonders why it's taken this long for the news to break. With set-running jokes about missing Malaysia Airlines Flight 370 that mysteriously disappeared and the politics of noodling (catching catfish with your bare hands), she makes you feel as if you're in her home, sipping wine in rigorous, arm-raising motions just to fool your Fitbit. Her hearty laugh and tales of growing up with six siblings are genuine, satirical, and all too relatable to those who grew up in rural America.