Arts & Entertainment
Music Academy Announces 2017 Season
Community Concert with N.Y. Phil Planned for La Playa Stadium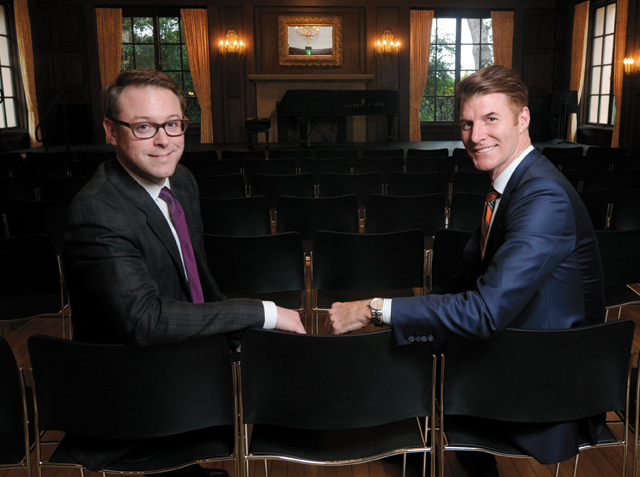 In a city blessed with a multitude of desirable locations, the bluff that spans from East Beach in Santa Barbara to Butterfly Beach in Montecito nevertheless stands a bit apart from ​— ​and above ​— ​the rest. Residents of this magical spot can count Ty Warner and his Four Seasons Resort The Biltmore, Huguette Clark's Bellosguardo, and the many distinguished folks resting in the Santa Barbara Cemetery as neighbors, along with a remarkable variety of wildlife, including some very active foxes. Smack in the middle of this exclusive enclave sits the campus of the Music Academy of the West, which celebrates its 70th anniversary this year and can make a strong claim on the title of world's best summer destination for advanced students and lovers of classical music. Tanglewood and Aspen, and Marlboro and Salzburg, continue to attract extraordinary talent. But when measured in terms of innovative programming, high-profile partnerships, youthful energy, and sheer irresistible beauty, the Music Academy of the West, circa 2017, comes out on top. The establishment of its Global Academy Fellowship program with the New York Philharmonic three years ago gave academy musicians unprecedented involvement with the world's best symphony orchestra, and the total renovation of the Miraflores campus, now entering its final stages, gave New York Philharmonic musicians ​— ​along with many other renowned singers, soloists, and composers ​— ​ample reason to want to spend June and July playing, studying, and relaxing here in Santa Barbara.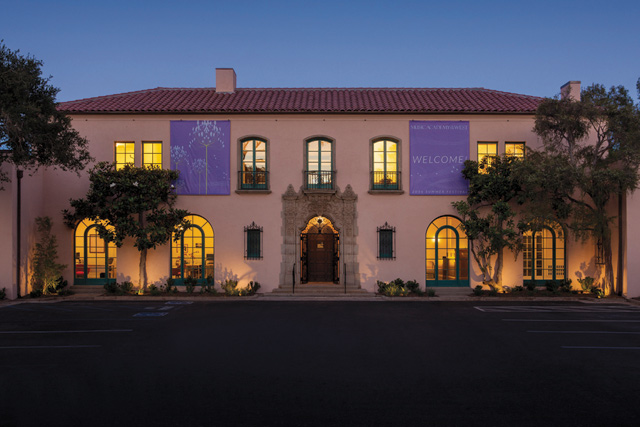 To celebrate its ascent to the pinnacle of classical cool, and to express its vision of what music can mean to a community, the academy announced this week that it will present a concert on July 31 for which there is no precedent, even in the rich annals of Santa Barbara's classical music history. Maestro Alan Gilbert will lead the New York Philharmonic in a concert featuring Beethoven's crowning achievement, the majestic Ninth Symphony, which will take place in Santa Barbara City College's La Playa Stadium. Seven thousand tickets will be available, and more than 6,000 of them will cost just $10, making this both the biggest and the most accessible music event of the summer. At the end of the night, a barge stationed in the ocean off Leadbetter Beach will launch fireworks as the audience in La Playa and the orchestra look on.
This epic musical pilgrimage from New York to Santa Barbara, and then from East to West Beach, represents the culmination of a decade under the leadership of President and CEO Scott Reed, a UCSB grad who began at the academy as an intern. The dynamic Reed, along with a powerful team that includes legends such as Voice Program Director Marilyn Horne and young Turks such as VP for Artistic Planning and Educational Programs Patrick Posey, has turned what has always been an institution of extraordinarily high standards into one with a vision of its mission that's equal in scope to the distinguished tradition on which it builds. The thinking behind the Music Academy's rapid transformation is simple yet revolutionary. Start with the idea that the academy's fellows are an invaluable resource, and make them the core of a program that puts their needs first. From moving the vocal fellows' housing from Cate School to nearby Westmont College in the summer of 2016 to engaging Santa Barbara fitness guru Jenny Schatzle as the academy's official workout partner, no expense has been spared in making the musicians comfortable and keeping them in shape ​— ​but that's only one small part of the student-centered approach.
Learning from Your Students
"We have to be as entrepreneurial as an organization as these musicians will need to be in their careers," said Reed. That means providing them with unique opportunities for career advancement, such as the Global Academy Fellowship Program with the New York Phil, as well as creating a new Alumni Enterprise Awards Program. Beginning with this season, all academy alumni are eligible to submit projects that, as stated in the Alumni Enterprise Awards Program call for submissions, "align with and/or challenge the Academy's mission to further classical music education and/or cultivate discerning, appreciative, and adventurous audiences." The academy's National Advisory Council, a group that includes television producer/philanthropist Marcy Carsey and Juilliard School provost and dean Ara Guzelimian, will evaluate the applications this fall and award the winning proposals with grants of between $2,500 and $20,000. What's perhaps more important is that the money will come with a mentor or mentors drawn from the top ranks of the classical music world who will be there to guide and promote the projects.
Notice that the wording in that call for proposals includes the possibility that an alum might actually want to "challenge" the academy's mission, and you're on your way to grasping what's most innovative about the vision of the organization under Reed's stewardship. Sitting with him in his distinctly modern office, a space that's hidden away within the more traditional décor of the freshly renovated Marilyn Horne Main House administration building, it's easy to feel the pull of the future as it manifests in his excitement about learning from the fellows, even as the school is teaching them. This two-way street can be seen in another of the 2017 launches, Classical Evolution/Revolution, a two-day conference scheduled for June 19 and 20 that will draw experts from music, technology, business, and media to Santa Barbara to discuss and debate the current role and the potential future of classical music in world culture. From redefining the live experience to partnering with the visual arts and developing new financial models to support the music, Classical Evolution/Revolution promises to deliver a remarkable range of perspectives on where things are going, and you can expect that in many instances. When examples of what's coming next are produced, the name of the Music Academy itself will be among those most frequently mentioned.
A Destination for the Music of Today
For boldness, the decision to put the New York Philharmonic in La Playa Stadium probably takes first prize, but a new Commissions and Premieres Program that launches this summer gives it some stiff competition. By bringing in guest composers, featuring distinguished alumni as composers and performers, and investing directly in the commissioning of new music, the academy takes a giant step toward its ambitious stated goal of "making Santa Barbara a front-line destination for music of today." Matthew Aucoin, a 27-year-old phenomenon, returns after an almost unimaginably successful year in which he conducted the Los Angeles Philharmonic, became artist-in-residence with the Los Angeles Opera, and conducted and performed his work with a who's who of the world's top musicians and orchestras. For example, if you happen to be in Salzburg, Austria, next week, stop by the Landestheater, where Aucoin will be conducting the Mozarteum Orchestra in the European premiere of his cantata The Orphic Moment. Aucoin thrilled at least two Santa Barbara audiences with his chamber opera Second Nature last summer ​— ​one was made up mostly of adults who came to hear him conduct the work in the evening at the Lobero Theatre, and another of children, who came for a special, free daytime performance of the work, which was commissioned by the Lyric Opera of Chicago and premiered at the Lincoln Park Zoo.
Another rising star, Timo Andres, will make his Music Academy debut by presenting a West Coast premiere, as will London-based pianist and composer Stephen Hough. In all, there will be 10 world and/or West Coast premieres this summer, six of which are academy commissions. It's hard to overstate the importance of this initiative. Commissioning new work is expensive and risky, as the vast majority of new compositions only receive a handful of performances before being relegated to programming oblivion. In fact, that's one of the reasons that, as Posey put it, "second and third performances are often as important as premieres" to the life chances of a new work. By combining the two approaches ​— ​commissioning and premiering ​— ​into a single program, and investing in the future through a network that includes talented young composers such as Aucoin and Andres along with such distinguished academy alums as Pulitzer Prize winner Caroline Shaw, the academy makes a move that promises to shift the center of attention for contemporary composers to the Central Coast of California for two full months every summer for decades to come. Taken in tandem with the Ojai Music Festival, which has been presenting the best in new music for almost exactly as long as the Music Academy has been training the best new musicians, the Commissions and Premieres Program inaugurates an era in which our community will witness an annual season of irreproachable choices that lasts two full months, from the first week in June until the first week in August.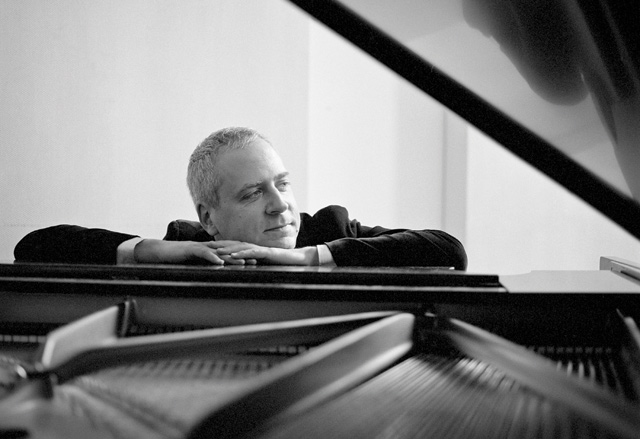 Every Piano a Steinway
As one important alliance, the three-year partnership with Alan Gilbert's New York Phil, winds down, another and more permanent one begins, this time with the fabled Steinway & Sons. This summer, the academy joins an elite club by becoming an official All-Steinway institution. There are now 55 (!) Steinway pianos on the Miraflores campus, including a new Hamburg model D concert grand in Hahn Hall that was hand-selected at the factory by Jeremy Denk. Speaking of Denk, the MacArthur "genius grant"–winning pianist, composer, and author has stepped up his participation in 2017, moving from guest artist to full-time faculty status. Two distinctive events are planned to mark the achievement of the coveted All-Steinway status: On May 21, the academy's 70th Anniversary Gala will include a recital featuring famous pianists who are official Steinway Artists, and later in the summer, the academy will launch its first solo piano competition. In addition to a substantial cash prize, the winner will receive a recital tour of Steinway venues nationwide.
Of course, no Music Academy season would be complete without a great opera, and 2017 is no exception. Los Angeles–based director James Darrah, known for creating extraordinary productions with unforgettable design elements, will collaborate with academy alum conductor Speranza Scappucci on Donizetti's charming and hilarious The Elixir of Love. As always, the select Voice Program fellows lucky enough to be cast in this full production, which will be at the Granada Theatre on July 27 and 29, will be rehearsing and performing under the watchful eye and even more attentive ears of Voice Program Director Horne.
Fans of great voices should also take note that the New York Philharmonic performance of Beethoven's Ninth Symphony will feature superstar alum soprano Susanna Phillips ('02, '03) as a soloist. Phillips, who received rave reviews for her performance in the Metropolitan Opera's recent production of Kaija Saariaho's L'Amour de Loin, is one of the most sought-after singers working today, and her appearance will only add further luster to this already stellar evening by the water. That special community performance at La Playa Stadium is, by the way, dedicated to the late Baroness Léni Fé Bland and made possible through partnerships with Santa Barbara City College and the City of Santa Barbara.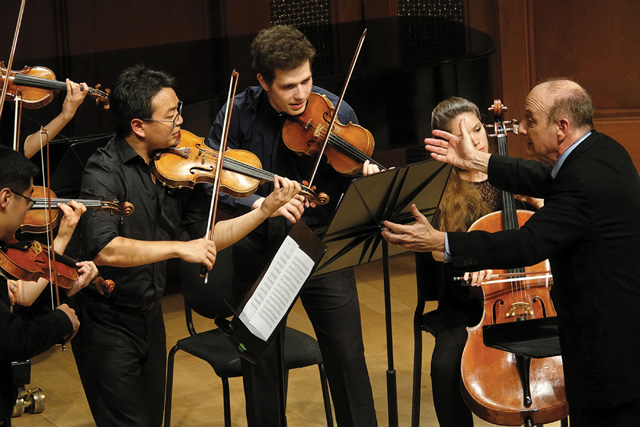 The Music Academy and You
If the availability of $10 Community Access tickets isn't enough incentive to get you off the sofa and into the concert hall, you might consider another option: live streaming. The Music Academy will live-stream up to 20 events in the 2017 season, and there are many more performances archived at musicacademy.org. And on the subject of archives, a long-standing partnership with the UCSB Library will be renewed this season as the library mounts an exhibit of memorabilia celebrating the academy's 70th anniversary and announces a commitment to digitize 400 of the most important reel-to-reel tapes documenting historic concerts going back to the academy's earliest days and featuring such luminaries as Lotte Lehmann.
Circling back to Reed and what he said about the direction that things are taking in this 70th anniversary year, it's easy to see why applications for the program's all-expenses-paid fellowships are increasing so rapidly and why the school is attracting better and better players all the time. "We are never comfortable," Reed said of his board and staff. "We're always pushing ourselves to be better." But at the same time, the key to real and lasting progress in a creative field remains, according to Reed, on the side of the young and the talented. "We don't have all the answers, and that's one reason it's so important to listen to our fellows. If we can find out what they are thinking and keep learning from them, we have a better chance to become what we want to be ​— ​an epicenter for innovation and curiosity and part of a community with a worldwide reputation as a place where people are living in a complete way."
In other words, it's not just about the music but rather about the people and about empowering artists, and then "throwing open the doors" to let all of Santa Barbara in to hear what's happening on the crest of that beautiful bluff overlooking the ocean in Montecito.