Cover Story
Schools Expanding 'Safe Zones'
S.B. Unified, UCSB, SBCC All Taking Steps to Protect Students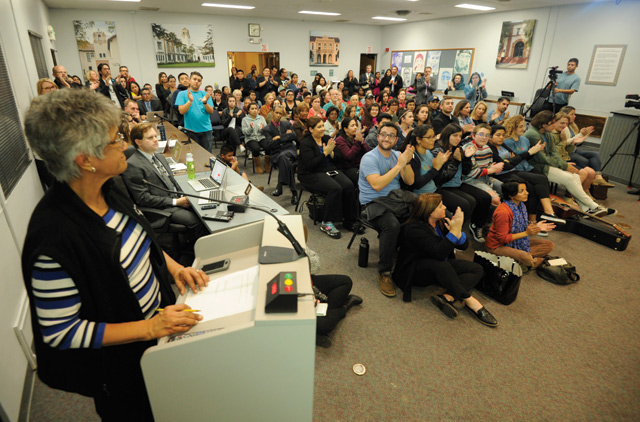 With post-November 8 tension and confusion poised to come to a head on Inauguration Day, campuses across Santa Barbara ​— ​from elementary schools to institutes of higher learning ​— ​have already set in place school ground locations dedicated to the quiet safety of its most vulnerable students.
Santa Barbara Unified School District's Board of Trustees spearheaded a resolution on December 13 to "welcome and support children from all backgrounds, including those from undocumented families" and to "keep immigration authorities off our campuses to the fullest extent provided by law."
At the University of California level, the pressure's real, said third-year Film and Media Studies major Le Tang with UCSB's Resource Center for Sexual & Gender Diversity. "But since the election, it feels like we've been more fired up. And we've definitely been seeing more support."
Much of that support has come in the form of more square footage dedicated to so-called "safe zones," from outdoor public spaces to classrooms and lecture halls, and by professors offering up their office hours. Drop-in safe zones have also opened up at the Pardall Center in Isla Vista, which provides study space, legal resources, and a home for the tenants union, among other services funded by UCSB's 23,400 students.
On November 9, in the midst of campus-wide disillusionment, Vice Chancellor for Student Affairs Margaret Klawunn released a statement with a list of newly opened drop-in safe spaces and the university hotline for students who "have witnessed or … have been a target of a hate- or bias-motivated incident."
At the community college level, response from the very top of its governing board, headquartered in Sacramento, has informed any established or pending action at Santa Barbara City College.
In December, the California Community Colleges Chancellor's Office, led by newly appointed Chancellor Eloy Oakley, vowed to support all of its 2.1 million students, mincing few words in its guidance of the system's 113 campuses in outlining the following strategies: "District police departments should not detain, question or arrest any individual solely on the basis of (suspected) undocumented immigration status; Districts should not cooperate with any federal effort to create a registry … based on religion, national origin, race or sexual orientation; [and] no confidential student records should be released without a judicial warrant, subpoena or court order."
The issue hits close to home for SBCC President Anthony Beebe, whose father was born in the Philippines and brought to the states when he was 12. "We are a nation of immigrants, with some of us getting here sooner than others," Beebe said.
"Undocumented youth, brought to this country under the age of 16 years, are among the most vulnerable populations we have in our society. They are individuals who deserve special discretion, grace, and protection, as their status here is not of their making."
SBCC's seven-member Board of Trustees has formed an ad hoc committee to explore campus-specific language of that nature. And in the meantime, Luis Giraldo, PhD, the school's director of equity, diversity, and cultural competency, has hosted get-togethers at the Winslow Maxwell Overlook as "an open, inclusive, supportive environment for students," according to Communications Director Luz Reyes-Martin. She said the lunchtime gatherings have attracted undocumented students, single moms, and students coping with mental illness.
"It's hard to tell what will happen [after Trump assumes office]," Reyes-Martin said. "We certainly stand behind Chancellor Oakley. As we look to his office to see what's coming from the top, we'll continue to reach out to students."
She added that there have been no arrests or reports of vandalism, nor any significant uptick of related on-campus conflicts. "What's not uncommon are very high emotions, mostly because of uncertainty," she said. "What will this lead to?"