News
Pedaling Around Taiwan
Santa Barbara Couple Explores the Island by Bike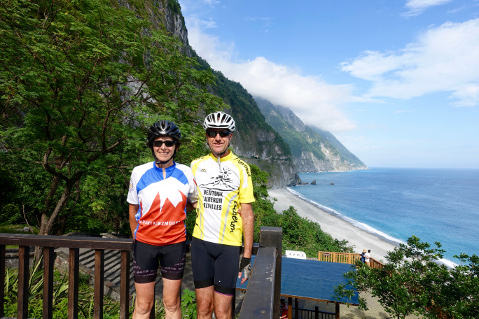 Dave and Christine Bourgeois were drawn together by a mutual love of the outdoors. They met through the Sierra Club over 18 years ago and have been adventuring together ever since. Their latest expedition spanned multiple continents over several months, including a three-week bike tour around Taiwan.
Christine's interest in Taiwan was piqued when she heard that it was selected as the destination for Velo-city Global, an annual international cycling conference. "It was chosen because the country is really pushing for a lot of bike infrastructure and bike tourism. I thought it looked really cool; the tropical weather, the culture, interesting biking. We put it on The List."
The List is an ever evolving tally of places the couple plans to visit. They typically take several trips each year. The scope and time required for this particular trip was unique, and had been three years in the making. "We had been to Nepal and loved it. We knew we wanted to go back, and if we were traveling that far, we thought it would be a good time to just keep going."
Christine, who grew up cycling in France, primarily viewed bikes as an efficient and economical means of transportation, a way to get to school and work. When she met Dave, he encouraged her to bike for fun, too. That shift in perspective opened up a new way to travel. Says Christine, "I really like bike touring because you're more approachable, people want to know where you've been and what you've been doing. It's a slower pace so you really get to see a place, take a lot of photos, it puts you in a different state of mind."
They began their recent journey by visiting family in France, then moved on to trekking in Nepal. Meanwhile, a stateside friend helped with logistics by shipping their bikes to Taiwan, where the couple met up with several friends to begin their ride.
Taiwan offers great variation in topography. Cyclists looking for a more intense physical challenge can hit the mountainous interior. Those looking for a more moderate ride can stick to the east coast, where the pristine beaches and beautiful ocean are reminiscent of California's Big Sur.
Dave and Christine included a little bit of everything on their trip. Dave says, "We mostly stuck to smaller roads with less traffic, but that often meant hillier terrain. When there was an option, we tended to go the more scenic route."
Spending hours in the saddle and burning through thousands of calories each day, the couple was delighted by the availability, quality and price of the local cuisine. "Each area has special dishes, including local produce. The night markets are incredible, it's great food and a great social atmosphere."
They stayed in accommodations ranging from simple Airbnb-style rooms to upscale hotels with natural hot springs, and found that most every host was fully prepared and happy to store their bikes. Dave says the hospitality was remarkable. "The people are exceptionally friendly everywhere."
They kept a relatively open schedule while on the road, setting a less strenuous pace so that Christine could continue to recover from a nagging back and hip injury, and to allow for some spontaneity. "We knew we could be flexible," says Christine. "We spent time meeting people, exploring the countryside, and going to museums."
Making only a few connections by train, they managed to circumnavigated the island primarily by bike, pedaling an estimated 600 miles.
Now back in Santa Barbara, the couple is grateful to employers, friends, and family who helped make the adventure possible. When asked when their next trip is, Christine laughs and directs the question back at Dave, "Yes! When is our next trip?"
Dave says they plan on staying put for a bit, but he enthusiastically encourages everyone to give bike travel a shot. "Get on a bike and go have fun, the world is beautiful, there is a lot to see and a lot of great people out there."
Look for a slide show presentation of inspiring photos from the Bourgeois' Taiwan trip in the CycleMaynia lineup this spring.