Film & TV
The Distinguished Citizen
Directors Mariano Cohn and Gastón Duprat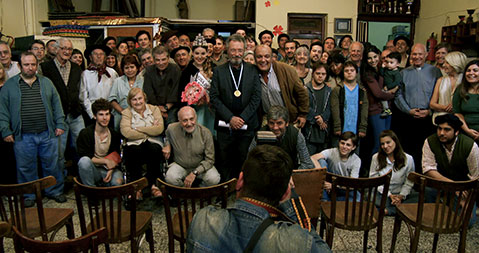 Angst riddled and brooding in self-imposed isolation, a Nobel Prize-winning author decides inexplicably to return to his rural hometown in Argentina and accept an award from the very people and place he has used to inspire his fiction. Things do not go as planned. Not even close. The Distinguished Citizen is a film that takes on the tensions of rural living versus urban worldliness, the disillusionment of lost dreams, the burden of success, and the weird ways we interpret other people's art. See here for more.
It would seem, based on the film, that one can never truly go home. Is this true? If so, why?
The return of someone successful to his hometown, especially if it is a small town, can be misunderstood. People make a construction of what they think should be the "famous person" and, after they get to know him, it may turn out that the real life person does not fit the desires of people. It isn't how they want it to be and there the problems begin.
Is art in the eye of the beholder or the artist himself?
The art is in the consciousness look of the artist, in the viewer's view, and especially in the artist's view of his work without knowing it. The cosmo-vision and universe of the artist unconsciously expressed on the work. That is the most powerful of all, because it is beyond the control of the artist himself.
Why a writer? Was it important what type of artist you made the main character?
We chose a writer for several reasons. First of all, to play with the limit of fiction and reality in the story of the film; then, being a writer, the film excuses itself from fully showing the work of this writer. We were interested on that the real artwork of the character became in a second place. Last, but not least,, there is no Nobel Prize for Argentine literature, so the film somehow covers that void. The Nobel Prize was about to be given several times to the Argentine writer Jorge Luis Borges, but never happened, perhaps because it was too genius and politically incorrect.
Is it possible to be completely happy and make poignant art?
That question is part of the film. A participant in one of the writer's classes asks a similar question: Is happiness an impossibility for artistic creation? It is often believed that in the most unequal societies, artists have more and better motives for expression. I think it is not like that, you can be an unhappy person and live in the worst place in the world and be a terrible artist and vice versa.