Film & TV
SBIFF: Screenwriters Panel
Pros Reveal Why All Great Films Start with the Script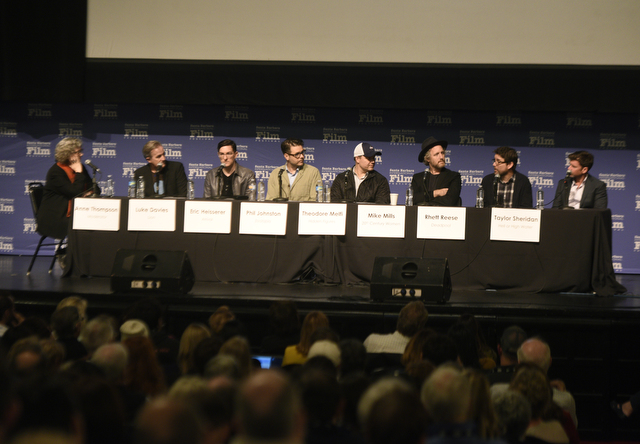 A Lobero Theatre full of Santa Barbara Film Festival goers peeked inside the minds of seven screenwriters Saturday, February 4, during a Q&A session moderated by film critic Anne Thompson. On the panel were Luke Davies (Lion), Eric Heisserer (Arrival), Phil Johnston (Zooptopia), Theodore Melfi (Hidden Figures), Mike Mills (20th Century Women), Rhett Reese (Deadpool), and Taylor Sheridan (Hell or High Water). All men, all white, they nevertheless possessed very different backgrounds and approaches to their respective work.
Reese fell in love with storytelling when he penned his own Hardy Boys novel in fifth grade. Melfi started writing as a kid for his father's anti-government newspaper. And Heisserer, who grew up with asthma in a sports-heavy Midwestern town, got into writing through gaming.
Thompson's first direct questions went to Reese. Why did Fox, not Disney, back Deadpool? Why was it rated R when nearly all other superhero films avoid that rating? Reese said the movie's producer and lead actor Ryan Reynolds was heavily involved in the writing process. He encouraged the writers to go as irreverent and raunchy as they could. They did, and the final script sat on a shelf for six years. They even wrote a PG-13 version, but that didn't get made either. Finally, Fox picked it up, and the movie's sharp edges are what made it a hit, not a liability. "It feels like an apple among the oranges of studio [superhero] films these days," said Reese. "Maybe that's why it's been so successful."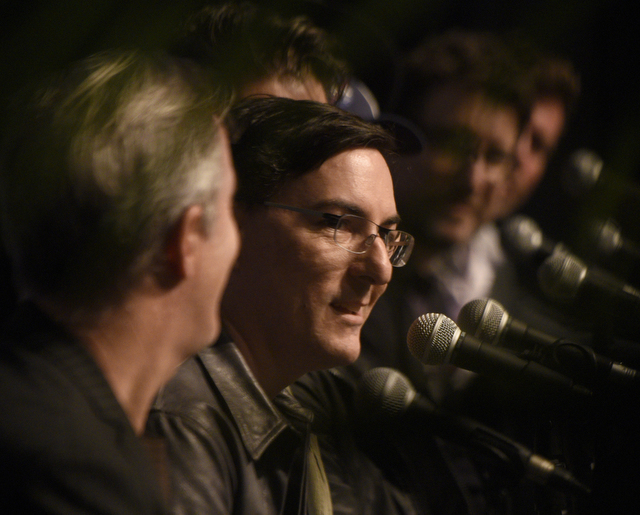 Thompson asked Heisserer how he knew the short story on which Arrival is based — "Story of Your Life" by Ted Chiang — would make for a compelling sci-fi film. Heisserer said he had such visceral reaction to reading the piece, he felt he had to expose it to more people. Every studio turned him down. One told him they'd make the movie if he changed the lead role to a man. "I knew I would never go back to that studio," Heisserer said. He wound up writing the screenplay on spec. Notably, Arrival takes place solely on Earth. "You don't need space for a sci-fi film," Heisserer said. "For a long time, my favorite sci-fi film was Groundhog Day!" He added that he could never have predicted that the film's theme of language and science coming up against human tendencies of fear and exclusion would be so timely.
Thompson wanted to know how Sheridan's acting career (Veronica Mars, Sons of Anarchy) shaped his writing work. Sheridan said matter-of-factly he wasn't a very good actor and that poor writing he read and recited taught him what not to do, he said.
Johnston talked about how he portrayed the pitfalls of racism in an animated children's film. Like Zootopia's main character, a naive cop-in-training bunny from a farm with dreams of catching bad guys in the big city, Johnston grew up in Wisconsin before moving to New York. He quickly discovered the city wasn't the shining mecca of bumper-sticker platitudes he thought it would be. The racism in Zootopia, Johnston explained, is of the contemporary kind — subtle and nuanced, not like the obviously flawed system of apartheid. Today's audience could relate to that more easily, he said. He chose the prey/predator dynamic because its ratio in nature — 90 percent prey versus 10 percent predators — accurately mimics the majority/minority ethnic ratios of many modern societies. Audiences are sophisticated enough that they want films, even animated children's movies, to be about something, Johnston said.
One by one, the screenwriters quickly described their personal writing processes. Sheridan said he sees an entire film in his head, how the characters evolve, and change through the journey, before he starts on the script. He never outlines. Reese said he has a writing partner, and between them they break up a story into index cards pinned to a corkboard. They divvy up and write the scenes, then review the other's work. The two have a rule, Reese said, where if one writer changes the line of the other, the original writer can come up with a third line, but he can't go back to the original. "It's a great defense against bad writing," said Reese. Melfi said he goes to restaurants, drinks lots of coffee, and writes down the conversations of the diners around him. "People say the most beautiful dialogue every single day."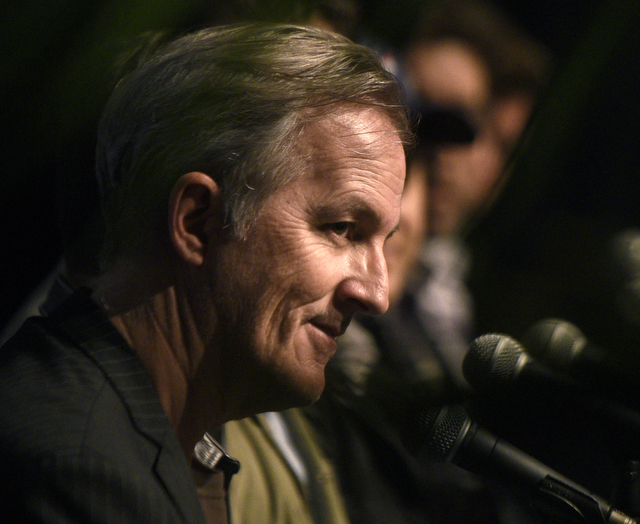 Davies recently discovered a new writing method that's made his life much easier, he said. Instead of banging away at a keyboard, he dictates his script to an assistant who types it on her laptop, which is connected to a big-screen TV. Davies watches the TV as she types and makes small changes and corrections as they go. It stops him from wasting his time — because that would mean wasting his assistant's time, too — and from quibbling over every single word and comma. Melfi loved the idea and said he wanted to try it himself.
Thompson closed out by asking the panel what scared and encouraged each of them about today's film industry, and where it's headed. Reese said it was dispiriting that none of the 30 highest grossing films last year, including his own, were original works — each was a sequel, adaptation, or spinoff. Sheridan, however, said he thought the industry was experiencing a renaissance of incredible art. None of the films nominated for the Academy Award for Best Picture would have even been made 10 or 15 years ago, he said.