Arts & Entertainment
Interview: Honne @ Lobero
U.K. Act Talks Coachella, New Songs, and the Meaning of 4/20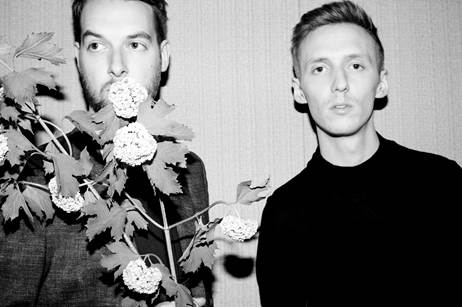 This interview was conducted April 19, 2017.
It wasn't that long ago when U.K. electronic music sensations Honne kept us warm on a cold night when they rocked SOhO Restaurant & Music Club with their soulfully slow, sensual, R&B-influenced electronic pop — and thank goodness Santa Barbara didn't have to wait much longer to have them back. The Coachella-booked duo who enjoy a large S.B. following will provide the perfect mood and setting for the April 20 show at the Lobero alongside fellow Brits, Oh Wonder, as the two bands stop in town between Indio shows. I spoke with Honne's James Hatcher and Andy Clutterbuck about Coachella, their new songs, and 4/20.
I don't know if you recall, but we last year with my sister when you played in town at SOhO. October 11. We just wanted to see how life has been since that brief half-year we have lived. What's been the most marked change, either in your dynamic or the status of the music in the world?
James: What's been the biggest change over the last year…
Andy: That is a good question… Well, politics, they're… changing a lot. For probably the worse.
[We all laugh.]
Yeah, I guess the whole world kind of changed during that time, too.
Andy: With the music, we've now been to some countries we never imagined we would go to, yeah. A lot of that time has been spent writing new music. It's very exciting and cool to try to push the boundaries a bit and make things a bit different for the next record.
How are you pushing the boundaries this time around?
James: I think we're just not resting on what we did last time. We try to keep a fresh sound, and doing things a bit differently, starting songs a bit differently, writing in different processes, all that kind of thing.
Andy: Also we've been — not outsourcing, but we've been working with different people, whether it's an instrumentalist who plays something we don't play, or other singers; just other ways to make the music more interesting for us, I guess. That's the main thing. We're happy with it and find it exciting, then hopefully other people feel the same way.
Have you been playing any live on the road yet or are they hidden away still?
James: No they're still hidden away. We just put out this version of "Warm On a Cold Night" featuring Aminé, and our first new song will come out maybe in a couple months, a month or two.
Andy: I just remember where we — we did an phoner with you before, haven't we, I think? And then we met you at one of the shows.
Ah, it's all coming back now.
Andy: It's all coming back now.
Well, this is actually just the next day, and everything in between has been a dream. [We all laugh.]
How did Coachella first weekend go?
Andy Coachella, it was amazing, it was great, so crazy — have you been to Coachella?
Yes, I went this past weekend. I unfortunately did not catch your set. That was maybe my fifth time but I hadn't been for about ten years.
James: Someone said it has changed quite a lot, how much it's a festival of the culture of fashion and the celebrities going, it's almost as though that slightly takes more focus than the music. Which is fine, it makes it a unique experience in that way.
Yes, it felt like a shopping mall with bands on the side at times. I do think the soul of the festival is still there, though. They have some of the best lineups, and when you're in the music, it's great. The atmosphere is really great, the weather is beautiful. Even if it's more corporate-feeling now than over a decade ago, I think the soul is still there.
Andy: Oh yeah, and we played to a packed tent. We had a really, really great weekend, and we are looking forward to going back.
… So I know you had Aminé join onstage at Coachella. Does everyone just have a bucket of guest artists they bring? Seems like every act now has, like, an awesome surprise or collaborator join them.
Andy: Yeah, it is a bit like that isn't it.
James: The thing is, everyone's — there's so many bands playing, and the more artists you speak to over the year, especially at other festivals and such, that [collaboration] is really possible. And even if artists aren't playing, you just bump into loads of people who just got passes to the festival, so there's plenty of opportunities to get people as guest artists.
During this time of which we spoke, how do you manage to stick together and adapt when the success gets bigger and the attention gets more widespread? Do you need more rest breaks from each other?
Andy: It's totally fine. We've known each other for a long time, and we've adapted to spending long periods of times together. We've had evolutions, like Charles Darwin and all that, I think it's still fine. We're still sharing the same room. I don't think anytime soon that's going to change, unless things go, like, monumental, which, you know, then it would be good to have separate rooms… [We all laugh.] We're still in love with it, and nothing's going to change anytime soon.
You're playing with Oh Wonder tomorrow. What's your relationship like and what's it like spending time with them?
Andy:They're great, they're an amazing bunch of people, not just Anthony [West] and Josephine [Vander Gucht] but the whole crew there is so welcoming. The way their show is really great and really inspiring, and we keep asking them, how are you doing this, and how does that work? It's really great to be able to go on the road with them. Every day we become more friends and I'm sure we'll be spending more time with them back in the U.K.
Any special 4/20 plans you're at permission to share? Or maybe it's not a day you guys like at all… That's tomorrow, it's April 20th.
James: [Pause] April 20th?
Yeah, it's an American holiday when people get stoned.
James: Oh! Is that — so that's, wait, that's tomorrow?
You didn't know that?!
James: No, I had no idea. This is amazing.
[Laughs] Oh, wow. Well let me tell you, yeah, you guys are playing a 4/20 show with Oh Wonder, and it's going to be at, I think, the Lobero… so you will have plenty of opportunities to enjoy the festivities, I'm sure.
James: There we go. Let's see what happens.
Andy: It's not normally our thing, but we've done shows where it's been happening so we just soak it up from other people, I guess.
Yeah it will be a really relaxed atmosphere, I can imagine. On that note, how do you guys relax in these crazy times?
James: Just drinking lots of La Croix, you know that stuff?
What is it?
James: That fizzy flavored sparkling water, La Croix.
Oh yes, it's a big hit now, everyone's drinking it.
James: It's so good.
Andy: We're still on a mission to find — our tour manager says there's a mango flavor, but we haven't found it, and that's like the big… it's what we try to do, so we might go home and have a cup. What else?
James: Bowling.
Andy: Yeah, bowling, that's a good way to relax.
Are you guys good bowlers?
Andy: No, we're really bad.
James: Or really average.
Andy: Although by the end I'd say we had, or at least I had, really improved.
James: Our bass player falls over every single throw, consistently.
Poor thing.
James: It's technically a controlled fall.
Good thing they've practiced it at this point so the ball doesn't smash their hands.
Andy: Crikey, we need to take out insurance.
Anything else you guys would like to say?
Andy: Yeah, just thanks everyone for the continued support and we look forward to seeing you at the show. We're just excited to going to come back to the U.S. plenty more times this year and play more festivals. We're just as excited as everyone else to get some new music out, which hopefully won't be too much longer. Keep your ears peeled, if that can be an expression.
It can be, mine are very peeled right now.
Andy: Good.
Thanks, wishing you a great show tomorrow.
James: Have a lovely 4/20 holiday.