Voices
Our Unelected Officials
Pruitt's Latest Actions Exhibit Cronyism at Its Worst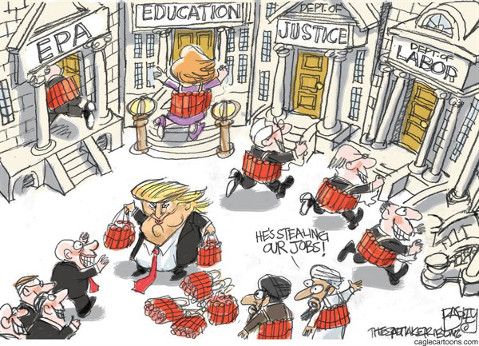 Environmental Protection Agency (EPA) Administrator Scott Pruitt's rejection of a petition to completely ban chlorpyrifos, a widely-used insecticide prohibited for use in U.S. homes in 2001 due to its human toxicity and links to neurological harms, is proof that the political appointee and rampant nepotism in the United States political system is causing drastic failures. Pruitt, appointed by President Donald Trump as head of the EPA, was confirmed by the Senate 52 to 46 on February 17. Since then, Pruitt has been busy dismantling the agency and dismissing the scientific conclusions of the agency's own chemical safety experts.
EPA experts recommended that chlorpyrifos be permanently banned at farms nationwide because of the harm it can cause children and farmers. By ignoring these conclusions, Pruitt has not only rejected the ban but rejected systematic science. He chooses to endanger workers, residents of agricultural communities, and the general population through food treated with this insecticide.
Pruitt is employing the Republican doctrine that environmental decisions should be made at the state level instead of federally by the EPA, much to the chagrin of environmentalists. The issue isn't whether federal or state government should be instituting environmental laws — it's the fact that the American people, as part of a representative democracy, should have a direct say in who is controlling decisions regarding their health, the environment, and the food they eat.
Under the status quo, rather than being chosen by the people, the top public officials making these decisions are appointed, often based on little more than who they know or their last name. The connection between Trump and Pruitt is Harold Hamm, a billionaire energy executive, Trump energy adviser, and cochair of Pruitt's reelection campaign in 2013. Close relationships such as this are not just Republican issues; consider Democratic family powerhouses like the Kennedys and Clintons. Further, the 2016 Democratic Primary fiasco with Debbie Wasserman Schultz showed that cronyism does not stop at party lines. These decisions can have far-reaching consequences and are too important to leave up to government cronies. The appointee system must change.
The United States has more political appointees in government than any other industrialized democracy, and research has proven that political appointees are not as effective at running programs as their elected counterparts. Although political appointees are subject to stricter ethics regulations than non-appointees under Executive Order 13490, the study evaluated more than 350 managers to determine efficacy and found that programs run by political appointees tended to be less effective. These findings are not in an academia bubble — Trump appointments may have already violated their own administration's ethics rules.
Pruitt rejecting science and disabling the EPA to properly function as an agency is alarming, but it has been done before. A similarly hostile EPA administrator was Anne Gorsuch, appointed by President Ronald Reagan in 1981. She became the first agency director in U.S. history to be cited for contempt of Congress. Anne Gorsuch's short, tumultuous tenure was marked by sharp budget cuts, rifts with career EPA employees, and a steep decline in cases filed against polluters. The scandal over the mismanagement of the Superfund cleanup program ultimately led to her resignation in 1983.
Seeing Anne Gorsuch's name sparked a connection to another controversial Trump decision: her son, Neil Gorsuch. The controversy over the newly approved Supreme Court justice stems not from his environmental views but how he gained his Supreme Court seat. Republicans changed Senate precedent to make a high court nominee advance to a final vote with a simple majority of 51 senators as opposed to the previous 60 votes. This "nuclear option" tool furthers cronyism because it means the minority party will have significantly less leverage to oppose any nominee to the highest court in the land. Checks against bad appointees are further weakened, no matter who is president. This will create a positive feedback cycle furthering both nepotism and cronyism.
Regardless of Neil Gorsuch's merits or political philosophy, isn't it eerie how we keep seeing the same names over and over? Do we really want decisions about banning pesticides that the EPA has deemed dangerous to fall into the hands of the non-democratically appointed Pruitts and Gorsuches of the world?
The American people need more decision-making responsibility regarding who achieves powerful political posts. "To the victor goes the spoils" is not efficient or equitable when the victor is chosen rather than deserving. In a democracy, the spoils should not encompass the American people's right to fair or competent officials. A government made up of the same powerful families and their friends does not reflect the American people. More transparency in the political system is needed for our democracy to be truly representative.