Sports
UCSB's Christensen Scores Top Honors
Gaucho Forward Inducted into S.B. Basketball Court of Champions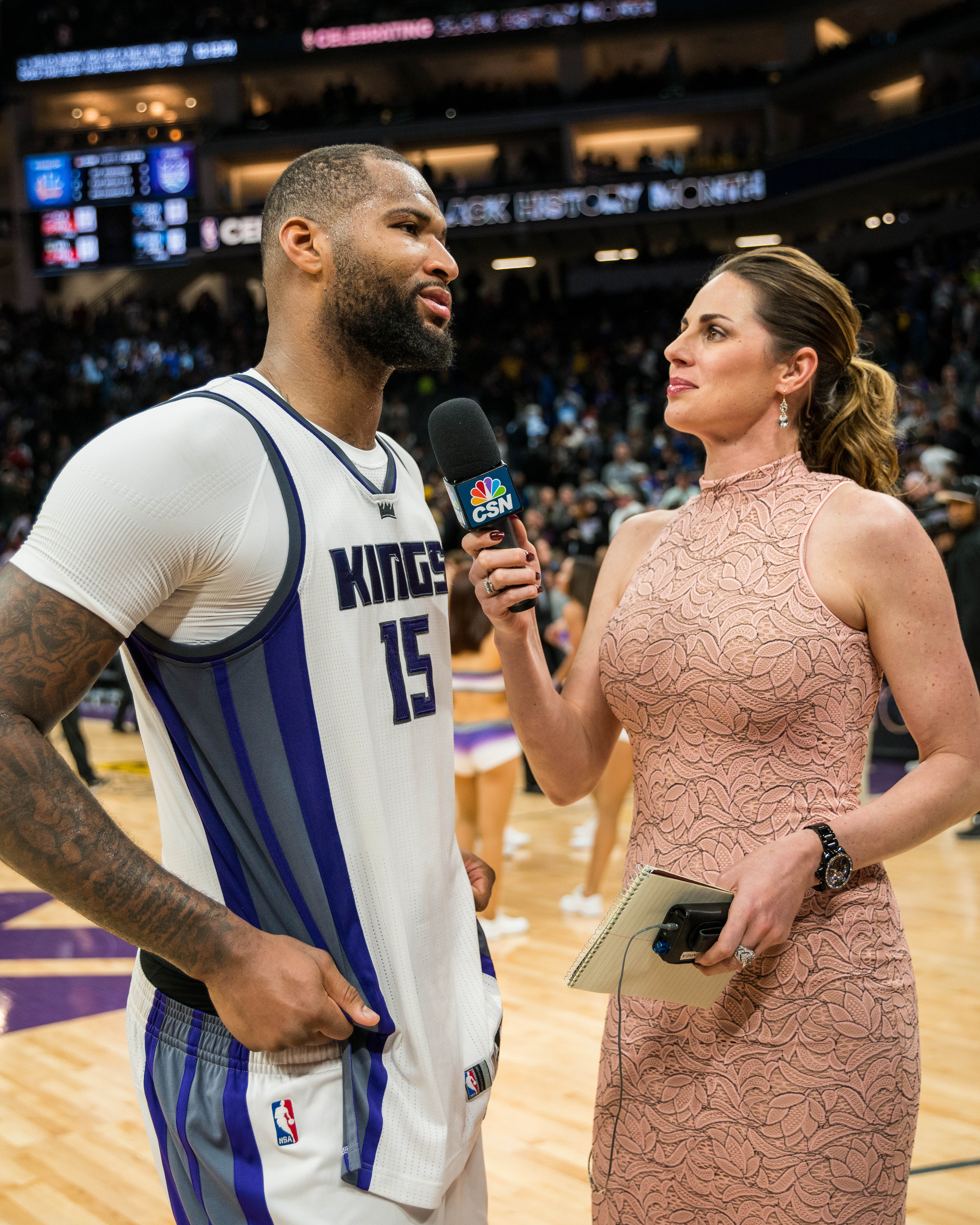 When the Fast and the Furious movie franchise started in 2001, the same title could have been applied to Kayte Christensen's brand of basketball at UCSB. "She's crazy," said Mark French, then the Gaucho women's coach. "I couldn't imagine, when I was a player, getting cranked up like she does all the time."
The numbers and honors tell the story why Christensen will be inducted into the Santa Barbara Basketball Court of Champions this month: She helped the Gauchos win four consecutive conference titles (1999-2002); she had a career field-goal percentage of .560 (one night she made 16 of 17 shots against Arizona); as a senior, she was the Big West Player of the Year and an Academic All-American; and at her commencement, she was the keynote speaker for the Arts and Humanities graduates. But basic facts don't reflect how incredibly hard she played, fighting tooth and nail for every loose ball, except maybe the hundreds of fouls she accumulated.
The 6'3″ forward took her racehorse style of play to the WNBA for six years, until an injury ended her career. But she did not slow down off the court. Christensen went to work in sports media, becoming a sideline reporter and analyst for the NBA's Sacramento Kings. Three years after they hired her, the Kings replaced her with big-name sportscaster Jim Gray, prompting an outcry from a considerable number of fans. Christensen took on other gigs until the Kings wised up and brought her back in 2013. Gray's departure was unlamented.
Christensen's forthrightness has earned her the respect of the players she covers. "My favorite job is doing player interviews," she said. "Because I was a player, I've built relationships with them." Even the gifted but controversial center DeMarcus Cousins, who spent seven turbulent seasons in Sacramento, will cooperate with Christensen. "He trusts me," she said. "He's done some horrible things to the media that I can't condone, but he's not a bad guy once you get to know him." Cousins was traded to the New Orleans Pelicans this year, and Christensen said, "I wouldn't be surprised if he winds up with the Lakers."
Christensen is cohost of weekday sports talk show "The Drive with Dave, Kayte and Nate" on Sports 1140 KHTK in Sacramento. As part of her job, she writes a regular blog that is as expressively vigorous as her crashing the boards for the Gauchos. When she sees ignorance and hypocrisy in sports, Christensen jumps all over it.
After former WNBA star Candice Wiggins gave an interview that trashed the women's league for bullying her and suggested that 98 percent of the players were lesbians, Christensen termed her remarks "unwarranted, disgusting, and petty." Pointing out that fewer than three WNBA players would be straight, according to Wiggins's math, Christensen wrote: "Get the hell out of here, Candice. You've lost your damn mind. That's just not true. And even if it was, who cares?!" Having gotten along as a straight player in the league, she questioned whether Wiggins knew the difference between bullying and the competitive nature of professional sports. "It came easily," Christensen said last week about her opinion piece. "I know a lot of players and coaches. I didn't find any credibility [in Wiggins's claims]."
LaVar Ball offended Christensen's sensibilities during March Madness when he took the spotlight away from his son, UCLA guard Lonzo Ball. "It's shameful. It's embarrassing. It's a joke," she wrote of the elder Ball's "one-man circus."
Christensen herself came from a background far removed from today's social-media-blanketed culture. She grew up on a 750-acre cattle ranch in the sparsely populated high plains of northeastern California. She once said that if she could go back to any point in her life, it would be "when I was about 8 or 9 years old with a short 'boy's' haircut, running around wearing T-shirts, cut-off shorts, baseball cap, tennis shoes, and playing in the dirt. … You went home with no homework and got to play in the dirt some more."
She was a legendary athlete at Modoc High School in Alturas. Competing against small schools in the region, she once scored 27 points in the first quarter of a basketball game. Her coach had her sit out the last three quarters. When it came to college, her only thought was "to get an education." That's how she arrived at UCSB. "I underwent a pure recruiting process," she said. "I didn't know about college athletics. All I knew was [the UCSB coaches] cared about me as a person. It was a really good decision for myself."
Lisa Willett Fry, who was Christensen's teammate for two seasons and went on to play in the NCAA Sweet 16 with the 2004 Gaucho women, will also be among the 10 players and coaches entering the Court of Champions in a ceremony on Sunday, May 21, 5:30 p.m., at the Cabrillo Arts Pavilion (see sbcourtofchampions.com).
Fry, who set a scoring record at Santa Barbara High, will be inducted into the Santa Barbara Athletic Round Table Hall of Fame next Monday, May 15, at La Cumbre Country Club. Others are Gerardo Jimenez (Dos Pueblos soccer), Mark Warkentin (San Marcos and Olympic swimmer), and Donald Young (Dos Pueblos baseball player). Jon Lee (San Marcos volleyball) will enter the coaching wing, and Santa Barbara Tennis Club pro Larry Mousouris will be enshrined for special achievement. The Round Table will fete the area's top high school and college athletes of 2016-17 on Wednesday, May 17, 5 p.m., at the New Vic theater. Read more information at sbart.org and ensembletheatre.com/rental-shows.
GAME OF THE WEEK
5/17: Cycling: Amgen Tour of California (ATOC) Many of the world's best professional riders will shove off next Wednesday at the start of Stage 4, a 99-mile lung-buster from Santa Barbara to Santa Clarita. It's the midpoint of the 2017 ATOC, which gets underway Sunday in Sacramento and finishes Saturday, May 20, in Pasadena. Stage 3 on Tuesday will start in Pismo Beach, dip into northern Santa Barbara County, and finish in Morro Bay. Santa Barbara is a host city for the eighth time in 12 years since the tour's inception. Last year, the "Queen Stage" of the race finished at the top of Gibraltar Road, where Julian Alaphilippe of France took the overall lead for good. This year's outcome may be decided by Stage 5, which ends with a climb up Mount Baldy. The Santa Barbara-Santa Clarita route will likely end in a sprint finish. The usual prospects include perennial Amgen Tour participants Mark Cavendish of Great Britain and Peter Sagan of Slovakia. The NBC Sports Network will televise the race live from 2 to 4 p.m. Start: 11:30am. Cabrillo Boulevard near East Beach. Free. Visit amgentourofcalifornia.com.
SB ATHLETIC ROUND TABLE ATHLETES OF THE WEEK
Gina Jacobson, SBCC diving
She nailed a 1½ somersault in the pike position on her final dive to win the one-meter competition at the state Women's Community College Championships and break a nine-year-old record with 246.85 points.
Teodor Velikov, Dos Pueblos swimming
The UCSB-bound senior won the 100 and 200 freestyle races and also swam on two winning relay teams at the Channel League Championships, helping the DP boys claim a share of the overall league title with San Marcos.