Make Myself at Home
Make Myself at Home: Tropical Oasis on American Riviera
1840 Barker Pass Road: A Perfect Santa Barbara Staycation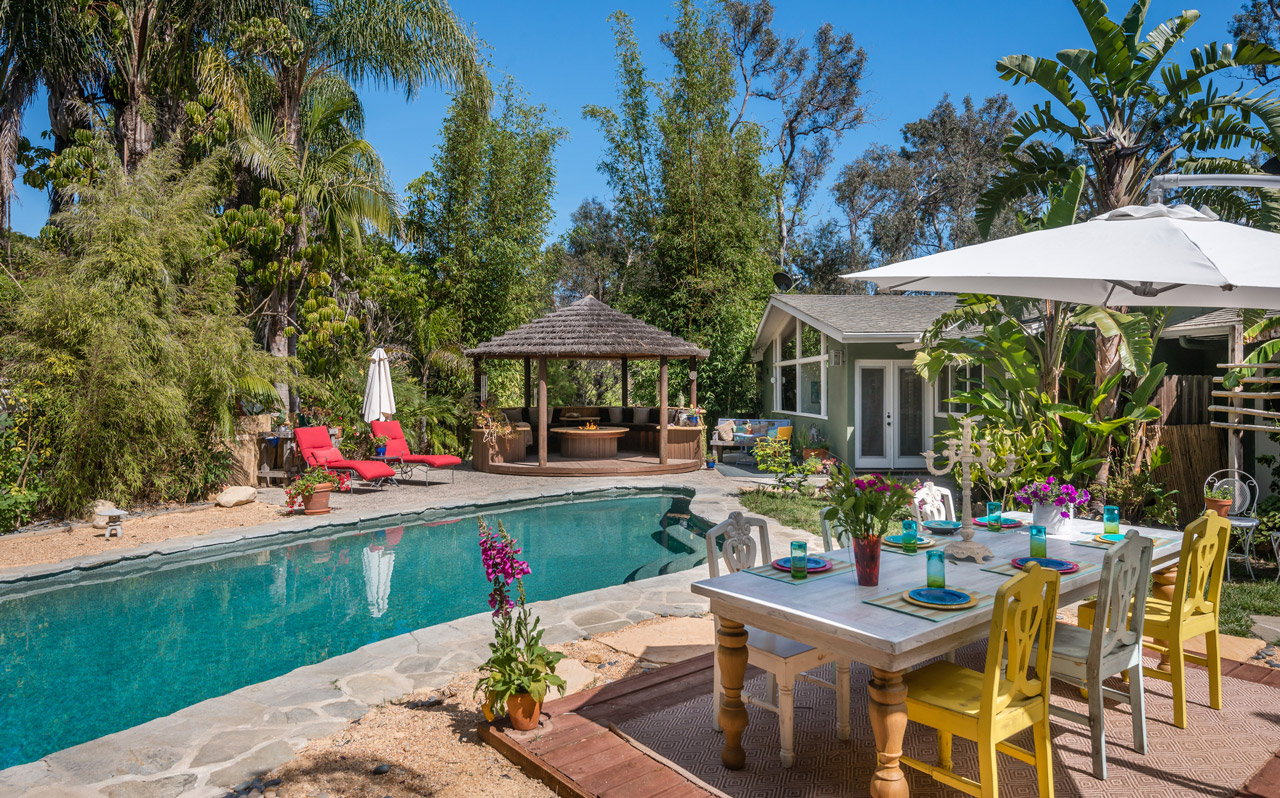 Even though we live in one of the most beautiful places in the world, I can't seem to stay put very long. I love to travel, whether it's for work, family events, or just the opportunity to discover someplace new or revisit a favorite destination. So far this year I've been to Boston, Louisville, Palm Springs, and Mexico. I appreciate the idea of a staycation, but I don't seem to sit still long enough to make it happen.
I may have found the perfect staycation motivation, however, when I visited the tropical oasis that is 1840 Barker Pass Road. This sublime haven is perched on Eucalyptus Hill, a neighborhood that sits on the edge of Montecito, with the hillside ambience of the Riviera. The home is surrounded by palm trees and lush vegetation, and feels secluded even though its only five minutes from town.
I was taken by its verdant gardens before I even stepped foot in the house. A rustic wooden fence laden with blooming vines opens to allow visitors access to the boulder-lined driveways leading to the house. A curving walkway passes through a tranquil garden and up to the front door. The colors of the plants and trees in the yard — bright greens, deep purples, and pops of pink and blue — are complemented by the more muted gray and beige of the wood and stone landscaping elements and offer a foreshadowing of the creatively colorful house itself.
I stepped through the front door into a foyer, with the kitchen to my left, living room to my right, and dining room straight ahead with a view out to the even more tropical backyard. I was tempted, but before venturing outside again, I wanted to explore the house, starting with the kitchen.
In most houses, a kitchen this dynamic would undoubtedly be a focal point, but in this home, there's so much to see that I almost walked right past. Periwinkle blue cabinets lead to a cozy dining nook with built-in benches and a view out to the front garden. Slate floors and recessed lighting, plus sparkling stainless-steel appliances, make this room feel at once elegant and gourmet yet also comfortable and cheery.
Turning to the living room, I was greeted by big picture windows and warm hardwood floors. A white brick fireplace with a raised marble hearth and curved iron grate adds a playful note in the current spring weather and is no doubt even more welcoming in the winter months.
The living room leads into the master bedroom wing, which consists of the bedroom plus a sparkling bathroom with white tile, dual sinks, and glass-enclosed shower, and a huge, cedar-lined walk-in closet with built-ins galore.
The other wing of the house, down a hallway past the kitchen, includes two bedrooms, another bathroom, and a den, in a configuration that lends itself well to a dual living situation. This wing even has a laundry room with a sink, plus two separate entrances to the front yard and backyard.
Back in the living room, I was about to allow myself to explore the backyard, but first, I had two more rooms to check out. Behind the dining room is an indoor/outdoor bar room that is identified on the floorplan as a "servery." With a counter for seating, a sink, and a wet bar, along with easy access to both the dining and living rooms as well as the backyard, this room is perfect for entertaining.
Also adjacent is a bonus room with built-in cabinets, beamed cathedral ceilings, and French doors with wooden shutters. This room could function well as a family room, separate dining room, or even a gym or playroom. It is currently being used as an artist's studio, for which the space, light, and ambience seem perfectly suited.
As much as I love the color, character, and creativity of this house, there is no arguing that the pièce de résistance is the backyard. A saltwater pool and full-sized palapa with a fire pit in the center guarantee that a luau or pool party are just a few friends and frosty beverages away. The palapa offers seating for more than 20 people, with upholstered benches and an authentic thatched roof. There are also multiple dining areas, plus a spa, offering no shortage of places to relax. The lush landscaping that I admired in the front yard continues in the back of the house, with palms, ferns, bamboo, and more.
As I wandered to explore a far corner of the yard, the sun peeked out from behind puffy white clouds to hint at the sunny hours that one could spend floating in the pool or lounging in the garden. As much as I love to travel, I'd be willing to cancel a few trips in order to make myself at home in this tropical oasis ready to host the perfect Santa Barbara staycation.
1840 Barker Pass Road is currently for sale in Santa Barbara, listed by Dianne and Brianna Johnson of Village Properties Realtors. Reach Dianne at 455-6570 or Brianna at 450-6078 or johnson@villagesite.com. Visit 1840barkerpass.com for more photos and information.