Sports
Mr. 59: Al Geiberger's Sweet Swing
Looking At the Legacy of an S.B. Golf Legend
Forty years ago, Al Geiberger achieved a virtually impossible sort of perfection at the Colonial Country Club in Cordova, Tennessee. With his sweet swing and an uncanny penchant for sinking putts, the 39-year-old pro from Santa Barbara mastered the game of golf for one magical afternoon on June 10, 1977.
When Geiberger's final putt dropped into the 18th hole of his second round at the Danny Thomas St. Jude Classic, it consummated a score of 59, the first sub-60 round in the history of the PGA Tour. He became known as "Mr. 59," a distinction that was his alone for 14 years until Chip Beck and subsequently four others recorded 59s on the tour.
Jim Furyk finally shaved a stroke off the record last August when he shot a 58 at the Travelers Championship in Connecticut. "It's amazing it took 39 years to break it," Geiberger said last week. "As the years went by, I thought, 'Jeez, what the hell did I do? Maybe it will never be broken.'"
Because his was the first to crack 60, Geiberger's round holds a special place in history, like Roger Bannister's sub-four-minute mile. And even though his 59 has been matched and surpassed, it still might be the most impressive golf score of all. Geiberger's accomplishment was almost freakish. It was a Memphis miracle.
"It was the longest course," he said of the Colonial, a 7,249-yard, par-72 layout. "I finished 13 under par. That beats Furyk at 12 under." Furyk shot his 58 on a par-70 course.
Geiberger won the tournament, but his other rounds affirm that the course was no pushover. The final score line read: 72-59-72-70. According to PGA records, he is the only player to win on the tour (outside of the majors) without shooting a round in the 60s.
There was no indication of what was to come when Geiberger teed off at 1 p.m. on a humid day with the temperature hovering around 100 degrees. The slim golfer was known as "Skippy" because he munched on peanut-butter sandwiches to keep his energy up, and his main concern under those harsh conditions was to survive. "I was only thinking: Get me through this round," he said. "One shot at a time."
Starting the round on the back nine, he birdied two of the first five holes — then the onslaught came. Over a stretch of seven holes, Geiberger recorded six birdies and an eagle, a 30-yard pitch that dropped into the cup on the par-five first hole (the start of his second nine).
"I was holing every putt I looked at," Geiberger recalled. "Fifteen feet, 20 feet, they all went in." One of his playing partners was his friend Dave Stockton. "He was one of the best putters on the tour, but he could not make a putt that day," Geiberger said. "He went five over par. I'd apologize to him whenever I made a putt. I was playing so well that when the ball left my putter on the seventh green [his 16th hole], I turned and looked at the people in the bleachers. I knew it was in. That's what's called being in the zone."
Geiberger was so locked into the zone that nothing would snap him out of it. He heard some shouts of "59" when he needed one more birdie to go 13 under, but he paid them no heed. "In golf, the worst thing you can do is count your score," he said. "You talk about any other little thing, like how hot it is or the short shorts the girls were wearing. … It's like when a pitcher has a no-hitter going; you don't go to the mound and tell him how great he's doing."
After a par on his 17th hole, Geiberger faced an eight-foot birdie putt on the final hole. By then, he knew he was on the brink of something special. "It was into the grain," he said of the rough Bermuda green. "I remember how hard I hit the putt. It's easy to leave a putt short under a lot of pressure. This one dove in."
History made, Geiberger spent a long time in the press room being interviewed. The tournament was not nationally televised. "I wasn't able to watch the evening news," he said. "I thought I'd never see my last putt. I heard some footage was burned up in a fire."
It turned out that a local TV intern had recorded Geiberger's last three holes. "He was cleaning out his attic a few years ago and found this VCR tape with my name on the side," Geiberger said. "He took it to the Golf Channel, but they didn't tell me about it." When Geiberger appeared on the show In Play with Jimmy Roberts in 2013, the long-lost tape was revealed to him.
Other trivia about the first 59: Geiberger used the same ball, a Ben Hogan No. 1, throughout the round. "The way things were going, I didn't want to change," he said. His caddie was the crusty Lee Lynch. "The mean old man," Geiberger said. "He was hard to get along with. We called him 'Two Shot,' because it was like a two-shot penalty if you used Lee Lynch." Instead of being congratulated by his caddie after the 59, Geiberger said, "He'd tell people, 'If he listened to me, he'd have a 57.'"
Geiberger, on the other hand, is one of the nicest guys ever to swing a club. He won 11 tournaments on the tour, including the 1966 PGA Championship. "I have the only thing Arnold Palmer didn't have," he said, referring to the major title that Palmer lacked during his legendary career. Geiberger also won 10 times on the senior Champions Tour.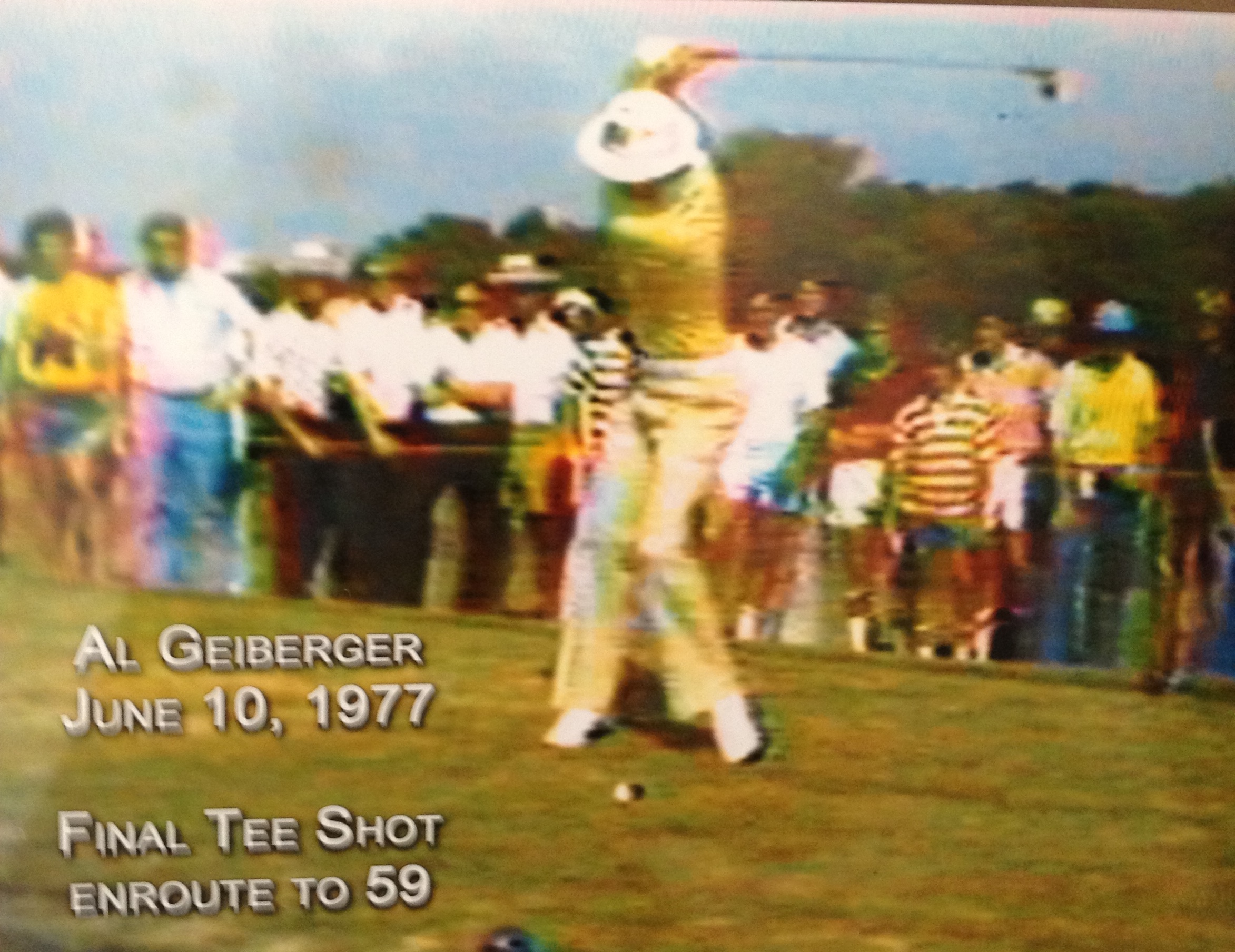 His parents, Mable ("She spelled it that way") and Ray, taught him to play golf on a nine-hole course near his childhood home in Sacramento. When he was 15, the family moved to Santa Barbara, where his father became a county farm adviser and his mother took care of some important business. "The high school didn't have a golf team," Geiberger said. "My mother got involved, and we put together a team."
With Geiberger and Tom McFadden leading the way, and future financial mogul Charles Schwab, the No. 3 player, the Santa Barbara High Dons won the CIF team golf championship in 1954. Geiberger went on to play golf at Menlo College and USC. He joined the PGA Tour in 1960.
His life has not been all birdies and eagles. After his mother died, his father was one of 583 people who perished in the world's worst airline disaster, the collision of two 747s on a runway in the Canary Islands. It happened in March 1977, three months before Geiberger shot his 59. Even harder to take was the loss of his 2-year-old son, Matt, who drowned in a pool in 1988. In the meantime, persistent abdominal pain prompted the removal of his colon.
Geiberger and his wife, Carolyn, live in Palm Desert. His other sons include Brent, a two-time winner on the PGA Tour, and John, who coached the golf team at Pepperdine.
At 79, Al Geiberger still displays his golf swing at charity events. "I used to play naturally," he said. "I've learned so much about hitting the ball. We used to guess. Now we know how to control the club face. If I knew what I know now 25 or 30 years ago …."
Forty years ago, however, his game was a natural wonder that still shines. n