Make Myself at Home
Make Myself at Home: Peaceful Mission Canyon Hideaway
Take a look inside 620 Rockwood Drive
Address: 620 Rockwood Drive
Status: On the market
Price: $2,075,000
When Dr. Harry Brown passed away on Easter of this year, people in Santa Barbara and around the globe mourned his loss. As the founder of SEE International, Brown created an organization that has helped restore sight to deserving patients worldwide. For me, the news of Brown's passing also struck a personal chord because he had performed eye surgery on my son John when he was an infant. Any parent who has watched their baby being wheeled into the operating room knows the feeling of immense relief and gratitude when the operation goes well and they are reunited with their child again. Holding 8-month-old John as he came out of his anesthesia was no exception. Our family will always be grateful to Dr. Brown.
When I learned that 620 Rockwood Drive was the late Dr. Brown's residence, my visit to this home took on special significance. As part of his postdoctoral fellowship, Brown traveled around the world with his young family, providing medical care in Afghanistan, India, and South Africa. When he decided to put down roots in Santa Barbara, he chose this house on Rockwood Drive for its magical, natural setting.
The location is truly enchanting. Enormous, twisted oak trees sit on either side of a winding path leading up to the front door. It's a serene scene, with big boulders and native grass and shrubs. The only sound breaking the tranquility is the chirping of birds.
Inside, three steps lead down from the foyer into the living room, with a fireplace tucked in one corner and a bay window on the opposite wall. The dining room is to the right — on the same level as the front door, with a wood-beamed ceiling and built-in cabinets — and the kitchen right behind it. All three of these rooms are open to each other, but they're distinct areas, separated by large archways and railings.
The real showstopper, however, is the view out the living room windows to the huge deck outside, with oak trees growing out of it and all around it. Walking out onto the deck, I realize that this main level is actually the upper story of the house. The deck wraps all around, with a hot tub in one corner and enough space for multiple outdoor seating areas. The property borders the Sheffield Reservoir park, so the green space beyond the yard is guaranteed to remain that way into the future.
Back inside, the remainder of this level contains three bedrooms and three baths, including the master, plus a den and a laundry room. The master bedroom boasts a big walk-in closet with a separate dressing or sitting area, which has a bay window perfect for looking out over the yard.
Downstairs, another bedroom and bath are separate enough to satisfy many dual living situations. Grandma, teenagers, or a nanny are just some of the scenarios I can imagine for this floor plan. The downstairs bedroom enjoys a private, covered tile patio and direct access to the backyard. Two more rooms on this level could be exercise, hobby, or utility spaces.
The word that keeps coming to mind as I walk around inside and outside this lovely home is "sanctuary." The house at 620 Rockwood Drive was Dr. Harry Brown's sanctuary. If anyone deserved a peaceful place to rest after a long day of helping patients, it was him. This tranquil setting will offer its next owners an equally magical place to relax, refresh, and rejuvenate.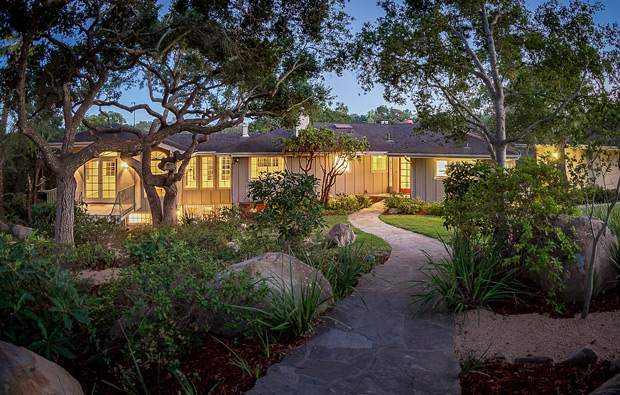 620 Rockwood Drive is currently for sale in Santa Barbara, listed by Michelle Cook of Berkshire Hathaway HomeServices California Properties. Reach Michelle at (805) 570-3183 or michelle@michellecook.com.