Bottles & Barrels
Nico Azios Decodes Syrah
Santa Barbara Winemaker Studying One Grape Variety, Vintage by Vintage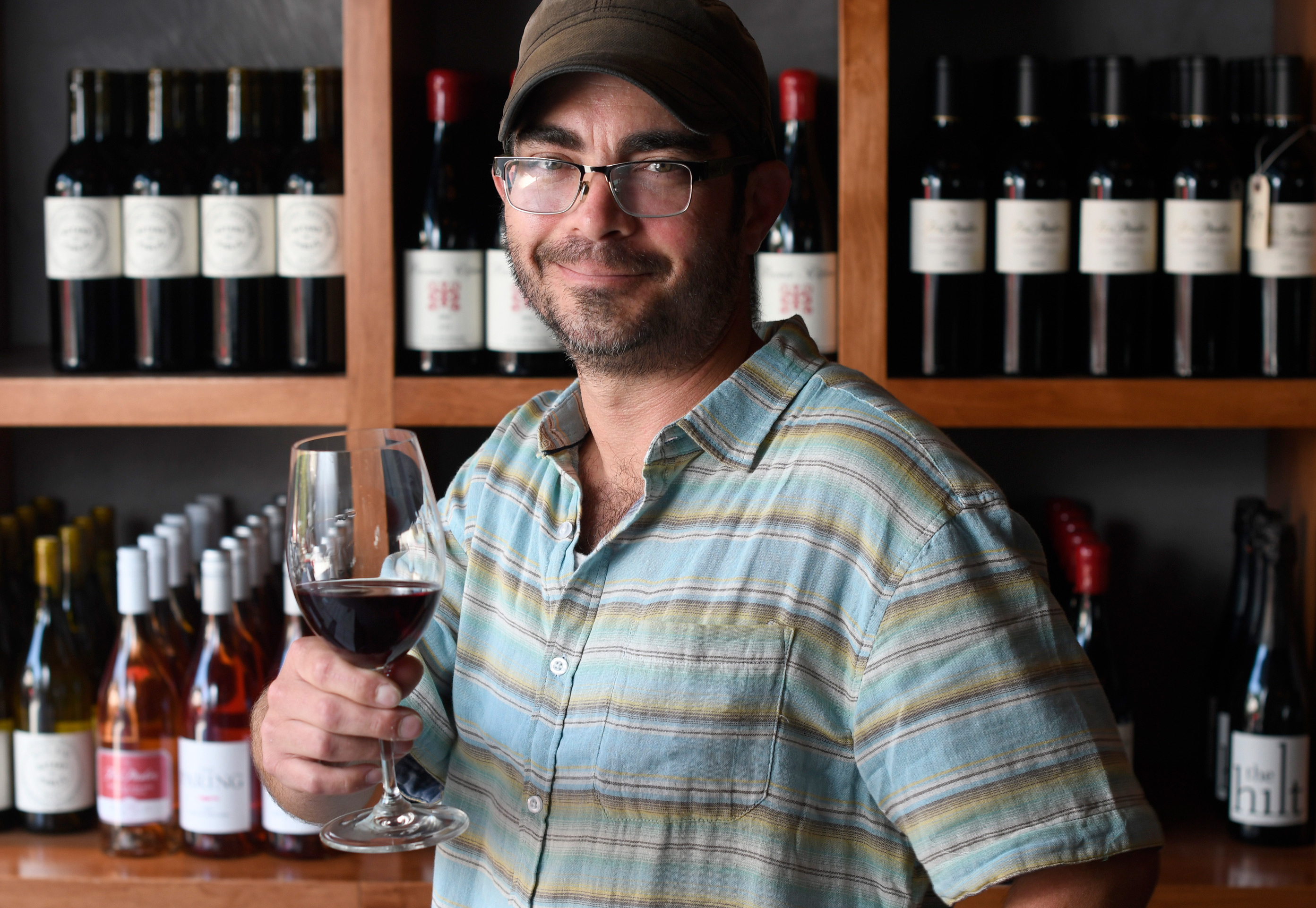 With a PhD in plant biology, for which he researched how red wine's estrogenic qualities can fight metastatic breast cancer, Nico Azios knows methodology. So in 2011, after a handful of years working on harvests and in winery labs from Texas and Italy to the Gainey Vineyard in Santa Ynez, he decided to apply that rigor to his own syrah-focused label, Azios Cellars.
"What I wanted to do was concentrate on one varietal from one place and branch out from there," said Azios one recent afternoon while sharing his full lineup with me at the Santa Barbara Wine Collective. "It's been a very slow branching out." Six years later, he's released just four wines, though he has another four in the pipeline and plans for more in the vintages to come.
Syrah was an obvious choice, because he'd always loved the grape. "And once I started working with it, I felt that it was a chameleon varietal," said Azios. He means that the grape ​— ​which is originally from France's Rhône Valley and tends to make dark, savory wine ​— ​translates terroir especially well, offering distinct aromas and flavors depending on where it's grown and how that season went.
His first four vintages focused on Paradise Road Vineyard, located near that road's intersection with Highway 154. "It's hot as shit, but the fog hangs out in that pocket much later than other parts of the valley," said Azios of the property, where he aimed to harvest his grapes before they started drying out, often picking them weeks before anyone else. "The grapes basically run out of water, so it's like dry farming," said Azios, explaining that the effect was intensified during the drought. "But I don't want a syrupy, concentrated wine. What I've found in this experiment is that I like lighter wines more."
Raised in San Antonio, Texas, Azios went to Bordeaux and other parts of France when he was 18 with an uncle who was writing a Lonely Planet guide, explaining, "I totally kick myself now for not knowing where I was." He then attended Reed College in Oregon and grad school in Austin, where he shifted from academia to wine, which he'd come to appreciate as a consumer.
In 2006, he took a vineyard pathology job for Flat Creek Winery in the Texas Hill Country, but wound up working mostly in the laboratory. "The wine out there is going through a revolution that's just going to take time," he said of his Lone Star enology days.
He followed his girlfriend, now mother of their two kids, to Romania (where he wrote for a wine magazine) and then Italy, where he worked in the vineyards of Tuscany. "I could have stayed in Italy forever," said Azios.
But he turned down a job working for Ettore Germano in Alba, instead finding harvest work at Gainey and moving to Santa Barbara in 2007. He soon moved to the lab, became assistant winemaker, and ​— ​minus the 2009 harvest in Stellenbosch, South Africa, where he worked nearly 100 hours a week for $1.60 an hour ​— ​spent nearly nine years at Gainey.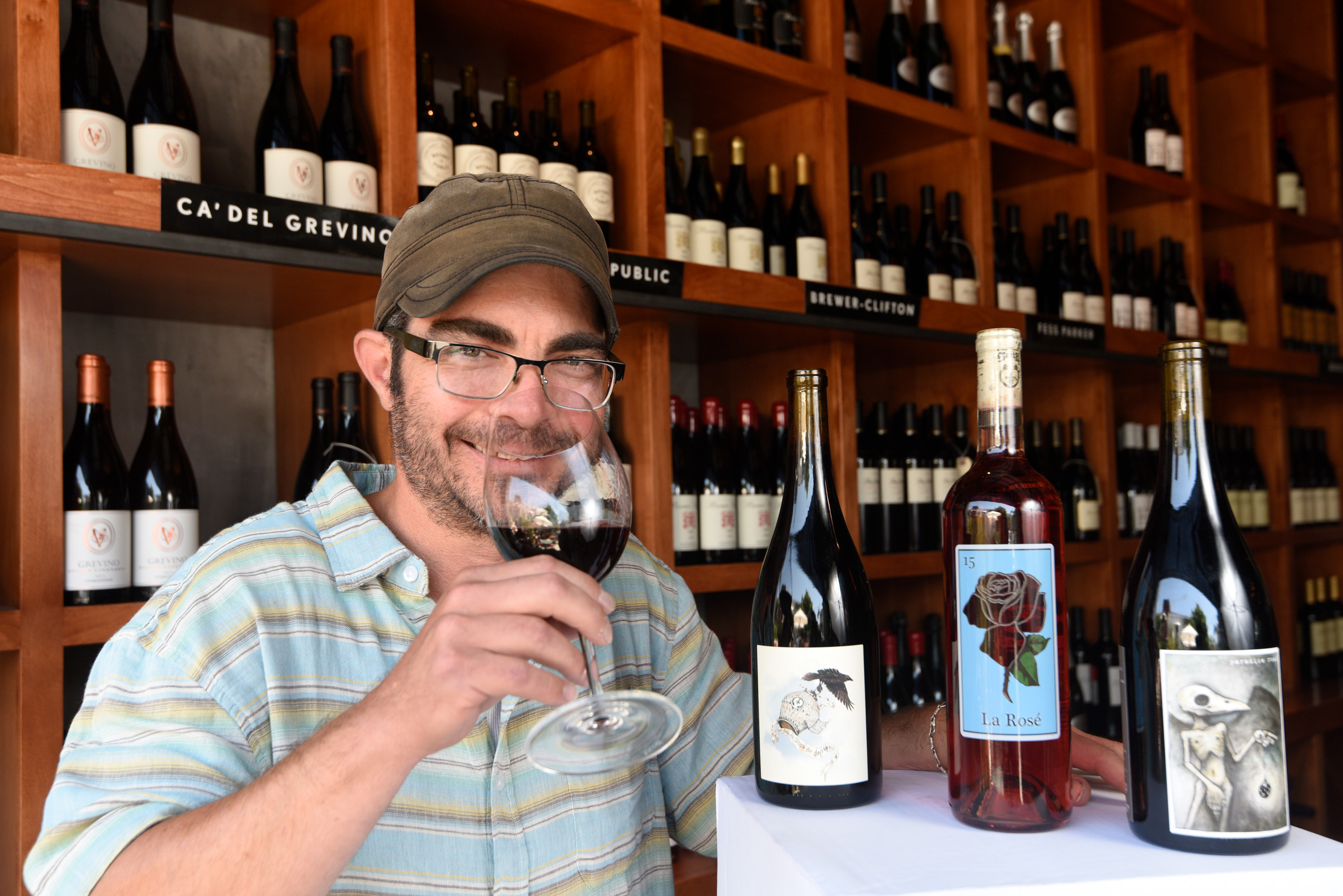 In January 2016, Azios left to take over as winemaker at Agua Dulce Winery, which is located in the mountains between Santa Clarita and Palmdale and owned by the same folks behind Oreana Winery in the Funk Zone. Azios now travels there for three to four days a week, working to improve thevineyard and make better wines from a challenging landscape.
To date, in addition to a 2016 rosé that is nearly sold out, his released syrahs include the 2011 (called "O Sanguis Meus"), 2012 ("The Day to Shape the Days Upon," a nod to author Cormac McCarthy), and, most recently, the 2013 (simply "Paradise Road"), with the 2014 ("Paradise Lost," since it was his last year with that vineyard) coming next year. For the past two years, he's sourced syrah from Camp 4 Vineyard and also purchased sangiovese from Cent'Anni Vineyard in 2016. He's skipping the 2017 harvest to focus on Agua Dulce but plans to expand into other varietals in the years to come.
"I'm taking it slow and steady, and letting the brand build on its own instead of trying to push it," said Azios. "I like the idea of letting it grow with its own momentum."
Azios Cellars wine can be purchased at azioscellars.com and is also on sale at Wine + Beer, by the glass at Petit Valentien, and by the bottle at Barbareño.