Sports
Fall Football Returns
Gridirons See Action as School Year Begins
The last rays of the sun shone on the mountains north of Dos Pueblos (DP) High's O'Leary Stadium last Friday evening. Soon it was eclipsed by the totality of a new prep football season: fans arriving in clusters — families, old grads, and cliques of students — while savory aromas emanated from the concession stands; the teams, both bearing equine monikers — the DP Chargers and San Juan Hills Stallions — prancing onto the field and making a show of their energy on opposite sidelines; a display of artistry in the singing of the national anthem by the DP jazz choir; the Charger band marching onto the field and playing the fight song to the tune of "Hey, Look Me Over."
San Juan Hills followers looked over the Chargers and remarked, "Wow, they are big." Among the DP captains coming out for the pregame coin toss were linemen Nathan Beveridge (6′6″, 285 pounds) and Erick Nisich (6′4″, 275).
Dos Pueblos kicked off, and the Chargers and Stallions began pounding on each other. The opening plays were plunges into the line. Then the San Juan Hills quarterback attempted the first pass of the season, and DP's Daniel Arzate intercepted it. That set up an 18-yard run by Eric Lopez for the first touchdown of 2017. Lopez scored again to cap the next DP possession, and the Chargers led, 13-0.
The Stallions were no slouches, having defeated Dos Pueblos by a touchdown last year, and they came right back with a kickoff return into Charger territory, setting up a scoring drive to make it 13-7. Then the football got slippery in the Chargers' hands. They lost a fumble but escaped damage when their defense turned the ball back over. But when the Stallions intercepted an up-for-grabs pass, they capitalized on favorable field position and ran the ball into the end zone. The extra point gave them a 14-13 halftime lead.
With some reluctance, because this horse race was far from over, I exited the stadium and drove across town to SBCC's La Playa Stadium, where the Bishop Diego Cardinals were hosting the Desert Pines Jaguars, a Las Vegas team that won a Nevada state championship last year. The second half was about to start with Bishop leading, 6-0.
John Harris was doing his usual workhorse duty for the Cardinals. The senior back had run for a touchdown in the first half and was on his way to a 232-yard total on the ground, and on defense he alternated between safety and defensive end.
Desert Pines had some dangerously quick offensive players, and I was reminded of the last time the Cardinals were on this field in the 2016 CIF playoffs, when an explosive Deommodore Lenoir ran wild against them in leading Salesian to a 58-20 victory. Lenoir is expected to be starting at cornerback as a first-year at Oregon this season.
Bishop's defense came out Friday with a renewed commitment. Several times, the Jaguars moved deep into their territory and came up empty. Defensive back Isaiah Veal ended one threat by making a spectacular leaping interception, stabbing the ball out of the air with one hand. I thought, "I'd like to see that again," and fortunately, KEYT's Friday Football Focus postgame TV show had its camera on that play.
The outcome of the game was still much in doubt in the fourth quarter. With the Desert Pines defense ganging up on Harris, the Cardinals needed another offensive spark. They got it when Jake Engel completed a pass to a diving Victor Ramirez for a first down at the Jaguars' 26-yard line. Bishop worked the ball into field-goal range for its junior placekicker Jack Luckhurst, whose father, Mick Luckhurst, toed the ball for the NFL's Atlanta Falcons. Jack was nimble and quick, splitting the uprights from 22 yards out, putting the Cardinals ahead by two scores, 9-0. That's how it ended.
MONDAY MORNING QUARTERBACKING: The Santa Barbara Athletic Round Table, beginning its 50th year, hosted its first Monday luncheon of 2017-18 this week at Harry's Plaza Café in Loreto Plaza. The public can attend the weekly noon luncheons (except on holidays, like next Monday) and hear the city's high school and college coaches plug their teams.
Dos Pueblos football coach Nate Mendoza said turnovers told the tale of the Chargers' eventual 29-26 defeat at the hands of San Juan Hills. DP did get two defensive TDs in the second half on a pick-six by Arzate and a 69-yard rumble with a fumble by Justin Padilla. "The best defensive play I've seen by a lineman in my 10 years," Mendoza said.
Santa Barbara High also lost a thriller on Saturday night by a 25-21 score to a top-ranked Saugus team. Coach J.T. Stone praised junior quarterback Frankie Gamberdella for rallying the Dons after he took a beating in the first half.
The Dons will return to La Playa Stadium, this time on Friday night, September 1, to take on the resurgent Santa Maria Saints. Also playing home games Friday will be Dos Pueblos (against Cabrillo from Lompoc), the San Marcos Royals (against Morro Bay), and Carpinteria Warriors (against Santa Ynez). Bishop Diego begins a gauntlet of four road games at Arroyo Grande.
SBCC FOOTBALL: The City College Vaqueros went 7-4 last year and averaged 40 points a game. "We're very young this year," coach Craig Moropoulos said, heading into their season opener Saturday at 1 p.m. against Ventura College at La Playa Stadium.
One of their returning sophomores is Manny Nwosu, a powerful running back from Dos Pueblos High. "He's worked hard and lost some weight," Moropoulos said. Nwosu was born in Nigeria, and he was inspired by the story of Christian Okoye, a discus thrower who tried football and became known as the "Nigerian Nightmare" with the Kansas City Chiefs.
Six first-years have been vying to start at quarterback for the Vaqueros — including Kellen Roberts (Dos Pueblos) and Jeremiah Nicholson (SBHS) — and the nod is going to Jerry Hickson, who came across the country from Buffalo, New York.
Ventura is one of the state's highly ranked teams, and the Pirates' QB will be Ricky Town, a former top recruit at USC who transferred to Arkansas and is trying to restart his career. His receivers include Brandon Jordan, a sophomore from Carpinteria.
Game of the Week
9/1: High School Football: Santa Ynez at Carpinteria Rick Candaele, who was head coach of UCSB's last football team in 1991 and led the Stags of Claremont-Mudd-Scripps for 15 seasons, came out of retirement to help out at Carpinteria High, and on Friday night he makes his debut at the helm of the Warriors. "We haven't played yet," he said Monday at the Round Table luncheon. "Right now, I'm at the peak of my popularity." The Warriors will have their hands full against a quick-striking Santa Ynez team that scored 65 points in three quarters against San Marcos. 7:30pm. Carpinteria Valley Memorial Stadium, 4810 Foothill Rd., Carpinteria. $4-$7. Call (805) 684-4107.
S.B. Athletic Round Table Athletes of the Week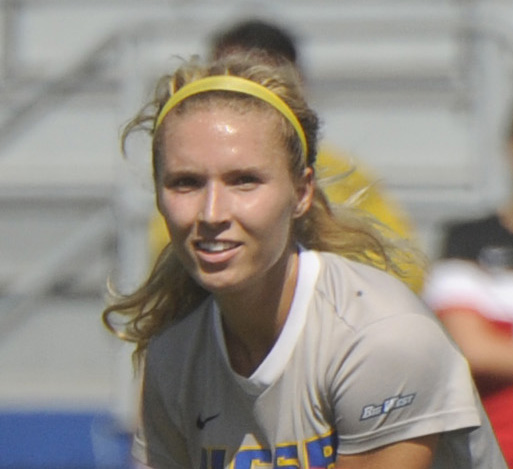 Amanda Ball, UCSB soccer
The All-Big West forward started her senior year by scoring two goals in a 3-0 win over Idaho and the game-winner in a 1-0 shutout of San Jose State.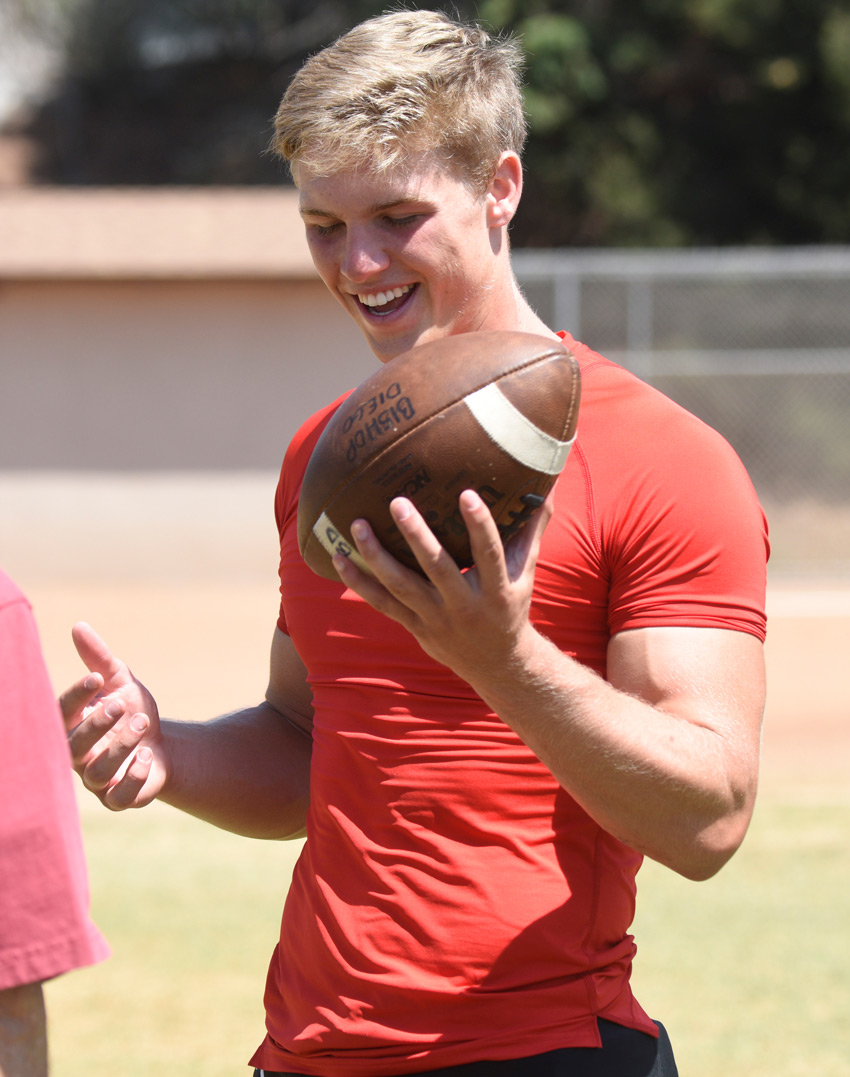 John Harris, Bishop Diego football
The two-way senior hit the ground running in a 9-0 win over Nevada's Desert Pines, rushing for 232 yards and a TD, adding a sack and interception on defense.