Arts & Entertainment
Mariel Bildsten and Phillip Menchaca Share SOhO stage
Santa Barbaran Trombonists Channeled J.J. Johnson and Kai Winding
On Monday, August 28, two Santa Barbara-born musicians, Mariel Bildsten and Phillip Menchaca, reunited in front of a packed crowd at SOhO Restaurant. Between two sets of bebop classics and American songbook standards, the pair showcased big chops, impressive technical solos, and melodic harmonies. They were backed by area musicians Santino Tafarella on bass and Austin Beede on drums, while New York City-based Joel Wenhardt gave a particularly thrilling performance on piano, dancing in his seat during mischievous solos.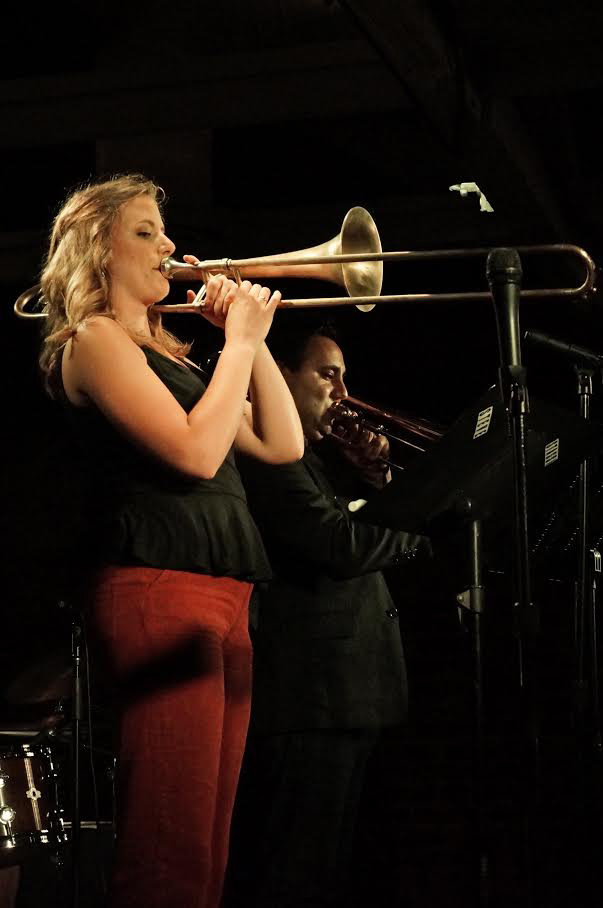 It was a rare scene in the jazz world. "It's unusual to have a trombonist headlining, let alone two — but that's what's so fun about it," explained Bildsten. The group were following in the footsteps of J.J. Johnson and Kai Windings, two jazz trombonists who first joined forces in 1954 to pioneer the use of the brass slide horn as a headlining instrument. Johnson is particularly famous for adapting the trombone — which Bildsten described affectionately as "cumbersome" — to the complex harmonies and rhythms of bebop. Johnson and Windings collaborated on and off for decades, re-arranging jazz standards to suit the instrument's soulful sound. "It's almost like having two vocal harmonies. [The trombone] is a very vocal-sounding instrument….It's a big tuning slide," Bildsten said, laughing.
She and Menchaca chose their favorites from Johnson and Windings's repertoire for this show. Between Bildsten punchy, swinging improvisations and Menchaca's melodic solos infused with classical theory, the two trombone voices intertwined masterfully in front of a charmed audience this past Tuesday.