News
Santa Barbara's Granny Flat Avalanche
Showdown Between City and State over Housing Heats Up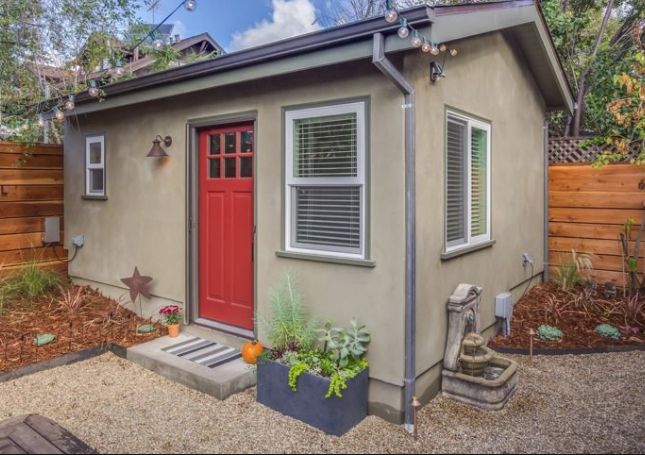 Two hundred may not be all that magical a number, but around Santa Barbara City Hall, it's a big one. That's because this Monday, a property owner turned in the 200th over-the-counter application to build a "granny flat" — a self-contained housing unit located on the grounds of a single-family dwelling — since the California Legislature passed a law last year that greatly limits the ability of local governments to say no to such development. By contrast, in the prior 25 years, City Hall managed to approve only 12 such units via the city's traditional and far more rigorous discretionary review process.
Sacramento, grappling with a statewide housing crisis, has been increasingly inclined to blame local governments for slowing the pace of new housing development with environmental review and design guidelines. State housing experts contend 100,000 new units must be built annually to keep pace with unmet housing demand. This year, no fewer than 187 bills were introduced in Sacramento to address this issue, according to Dave Mullinax, lobbyist with the League of California Cities. Of those, a handful are now awaiting Governor Jerry Brown's signature, including one ​— ​Senate Bill 35 ​— ​that promises to strip local governments of almost all environmental oversight and discretionary review for large housing projects.
Under the state's Accessory Dwelling Unit (ADU) law, city planners have up to 120 days to process ADU applications. Failing the discovery of some fatal zoning flaw or safety issue, such applications must be granted. Around City Hall, this mass of new applications has caused serious workload problems. But that's just the start. Santa Barbara planners now find themselves at work crafting a new ADU ordinance so that they and the City Council can retain some modicum of local control.
However, its maiden voyage before the city Planning Commission two weeks ago was highly fraught. The council chambers were packed, and the meeting ran five hours long; all but two speakers blistered the first draft for being way too restrictive. So, too, did a majority of the planning commissioners themselves. Why, they demanded, did planners propose cutting the maximum size allowed under the state's law in half, down from 1,200 square feet to only 600? Even Commissioner Sheila Lodge, a staunch foe of increased housing densities, thought that was too extreme.
State law allows local governments to ban granny flats for health and safety reasons, but many of the commissioners expressed concern the proposed ordinance designated too much of the city as a fire hazard zone. The commission left that meeting believing they'd have another shot at the ordinance before it was referred to the City Council; that's the traditional path, and that's what they remember being told would happen. Late last week, they were notified by city planner Renee Brooke that the ordinance would be referred to City Council instead. Within Santa Barbara planning circles, this shift has generated considerable controversy. When asked how many times this had happened before, Commissioner Lodge ​— ​a former mayor who has served City Hall in varying capacities since the 1970s ​— ​replied, "Never."
Project Planner Rosie Dyste stated the commissioners would review the new language again, but after the council sees it in December and the ordinance process is formally initiated. Her boss, planning czar George Buell, elaborated that the message delivered by the Planning Commission two weeks ago was very different than the go-slow-and-cautious approach favored during a joint meeting of the Planning Commission and City Council this spring. Buell said his staff "is dealing with some mixed messages here." If so, that's because the community has been badly split over increasing housing densities as a tool to achieve greater affordability for more than 20 years.
As fierce as the battle over granny flats promises to get, it will pale in comparison to the uproar generated when Governor Brown passes SB 35, over which Santa Barbara Mayor Helene Schneider is sounding the alarm. She warned that SB 35 would allow "developers to process large projects without review from our local boards and even the City Council," adding, "These laws threaten to radically reshape Santa Barbara's image with new, massive developments that have virtually no restrictions on size, bulk, scale, and design."
Whether such warnings are borne out has yet to be seen, but the new law essentially exempts housing developments ​— including some affordable housing ​— ​from traditional environmental review in cities that fail to meet housing targets established every eight years by the California Regional Housing Needs Assessment. Translated into concrete terms, Santa Barbara is on the hook to allow 4,099 new units of housing, nearly half of which are slated for low- and very-low-income households, the rest for moderate and above. Given Santa Barbara's housing history, it's all but certain such goals will not be met. If a developer proposes only 15 percent of affordable units, Schneider stated, the entire project is exempt from city review.
Lobbyist Mullinax acknowledged some cities have thwarted the development of new housing units, but pointed out that the State Legislature is responsible as well. The elimination of redevelopment agencies, he argued, took $1 billion that was set aside for housing development off the table. The grim numbers cited by state housing advocates are based on a two-year stretch, he argued, that came immediately after the recession of 2008. "And let's face it," he said, "dirt's not cheap."