Film & TV
Angelina Jolie on 'First They Killed My Father'
Director Talks About Her Oscar-Nominated Film About Cambodia
Never mind the nattering scuttlebutting and the tabloid "fake news" cycles concerning Angelina Jolie at the moment. What matters now in the famed actress/director/producer's life is the fact that she has just expanded her impressive filmography as a director, following In the Land of Blood and Honey, Unbroken, and By the Sea, by one, with the engrossing and important new Netflix film First They Killed My Father. What she has wrought is one of the most affecting and, by nature, harrowing — yet also beautiful — cinematic accounts of the Khmer Rouge's reign of genocidal terror during the 1970s, during which an estimated quarter of the nation's population of seven million was killed.
It's a personal project on various levels. Jolie first traveled to Cambodia in 2000, while filming Lara Croft: Tomb Raider (2001), and fell in love with the country, its culture, and its people. She ended up adopting her eldest son, Maddox, a Cambodian orphan. Around the same time, she met her friend, the author Loung Ung, whose book — about her own experience as a child, from 1975 to '78, during the Khmer Rouge atrocities — is the basis of the new film.
The pair wrote the screenplay together, and eventually marshalled the resources to create the film in the country and in its native Khmer language, with the help of respected Cambodian filmmaker Rithy Panh. Among the movie's numerous points of distinction is a remarkable, poised performance of Loung as a young girl, by Sreymoch Sareum, and captivating visuals from cinematographer Anthony Dod Mantle that capture the resplendent natural beauty of a country that has also known the depths of tragedy.
Presently, the film can be streamed on Netflix, and it has had theatrical runs in select markets. It deserves big-screen and Oscar consideration — having been chosen as Cambodia's Academy Awards nominee for Best Foreign Language Film.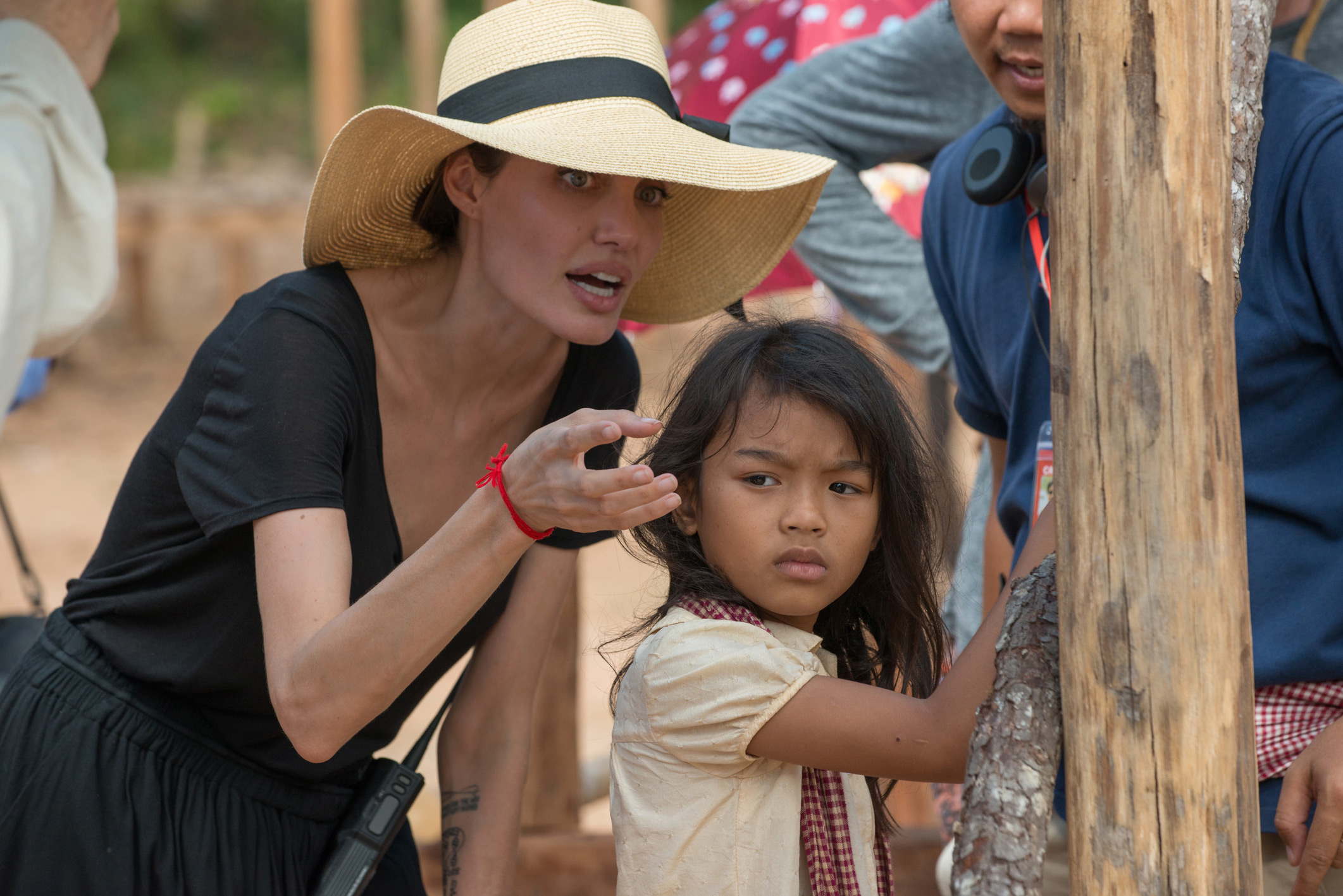 Jolie and Ung were in Santa Barbara recently, to speak after a screening of the film via the Cinema Society program of the Santa Barbara International Film Festival (SBIFF), with a post-movie Q&A by SBIFF head Roger Durling. During the screening, the pair sat down for an interview with the Santa Barbara Independent over lunch in their bungalow at the El Encanto, where the stunning ocean view and ample creature comforts seemed a world away from the horrors portrayed on the screen.
You have created a very powerful film. I knew about the Khmer Rouge tragedy, but you dealt with it in such a subtle way. With war films, there is the temptation to resort to explicit and excessive violence, but you don't go that route. Was that a conscious decision?
Angelina Jolie (AJ): Well, as much as it was about coming to terms with history and making sure that the country that doesn't often speak about these issues speaks about it, and that young people are educated about the horrors, equally, it was about Cambodian family, culture, love. That's what should always live on, beyond war.
Loung Ung (LU): As a survivor and a writer, it was important for me to tell the story of the love that you hold on to, the love that helps you survive. I never wanted to write a book about war. I wanted to write about what it takes to survive a war, to honor my family … I keep a journal. I've been writing for a long time. When I started thinking about publishing my work, after Pol Pot died in 1998, in one of his interviews, he said he did what he did "for love." I wanted to negate that policy. Love does not a genocide make. Love does not result in 1.7-2 million Cambodians dead. I wanted to tell a story of what love looks like, with a father, a mother, brothers and sisters, and survival and grace and joy and faith. That's how I wrote my book.
Loung, you lived through this story. What was it like the first time you saw the finished film on a big screen? Was that a particularly emotional event?
LU: It was. I had incredible gratitude. Outside of the immediate sadness and anger, the spirituality of the film touched me. The opening scene of the family sitting down together for dinner may seem very ordinary for many people. But for me, it was almost as if my family had come back to life. I don't have that image of my family in that way. And to see them alive and happy and eating a meal together was something very beautiful. That completely tore me apart, because you miss it.
Apart from The Killing Fields, the astonishing story of the Khmer Rouge hasn't entered the realm of film very often. Has the subject been dealt with much in Cambodian film?
AJ: Rithy (Panh), our producer, has [dealt with it]. He makes extraordinary documentaries. Things had to come together for the country to come together, to be able to deal with it, in the right time and the right place. It was important to make this in-country. The Killing Fields was shot in the Philippines, and it was in English. I loved The Killing Fields. It's one of my favorite movies. But it didn't bring me as close as I wanted.
[Loung's] book brought me inside a family and brought me inside Cambodia …. Nothing of this size has been shot in this country, or in the language of Khmer. I believe very strongly in languages and am concerned about languages disappearing. It's very important that films are made in foreign languages, for that country. I understand the idea of adjusting for the masses, on occasion. But it's equally important to do it as it is, and as it truly speaks to the people in their tongue.
What about how this film will play out with a general public? There is that fear of reading among a general moviegoing public.
AJ: I'm hoping that people give it a chance. It's also not packed full of dialogue, so you're not spending a lot of time [reading]. It's interesting how you can put a subtitle over a moment and an image, and it becomes something even stronger, when you see certain words and a certain face. In this particular film, it was important where the words would come in and how they'd land, which could become part of the experience and not something where you're competing with the screen.
It's wonderful that Netflix has put this out to so many different countries, in a way that's accessible to younger people. A lot of people who stream TV shows maybe are not as much in the habit of watching foreign films. I hope that this will expand the viewing of foreign films, to a different audience, in a new way.
Loung, there are some key scenes in the film, and I wondered how true they were to your own experience, or if it was creative, cinematic license at work. I'm thinking of the powerful landmine scene. Was there a situation where you found yourself in a field of landmines?
LU: I worked on the landmines campaign for 10 years, in America. I certainly had experiences walking alone where there were landmines, and have known people blown up by landmines. I remember kicking a grenade one day. It didn't explode, and I was very thankful. [But] what I wanted to do was to tell the larger story of the landmines. Right after the war, there was an estimate of 500 Cambodians stepping on landmines every month. I believe the number is about 45,000 amputees in Cambodia. I worked for a center that manufactured prosthetic limbs for victims of landmines and victims of war, and we fitted more than 26,000 people …. That [scene] may not entirely be my experience, but it was many Cambodians' experience. We took a bit of this and a bit of that.
AJ: That is in the book. It's from your experiences, but the details and the precision became very specific to illustrating the bigger picture. I have a place in Cambodia and we found over 48 landmines [on the property], in a bunker.
Angelina, you seem to be gravitating more toward directing and are very careful with the projects you take on, making films of substance — such as this new one. Is directing something you intend to continue with?
AJ: Well, if [Loung] keeps writing … [laughs]. I would love to. Acting is such a wonderful job. You can jump in for a few months and play and be a piece of something. When you direct, you have to commit years of your life. You have to be a part of every single aspect and make sure it gets done. You have to love and commit to it in a very different way. There's nothing, at this moment, that has a story that could be a film. We'll see when it comes. I hope it hits me. But right now, I'm still very much in this one.