Food
Revering the Radish: The Rise of Plant-Based Cuisine
How Santa Barbara Chefs Are Elevating Vegetable-First Cuisine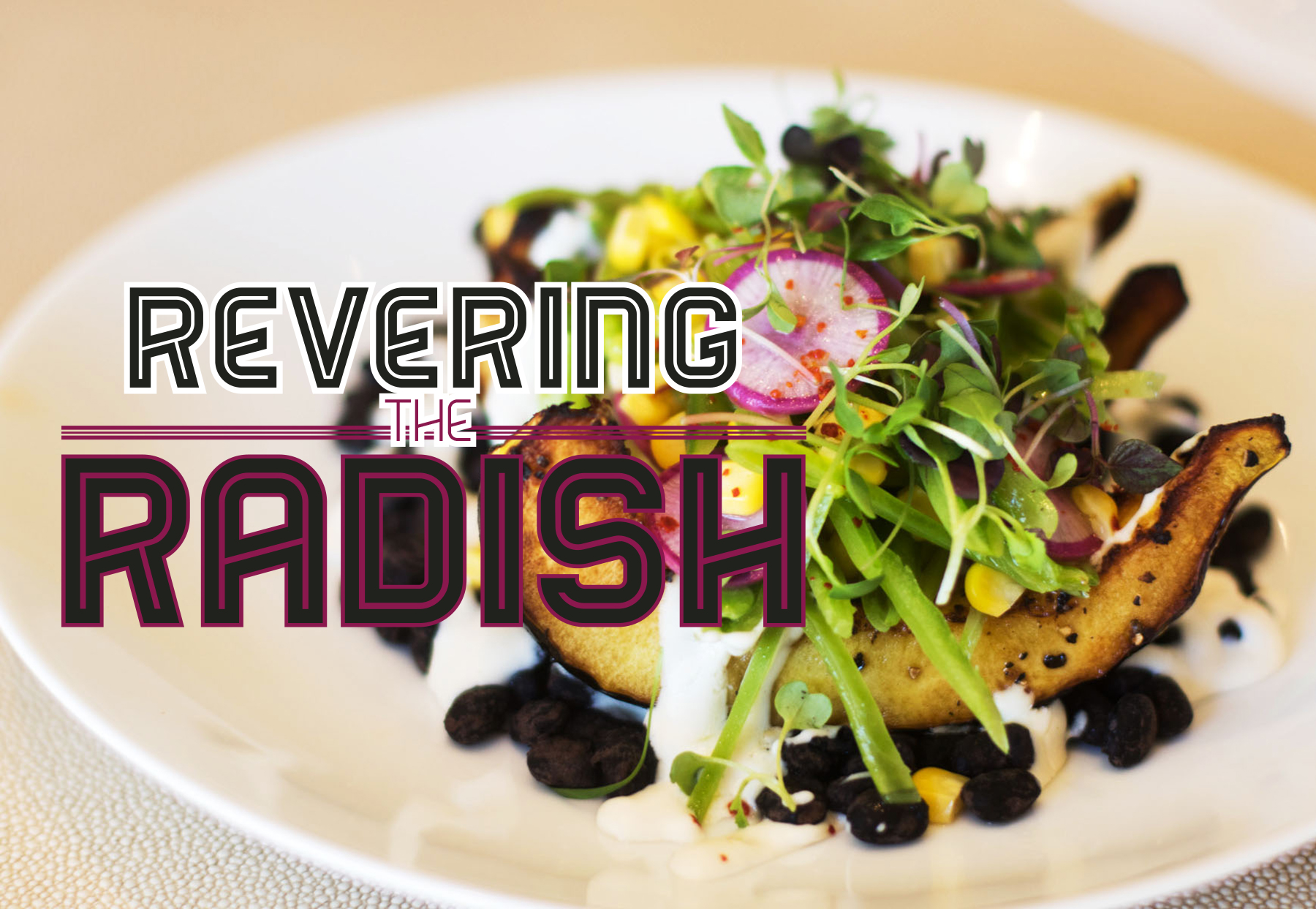 Whispered through the halls of culinary schools across the globe is the tale of a French chef with three Michelin stars who woke up one morning to find he'd lost his will to prepare "la cuisine animale." As a revered Maître Rôtisseur ("master of roasted meats") who'd spent three decades de-feathering and deboning an inordinate amount of fowl and game, this was not a matter to be taken lightly. But Alain Passard was no ordinary chef.
In 2001, the celebrated owner of L'Arpège set out to prove that his cunning knife skills would be put to better use elevating the humble vegetable ​— ​and he was determined to keep the revered status of his Paris restaurant unharmed in the process. Passard's ensuing success with his vegetable tasting menu in a country notorious for its love of sauce-drenched meats sent ripples of attention across the kitchens of his esteemed colleagues, earning him the affectionate title "The Vegetable Whisperer" and sparking a green haute cuisine movement worldwide.
With roots that date back to 3200 BCE Egypt, a meat-free diet is far from a new phenomenon. In ancient Greece, the mathematician Pythagoras (c. 570-495 BCE) ignited an enduring movement that included intellectual equality between the sexes and abstaining from meat consumption, on the grounds that all animals should be treated as kindred. In 1850, the American Vegetarian Society, made up of an unconventional group of religious advocates and physicians, was founded in New York City. And by the 1940s, vegetarianism was popular enough to warrant its own political party, generating five successive presidential candidates under the auspices of the American Vegetarian Party.
According to a 2016 Harris Poll, 5 percent of Americans today define themselves as exclusively vegetarian (that's eight million adults) while a whopping 37 percent adhere to a heavily meat-free diet. Clearly, sustainable eating practices are strong in this country.
Santa Barbara is no stranger to the ideals of conscious living ​— ​agreeable temps and a bounty of fresh farmers' market offerings encourage healthy choices with enviable ease. Add to that a top-notch culinary program at City College that lures aspiring chefs to study within the 805, and we're sitting at the forefront of a sizeable shift.
"We've been doing farm-to-table in Santa Barbara since before it was even a thing," explained Mitchell Sjerven, proprietor of bouchon and Wine Cask. "Having a strong relationship with our local farmers and winemakers has always been our formula for success."
"Many of our customers just aren't having a daily steak anymore," says Don Hull of Montecito Wine Bistro. In response, Hull and owner Pierre Lafond (a lifelong vegetarian) rolled out a menu of plant-based offerings, beginning with an expertly composed selection of "Bistro Bowls" loaded with earthy grains, freshly made sauces, and a colorful explosion of seasonal veggies that would make a Kandinsky fan weep with delight. "We've been floored by the incredible response," admits Hull, "and are committed to evolving our menu over the next few years."
To explore this trend further, I recently peered inside the kitchens of Santa Barbara's most influential chefs to discuss how they're taking plant-focused cuisine to new heights, treating prime rib and acorn squash with equal admiration. With their concerted efforts to bring attention to our region's agricultural roots, these chefs are making a strong case for going green when dining upmarket, and the choices have never been more appealing.
"The figs are going crazy right now." It's the first day of fall, and Chef Johnson is standing in the middle of his culinary garden with hands on hips, surveying rows of glistening fruit ripening in the afternoon sun. Just ahead, a pair of Adirondack chairs and an empty wine glass sit underneath a lemon tree, and as he scoops up the abandoned glass he smiles. "People love to come out here and hang out with the tomatoes."
Among the pristine cottages and fragrant rows of eucalyptus on San Ysidro Ranch's 500 acres of luxe, there's a garden that Johnson utilizes on the daily to inspire the menus for the property's two adjoining restaurants, the Stonehouse and Plow & Angel. On the occasion of an overzealous fruit tree, guests might also return to find a jar of freshly made jam sitting neatly on their nightstand. "We use everything out here," he stressed.
Inside the kitchen, he's prepared a decadent salad of grilled figs, Sun Gold tomatoes, and creamy burrata expertly arranged around a vibrant purée of kale and Meyer lemon; a few slivers of pickled onion and a drizzle of their signature honey (they practice rooftop beekeeping) balance out the earthy flavors. "Every day I cut through the rosemary on my way out and ask myself how I got to be so lucky," he says, before disappearing into the kitchen.
On any given Tuesday, Chef Murphy can be found strolling through the downtown farmers' market, discussing the virtues of an heirloom carrot with a small group of dinner guests. Part of a weekly foodie tour offered by bouchon, the outing begins with the selection of a few seasonal items from the colorful stalls before returning to the restaurant for a few glasses of wine and a dazzling demonstration of Murphy transforming ingredients into perfectly composed courses. "People are always influenced by what they see on display, so no two tours are ever alike," says Murphy, a City College culinary school graduate who revels in the challenge of improvising with what's freshest and available.
When I arrive, he's surveying his kitchen, looking for inspiration among the crates of produce. It's this off-the-cuff approach that makes his vegetarian dinner course such a hit with guests ​— ​it's individually tailored around each diner's preferences and never the same from week to week. When he sets down a plate of delicately pan-seared gnocchi pillows moments later, I can see why. Tossed with hearty fava beans and golden beets coated in a decadent mushroom and red wine deglaze sauce, it is the culinary personification of autumn. "Inevitably, someone always cranes their neck over to see one of these dishes being served, and suddenly we've got four more orders that night," laughs Sjerven, and neither one of them seems bothered by the prospect.
"My mom used to make this for us when we had nothing in the house to eat," says Chef Morello, setting down a perfectly formed timballo filled with smoky eggplant, earthy potatoes, breadcrumbs, and a touch of goat cheese. "Before food became industrialized, Italians relied on what was available in the garden, and meat was just a Sunday thing."
A native of Sicily, Morello transported his country's regional specialties to a tucked-away corner of the downtown arts district more than 18 years ago, allowing the wild fennel, spinach, and eggplant of his youth to reign supreme over a menu that relies heavily on the bounty of the season.
In classic Italian fashion, Morello sends out dish after glorious dish, including a refreshingly subtle minestrone with a whisper of celery, tagliatelle Genovese with diced russets and crisp green beans in a fragrant pesto sauce, garlicky pappardelle with charred zucchini and a kick of dried chili flakes, and a sublime eggplant ravioli with paper-thin shavings of ricotta salata. Feeling transported back to the Aeolian Islands of Sicily, I linger a moment longer, and, without missing a beat, Morello sends out another dish.
At first glance, a Spanish restaurant ​— ​its obligatory leg of Ibérico ham displayed prominently on the counter ​— ​might seem an unlikely place for a plant-focused diner to find solace. But sidle up to Loquita's walnut bar, and Chef Lee will happily point out a beautifully executed selection of meat-free tapas, including crisp patatas bravas with a kicky gochujang aioli.
Known for inventively balancing flavors from Spain's most beloved recipes with hints of his Korean heritage, Lee's near obsession with recipe development is the reason Loquita enjoys a robust following one year after its inception. "Felicia and I spend hours in the kitchen tweaking each recipe, and then we go home and spend hours doing more of the same," he says, referring to his sous chef and live-in partner, Felicia Medina. They once made 10 versions of a tortilla española together on an off-day until they hit their desired consistency.
I'm here to try their buzzed-about vegetable paella, made with a four-hour sofrito recipe and loaded with seasonal veggies that include sunburst squash, heirloom tomatoes, roasted corn, and Blue Lake green beans. As Lee hands me the customary spatula used to scrape the paella into the center of the pan, I catch a glimpse of him leaning over to study the rice's underside ​— ​the most critical component of a well-executed paella. "Not bad," he mumbles to himself ​— ​and the twinkle in his eyes is unmistakable.
To appreciate the changes that have ensued on the corner of Milpas Street and Cabrillo Boulevard, one must look past the white stucco façade and Moorish archways of the recently renovated Santa Barbara Inn, past the flowering bougainvillea and outsized Turkish lanterns, and straight into the open-plan kitchen. That's where Chef McNee is overseeing a dazzling and inventive menu aptly described as "nomad Italian."
"I'd say our approach is just to the left of what people are comfortable with," says McNee, whose menu is doused in the aromas and spices of such exotic locales as Tunisia and Turkey. "Being inspired by so many different places means that their influences will inevitably show up in your cooking."
Today, he's rolling out a greatest hits selection from his "Agricola" menu, including smoky potatoes dusted in za'atar and served with a tangy romesco sauce, and the roasted fennel prepared "in saor" with a sweet and savory balance of pine nuts, golden raisins, and pickled onions.
Every chef we interviewed has cultivated strong relationships with our area's farmers, but few can match the locavore dedication that McNee displays when considering his dishes. "We're willing to gap on a dish if the ripeness level isn't there," he explains. "Santa Barbara agriculture is definitely driving our menu."
It wouldn't surprise anyone to declare Chef Cogan's bistro burger the best in the city. After all, Wine Cask is no stranger to the accolades that come from a 34-year commitment to immaculate cuisine, and their ⅓-pound showpiece stands tall among the herb-crusted mainstays of their menu. What may surprise you, however, is that this particular burger is made with a 100 percent plant-based Range-Free patty from Santa Barbara resident Jody Boyman's company Hungry Planet. It's a game changer.
"It's only fair that a group of friends should all be able to come in and catch up over a few burgers—no matter their diet," stresses Cogan, as he slides one of his dazzling burgers my way. Slathered in a smoked ketchup and oozing with nutty Gruyère between clouds of buttery brioche, the $12 burger ($14 if you add avocado) is nothing short of perfection. Add to this the sobering fact that it takes almost 2,000 gallons of water to process one pound of beef versus the 250 gallons needed for this patty's soybeans, and you'd be foolish not to sprint over during lunch to test one out for yourself. "Once you get past the fact that it doesn't have hooves, it's delicious," Cogan assures.
Chef Riker furrows his brow and hands me a warm bowl of pasta. "I'm really trying to dial in the consistency of the cheese," he says thoughtfully. By "cheese," he means a creamy cashew and carrot puree with a dash of turmeric that's remarkably symbiotic in flavor and texture. His other dishes have a similar effect: a chopped salad turned on its head with the addition of cauliflower and dates and held firmly into place with a bright, ginger dressing; and an earthy wild mushroom tostada, its texture soft and hearty against a crunchy curtido slaw.
Unabashedly plant-based, Oliver's is the dream project of business magnate Craig McCaw, whose vision to create an experiential dining experience in an approachable setting has already been met with fervent enthusiasm. "This isn't about taking a militant approach to food," says Brett Rasinski, a New York City restaurateur (and McCaw's nephew) who is overseeing details at the 100-seat restaurant. "We want to offer dishes that are vibrant and healthful and not worry so much about labels."
Two weeks in, and Riker's meat-, dairy-, and egg-free menu is appeasing both vegans and omnivores alike, offering up a fresh take on farm-to-table dining with inventive riffs on wine-country classics. "As a meat eater, I thought this would be a good opportunity to push my knowledge of veggies, and now I find myself eating this way 90 percent of the time," admits Riker. Though Riker is not interested in schooling anyone about the benefits of a plant-focused diet, his infectious energy and creative approach is already making headway among the skeptics. "The response has been mind-blowing, and seeing a steady stream of repeat customers is really encouraging."