Going Green
Biomimicry: Designing Using Nature as Model
Imitating Nature Is Leading to Remarkable New, Low-Impact Products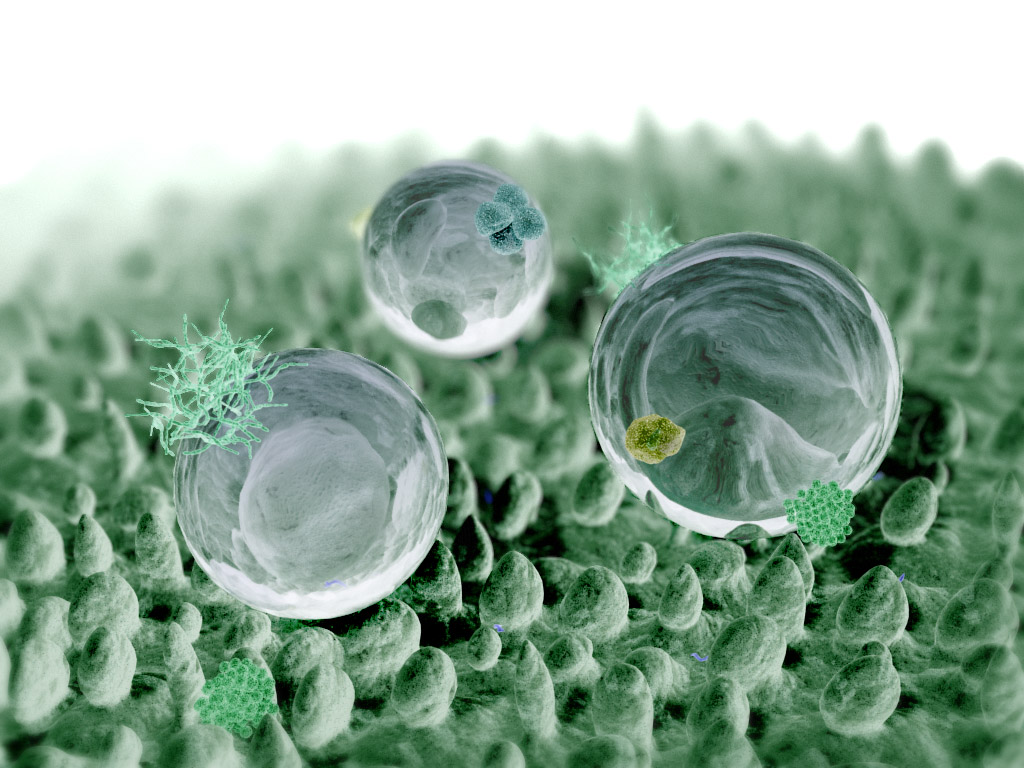 The quest for more effective and efficient ways to clean man-made surfaces and fabrics is long standing. Time, money, and environmental cost are always involved. In contrast, many plants seem able to stay clean with nothing more than the occasional rinse by dew or rainwater.
Lotus leaves exemplify this ability. Although they appear smooth, under a microscope they reveal an outer skin of bumpy cells covered by a thin layer of water-repellent wax crystals. These two properties make the leaf self-cleaning. Water falling on the waxy, bumpy surface forms spherical beads that readily roll off; any dirt on the surface clings to the water droplets and is easily carried away with the runoff.
This hydrophobic quality (shedding water) is not unique to the lotus. For example, it enables winged insects like butterflies and dragonflies that are unable to clean their wings with their legs (as many other insects do) to, nevertheless, have clean wings.
Janine Benyus, the scientist who authored the seminal book Biomimicry: Innovation Inspired by Nature, suggested designing products and systems by taking advantage of evolution's 3.8 billion years of R&D. Drawing lessons from nature helps us understand how to live in harmony with nature, rather than how to dominate it, according to Benyus.
Nature's principles in the self-cleaning lotus leaf are now being utilized in man-made products without depleting or harming the natural world. Examples include self-cleaning roof tiles, self-cleaning paints, soil-repellent fabrics, and treatments for glass. The benefits in all these products are decreased use of water, detergents, and solvents.
Another potentially important area of growth is coatings for solar panels. Researchers at Boston University have estimated that 4 grams of dust per square meter of glass on a solar panel reduces power conversion by 40 percent. Dust deposition in Arizona is about 17 grams per square meter per month, thus cutting a panel's effectiveness in almost half in just one week of exposure.
Other applications of the biomimicry approach that go beyond hydrophobic surfaces are as follows:
The GreenShield fabric finish ​— ​a textile coating that adds oil resistance, fire retardation, and anti-microbial functionalities, all while reducing the negative impacts of chemicals and nanoparticles on the environment.
New window glass developed by the Engineering and Physical Sciences Research Council that is self-cleaning, anti-glare, and energy conserving.
Bird protective glass that reduces bird collisions by applying a special ultraviolet (UV) reflective coating that appears transparent to humans but is clearly visible to birds, who see a broader UV spectrum than humans.
The world of biomimicry has expanded well beyond man-made surfaces and fabrics with equally impressive advances based on imitating nature without harming it.
Dennis Allen is chair of Allen Construction, an employee-owned company committed to building and operating sustainably. He also serves as chair of the Dean's Council at the Bren School of Environmental Science & Management at UCSB and as a boardmember of the Community Environmental Council.