Arts & Entertainment
'Nat Geo' Photographer Talks Climbing and PTSD
Cory Richards on His Personal Demons and Giving Up Control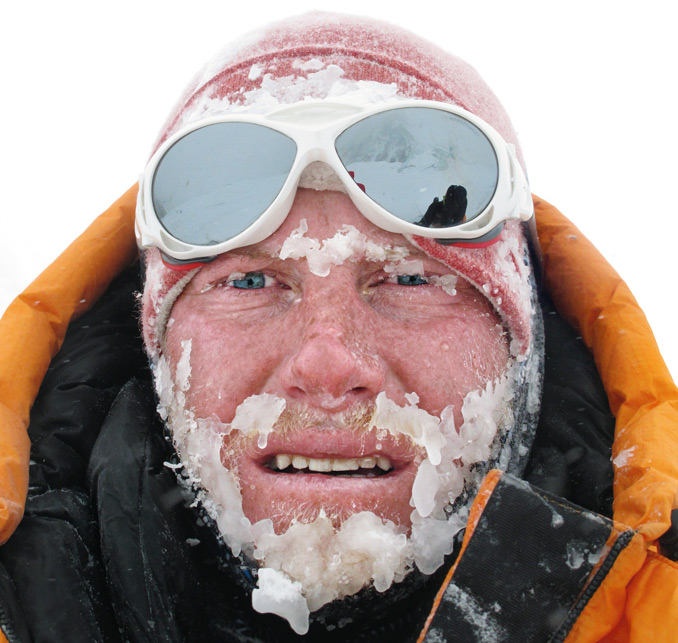 Cory Richards has summited Everest, but perhaps his biggest life challenge has been battling his personal demons. As a troubled teen, Richards found focus and release through climbing and taking pictures, which he eventually parlayed into a career. Despite his successes — he is a professional alpinist and an acclaimed National Geographic photographer — Richards has battled alcoholism and was diagnosed with PTSD after being caught in a level 4 avalanche that almost killed him. After years of struggle, he was able to get his life on track by speaking with audiences around the world about his endeavors both on and off the mountains. "In terms of post-traumatic stress disorder, that's just a natural thing to talk about for me, because it's affected me; it's infected me," Richards said in a recent phone interview with the Santa Barbara Independent ahead of his December 7 appearance at UCSB's Campbell Hall. "And using the adventure hook to get people involved in talking about more serious and more profound issues is really just a trick. It's like, 'Okay, let's look at some really cool shit, and then let's talk about what's important.'" What follows are snippets of our conversation.
What is it you love about climbing? Are you an adrenaline junkie? No, in fact I'd paraphrase [rock climber] Alex Honnold in saying that if I'm feeling adrenaline, I've done something very, very wrong. I think the point of this kind of activity is to alter one's perception of value. What is valuable in life? Is it having a big home and lots of things? For some people, that is.
If you strip that away, which climbing adventure has a great way of doing — it's really a reductionist activity — you start to have a much clearer understanding of what your values really are. You're left with very little room for bullshit … for sort of the asinine and the mundane, because your immediate surroundings in these environments mandate survival …. You start to value your relationships much more profoundly, and you start to value the time that you have with people, because by walking a little bit closer to our own insignificance, we find out how significant our time and our relationships here really are.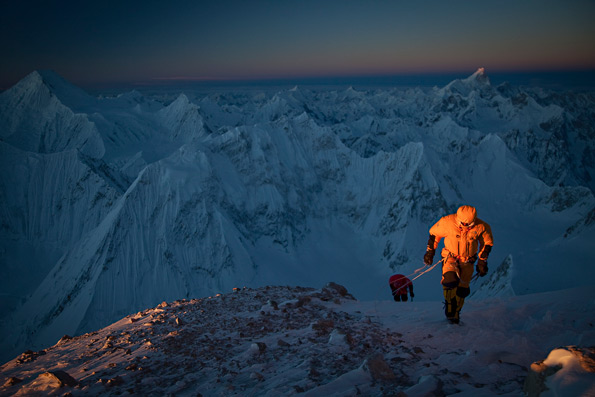 It seems a juxtaposition to be significant and insignificant at the same time. Well, yeah, that's exactly it. Climbing adventure, exploration provides us with infinite Zen koans …. I did a story recently on happiness, and actually Dan Buettner, who wrote the story, lives in Santa Barbara. We were piecing together these foundational ingredients: What makes people happy? How can you throw it all together?
Certainly there [are] things like security, a certain amount of money, health care. There are all these components, but really the ultimate component for me has been giving up [control]. By accepting our insignificance, we understand how significant things really are, because we have such a finite amount of time.
By letting go of the idea that there is this ultimate happiness, you understand that life simply is, and by virtue of that acceptance, you become happier. … It's constant rediscovery through the same lesson …. Only by reaching the summit do you understand that the summit is insignificant.
So really it is about the journey. It's always the journey, and the same is true with photography. The more I try to let go of what I want to get, I get what I want to get. When we surrender to all the forces that are around us that we have no control over, which is essentially everything … we end up finding that we have more control.
How did you become a photographer? Are you self-taught? Well, no, it would be wrong to say I'm self-taught, but I didn't necessarily have a formal education. I was inspired [to shoot] by a guy named Adam Clark, who's a ski photographer and has been doing it for almost 30 years. I started taking pictures of things that were closest to me, being outdoors and climbing, and then I went to Austria, and I studied under a guy named Andrew Phelps; he was a fine art photographer, a wonderful guy. Then I went to school for a year in Seattle for photography and ended up quitting school and just assisting under a fashion photographer named Bill Cannon …. Maybe I'm self-taught in the genre, but that would be unfair to say, too, because I have really taken to looking at other people's work and using them as silent instructors.
It's interesting how life unfolds. For example, you were taking pictures and then you were caught in the avalanche, and then you ended up working for National Geographic. You probably could never in a million years have predicted that outcome. National Geographic was pursuing me before that a little bit, or we were dancing around each other … and [the avalanche] ended up being sort of a fundamental piece in it. It also ended up being a fundamental piece in divorce and alcohol abuse and all of these things.
But if you want to go back even further and sort of look into the Malcolm Gladwell version of the story, my grandfather was a surgeon at the University of Utah, and one of his colleagues was George Henry Lowe II, whose son was George Henry Lowe III, who was my dad's best friend. George became a prolific American alpinist, so we grew up with that in our household, and by virtue of that, we ended up in this community of the outdoors where I could meet people like Will Gadd and Barry Blanchard and Steve House and Steve Swinson, who became mentors and took me on harder and harder climbs. Because they were famous in the climbing world, they were more likely to have pictures published, and so [forth].
Did teaming up with Nat Geo bring big changes in your life? I think National Geographic is almost single-handedly responsible for my development as a photographer and furthering the adventure bent. It gave me opportunities that otherwise wouldn't have been granted to me. Certainly as I expand beyond simply adventure and exploration into humanities and geopolitics and climate change and things like that, you know their direction and tutelage has been integral in developing a visual voice that is potentially more effective. Without them and without the cachet of them and without the spread of them, there's no way that I would have arrived at this place.
You have mentioned that it can be hard to return to the regular world after being gone on a climb. Is there still a divide between your adventures and your home life? There's a divide in the day to day, but there's a lockstep synchronicity on the inside. … A lot of people think it's the best life in the world, but when you're traveling six to nine months a year, it's really hard to build community. But at the same time, that's just part of the experience, and it's the life that's unfolding, and it's certainly the one that has provided so many amazing opportunities. Yeah, it's hard to balance that out, but it's not necessarily a bad thing.
What can people expect at your presentation? It's a visual narrative to weave together the very internal, introspective journey amid the external, exposed journey. So what was going on when I was on assignment in Africa, and what I actually pulled away from being in Africa and applied to my personal life; what was happening internally in my life as my marriage fell apart while I was in Burma. There are these themes that sort of apply to what's happened in my personal life that are amplified or sort of exemplified by the imagery in the trips that I was going on.
I think it's courageous to reveal yourself the way you have to audiences. That's kind of the fun part. You know, it's like you get up there, and you talk about depression; you talk about divorce; you talk about all these very human things; and then you're talking about Everest, and you're talking about Africa. Not everybody can relate to climbing Everest without oxygen, but everybody can relate to struggling with depression, or somebody in their family that's gone through that. It invites people into the conversation. And by actually being vulnerable, by opening ourselves up … you invite other people to open up, and that's the point.
4·1·1
UCSB Arts & Lectures presents Cory Richards Thursday, December 7, 7:30 p.m., at UCSB's Campbell Hall. Call (805) 893-3535 or see artsandlectures.ucsb.edu.