News
Applicants Re-up for DACA in Santa Barbara
Short Government Shutdown Ends with Promise to Take Up Immigration in February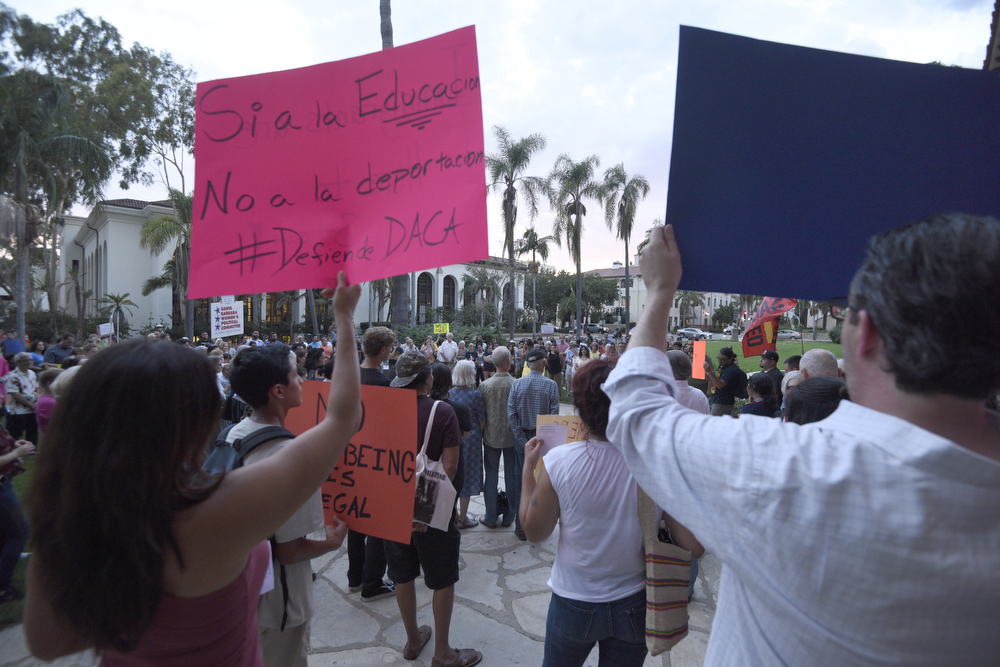 Since a federal district court overturned the Trump administration's cancellation of the DACA program, Santa Barbara's authorized assistance providers — Immigrant Hope and IMPORTA — have been helping Dreamers renew their applications again. Among those successfully suing the Trump administration and preserving DACA for the short-term were California's attorney general, Xavier Becerra, and the state's college systems. At a press conference last week, Becerra remarked how appropriate it was for the California Northern District court decision to come the day after the Martin Luther King Jr. holiday: "For those who wish to dream, we don't want them to stop."
Homeland Security is once again accepting renewal applications from those in the DACA (Deferred Action for Childhood Arrivals) program, a process that stopped last October after President Trump cancelled the program. At the time, Trump said Congress should pass a law to replace DACA before its protections began to end in March. That statement was a major reason Democratic senators refused to vote for the spending bill that shut down the government for about 64 hours last weekend. DACA protections were not renewed in the bill, and Senate leader Mitch McConnell would only signal an "intent" to address it in February. Monday morning the intent became a "clear path on how we're going to start an immigration debate," according to Virginia Senator Mark Warner, quoted in the New York Times, and the spending bill passed the Senate 81-18. It passed the House and was signed by President Trump, who tweeted, "Democrats cave on Shutdown."
Neither California senator — Dianne Feinstein and Kamala Harris — voted for the bill. After the vote, Harris's office released a statement in which she said, "The Majority Leader's comments last night fell far short of the ironclad guarantee I needed to support a stopgap spending bill. I refuse to put the lives of nearly 700,000 young people in the hands of someone who has repeatedly gone back on his word." Feinstein said the Dream Act had been debated for 20 years, and that instead of following up on Trump's direction to make a law, "They even spent weeks passing a tax-cut bill for the rich instead of working on a bill to keep the government open and help DACA recipients." The spending bill only carries the government through February 8. The Trump administration had stated it intends to take the District Court decision to the Supreme Court.
"Honestly, who knows what's going on in Washington," Diane Martinez asked rhetorically of the back-and-forth and ups-and-downs for her DACA applicants at Immigrant Hope. The group has been contacting the people it has helped in the past to make sure they know that renewals, due every two years, are possible again.
The applicants were brought across the border as children. Though they lack legal status, most know no other country or culture but the United States. President Barack Obama created the program in 2012 after Republicans had filibustered and fought the DREAM (Development, Relief, and Education for Alien Minors) Act since the introduction of the original version in 2001.
Dreamers currently range between the ages of 16 and 36, said Martinez. They are students or they work, have families, and "need to be very careful not to get into trouble." Their protected status can be revoked at any time, she said, and if arrested for certain crimes, even a DUI, they face deportation. She said the feeling of fear among her clients has lessened. compared to when raids were ongoing last year or when the executive order rescinding DACA came out. "Those who are now able to come and apply are very relieved," she said.
Becerra noted that both Republicans and Democrats in Congress supported the program. The son of immigrants from Mexico, he said, "I believe these young people are doing the most courageous thing possible. … When a window opens to reapply, please be prepared and reapply for your DACA status."
Immigrant Hope and IMPORTA are Santa Barbara's two agencies authorized by the Department of Justice to work with DACA applicants. IMPORTA also has an office in Lompoc.