Bottles & Barrels
Santa Barbara's Ancient Wines, Then and Now
Exploring San Jose Winery, Sipping Angelica, and Tasting in De la Guerra's Bodega
The road to Santa Barbara County's oldest winery does not travel through rows of gnarled vines nor beneath the majestic native oak trees of the Santa Ynez Valley. Rather, it meanders through the suburban tract homes of the Goleta foothills and up a dead-end road, where a gigantic bougainvillea bush, brilliantly blooming poinsettias, and a cornucopia of citrus trees await.
There, protected from the elements by the corrugated tin roof and wooden walls of a green barn, stand the remnants of San Jose Winery, where the padres of Mission Santa Barbara made wine almost two centuries ago. It hasn't been in operation since Prohibition, and the surrounding seven acres of grapevines were uprooted decades ago in favor of lemon and avocado trees.
But the crumbling adobe walls, dusty basket press, wicker-wrapped demijohns, and well-worn ladder rungs that rise above the fermentation vat serve as fading reminders that winemaking is not just a modern pursuit in Santa Barbara. In fact, the county was one of California's biggest and best wine regions throughout the 1800s, a century before the modern viticultural boom started here in the late 1960s.
"Everything went all right until 1918, and then, boom, overnight they were out of business," explained Catherine Cavaletto, referring to Prohibition's effect on commercial winemaking at San Jose Winery. Her grandfather, Michele Cavaletto, started working on the property in the 1890s after immigrating from Piedmont, Italy. His employer was an Irishman named James McCaffrey, who had purchased the property in 1871 from Bishop Thaddeus Amat, the first bishop of Los Angeles. Cavaletto was able to lease the land in 1895 from an elderly McCaffrey, and then purchased it in 1900 from McCaffrey's widow.
At some point around a century ago, Michele erected the barn around the adobe. "Nothing really has been done to it since the building was built around it," explained Catherine Cavaletto, whose father was also adamant about protecting the structure. "My dad was born on this property, and he died on this property. The historical aspects were important to him. He liked to preserve things as much as he could."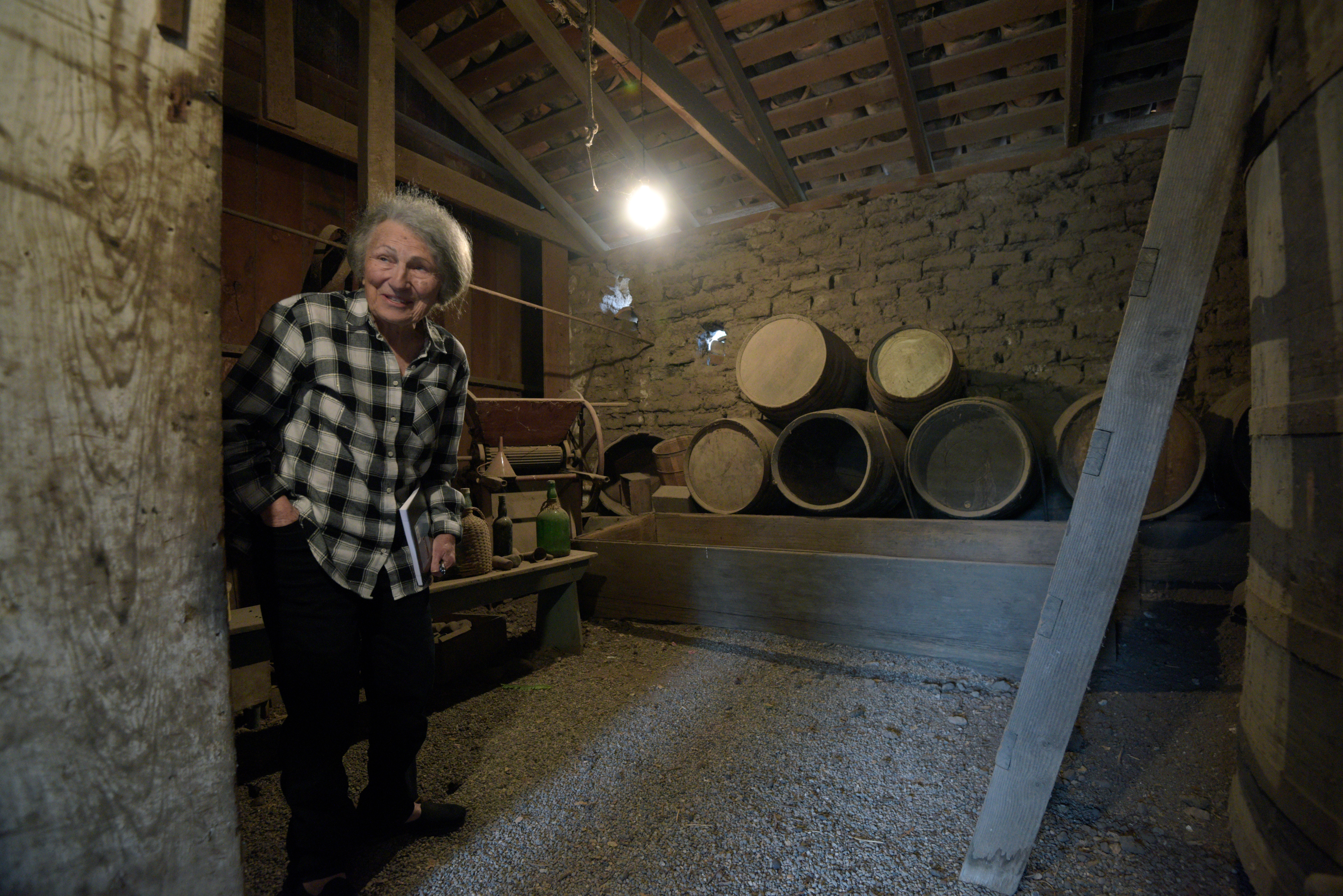 Cavaletto, who just turned 80 years old, grew up on the property as well, and recalls it being very much self-sustainable, home to pigs, chickens, cows, rabbits, and even draft horses. After studying agriculture at UC Davis, she left for Hawai'i in 1962 and wound up working for the University of Hawai'i in sensory science for nearly four decades, helping to develop the macadamia nut and coffee industries.
In 2003, she retired and started living in the house on the hill above the winery, all of which is still owned by her brother Michael, who lives in Nipomo. "I was delighted to come back," said Cavaletto, who now gives tours of the property to interested parties, although it is not open to the general public.
The winery is just one of the farm's fascinating attributes ​— ​there are 27 types of edible plants, from Asian pears, persimmons, and passionfruit to avocado, cara cara oranges, and oro blanco grapefruit. "My father liked to plant one of everything he could get his hands on," said Cavaletto, with a yellow-skinned, pink-fleshed guava in her hand.
The green barn also houses a museum of family heirlooms, including old carriages, farm tools, and the toaster and waffle iron that Cavaletto's parents were given for their wedding ​— ​they still work, she says. "For a long time, old things are just junk," she said. "Then they become significant."
Grapes of Past
A historical landmark affixed to the front door frame claims that the Cavalettos' winery, which sits alongside San Jose Creek, was built in 1804. But archival research suggests that the winery and vineyard were more likely established somewhere between 1824 and 1834, when letter writers shift from calling the area a farm, or milpa, to a vineyard, or viña.
By then, wine had been part of the Santa Barbara scene for at least two decades. It first came with Junípero Serra when he established El Presidio de Santa Bárbara in 1782, because wine is an integral part of the Catholic mass. No one's exactly sure when the first successful vines went into ground in Santa Barbara, but there is consensus that it had happened at least by 1799.
But wine wasn't just sacramental ​— ​it was also used recreationally by the friars, soldiers, and everyday citizens. Just a quick online search of the Santa Bárbara Mission Archive-Library reveals dozens of letters of which wine and vines are the main topics: requests for barrels to be filled and empty barrels to be sent; complaints over wine that had spoiled into vinegar; concerns over the frosts; and plenty of gratitude for wine deliveries of both white and dark wine as well as brandy.
Eventually, the missions of Santa Barbara, Santa Inés, and La Purísima owned numerous vineyards. Mission Santa Barbara planted the most acreage, at San Jose as well as places called La Cieneguita and Vina Arroyo. La Purísima's friars didn't have much luck at their property near Lompoc, so they planted one at a place called San Francisco, about a mile inland from Jalama Beach; in the 1930s, remnants of these vines were replanted next to the mission.
Though today the Santa Ynez Valley is the hotbed of grape growing, Mission Santa Inés ​— ​which did own inland vineyards at College Ranch, Zaca Creek, and Rancho Corral de Cuati ​— ​struggled with their valley vines due to the frosts that stifled young crops every winter. That's probably why that mission's vineyards of note were on the coastal side of the range at Refugio, Tajiguas, and Arroyo Hondo. Modern farming techniques, such as sprinklers and wind fans, and possibly the warming climate, make Santa Ynez Valley frosts less of an issue now.
All of the early vineyards were planted with the "mission" grape, the variety that the friars imported to Mexico in 1540 from Spain, where it's known as listán prieto. (Today, that grape is planted all over the Canary Islands.) The mission grape made its way to New Mexico's Rio Grande Valley in 1629 and then came to California with Serra in 1769. Though the mission vine grows vigorously, the grapes are low in acid and are notorious for making tepid wine, so they were also distilled into aguardiente, a strong type of brandy. Nonetheless, the mission grape dominated the state's wine scene until about 1865, when other varieties started showing up in the pockets of immigrants from France and Italy.
The winemaking process was rather crude, handled primarily by the native Chumash. One observer at San Jose Winery reported that "well-bathed Indians" ​— ​wearing just loincloths, wiping sweat from their brows with another cloth, and holding a pole for balance ​— ​would crush the fruit as it sat in steer hides. The juice would spill into fermentation vats and sit there for two or so months, eventually making a somewhat weak and flabby wine. The fermented pulp would then be pressed into copper pots, heated, and condensed to make the aguardiente, which was colorless or slightly yellow when finished.
The First Winemaking Wave
The friars weren't the only ones with wine on the mind. As Santa Barbara grew into a thriving pueblo, private citizens started planting their own grapes as well. Up the Gaviota Coast, the Ortegas planted grapes at Refugio and Irishman Nicholas Den planted 40 acres of his own at Rancho Dos Pueblos.
There was plenty in downtown Santa Barbara as well. The Presidio's Comandante Felipe de Goicoechea, who served from 1784 to 1802, planted vines between Carrillo and Castillo streets on what is today De la Vina Street, hence the name. He purchased grapes from Pascual Botiller, who reportedly brought the first wine press to the area; Botiller's own winery survived until the 1890s. Botiller is frequently called a French immigrant, but more recent genealogic evidence suggests he was born in California. His family home at 1023 Bath Street is currently home to a small museum called Casa Dolores.
José Antonio de la Guerra y Noriega also made wine, as did his neighbor Don Gaspar Oreña, whose adobe still stands adjacent to Casa de la Guerra. Then came immigrants from other parts of Europe, including Jules Goux, who arrived from his native Bordeaux, France, in 1851. Goux started a small winery near his relatives' hotel and saloon, but his lasting legacy is rooted in olive trees: He planted some of Santa Barbara's first commercial groves near today's Olive and De la Guerra streets, and his descendants now run Santa Barbara Olive Company.
Albert Packard arrived around the same time as Goux. Originally from Providence, Rhode Island, Packard may have taken over Goicoechea's grapevines, but other reports say that he planted his own; he most likely did a bit of both. What's certain, though, is that he built a massive adobe on West Carrillo Street sometime around 1865, founding Santa Barbara's first major commercial winery. With three-foot-thick walls, the four-story structure ​— ​with a stone basement and wooden third story ​— ​may have been the largest adobe in California.
He branded his wine El Recodo (or "The Corner") and made about 30,000 cases a year, which is a considerable amount even for Santa Barbara standards today. Packard sold his wine from Los Angeles to San Luis Obispo, and all the way to Texas. His vines died of disease in the 1880s, and Packard followed in 1901, his body laid to rest at the Santa Barbara Cemetery. The structure survived until the 1925 earthquake and was demolished completely in the 1950s.
Then there was Santa Cruz Island, where Frenchman Justinian Caire planted a 150-acre vineyard with 20 different grape varieties that he imported from France in 1884. That became one of the more important sources of wine in the state, until economic woes and then Prohibition wiped it out. (See how Rusack Vineyards is rekindling Caire's dream on Catalina Island on page 33, or see independent.com/catalina for a past feature on that.)
According to agricultural surveys, there were 45 different vineyards in Santa Barbara County totaling 260 acres in 1843. By 1860, the county was the state's third-largest producer of wine, and it was apparently pretty good too. Back in 1842, Sir George Simpson remarked that the wine in Santa Barbara was much better than what he'd had elsewhere in California. Surmised the authors of Aged in Oak, a history of the county's wine industry, "Even among the earliest of California winemaking efforts, Santa Barbara County's products were notable."
Saving San Jose Winery
Even after the missions were secularized in 1834, the Catholic Church kept tending to the San Jose Winery. In 1856, Bishop Amat leased the seven-and-a-half-acre vineyard to James McCaffrey, who'd been lured to the area by fellow Irishman Nicholas Den. A tailor by trade, McCaffrey first tried settling in Australia and the Bay Area, but an injury prevented him from striking it rich during the gold rush.
Upon purchasing the property in 1871, McCaffrey expanded the winery and increased the size of the vineyard, which thrived under his care. An 1883 publication called the vineyard "one of the oldest and finest in California."
Having grown up among Piedmont's treasured nebbiolo vines, Michele Cavaletto knew a good vineyard when he saw it. After purchasing it in 1900 from McCaffrey's widow, two months after her husband died at age 89, Cavaletto worked it for nearly two decades, until Prohibition. That spelled the end of a functioning San Jose Winery, and Cavaletto died in 1921.
However, one last big batch of wine was made in 1928 to celebrate the wedding of Peter Cavaletto and Elisa Giorgi. In 2003, on what would have been their 75th anniversary ​— ​he had passed, but she was still alive, living all the way to 102 years old ​— ​the Cavalettos opened a bottle during a party at Stow Grove. "The bottle of wine went a long way," said Catherine Cavaletto, a sly way of saying it wasn't very good. "It tasted rather like a sherry." (The family also made smaller batches into the 1950s.)
Aside from tending to the relics of the past, Catherine is keeping an eye on the future too. In 2006, she took mission grapes from Gypsy Canyon vineyard near Lompoc and planted them to grow up her arbor. They produced decent crops at first, and then died. She's interesting in trying again.
Catherine has no children of her own and, though quite nimble and active with her many plants, is starting to issue complaints about her posture and the early stages of a mild form of Parkinson's. She's most concerned about preserving the winery. "I don't know how many earthquakes it will withstand," said Catherine, who'd really like a younger Cavaletto to care about their family history like she has.
"That's one of the things we're trying to do," said Catherine, explaining that they host an annual family barbecue each year, when the older generations tell stories to the younger relatives. "But it's not enough."
Sources: The historical information in this article comes largely from three books that cover Santa Barbara County winemaking in depth. The most comprehensive, Aged in Oak: The Story of the Santa Barbara County Wine Industry, was published in 1998 by the Santa Barbara County Vintners Association. There also is Victor Geraci's 2004 book Salud! The Rise of Santa Barbara's Wine Industry and a detailed chapter on San Jose Winery in Those Were the Days: Landmarks of Old Goleta, edited by Gary Coombs in 1986.
Legendary Grapevines
La Parra Grande: Legend has it that a young woman from Los Angeles named Marcelina had fallen in love with Carlos Dominguez, who gave her a young grapevine to pledge his love. She planted it in Montecito ​— ​where the two eventually married ​— ​and it grew to be one of the largest grapevines in the world. It even provided income for the family due to the 10 tons of grapes it produced per year and the shelter it provided for parties of more than 700 people.
The circumference reached nearly 10 feet at its base, and its branches covered more than 10,000 square feet of land. A century later, as the vine started to die, James Ord suggested that Santa Barbara send it to the Centennial Exposition of 1876 in Philadelphia. It was quite the spectacle.
La Viña Grande: Down the road in Carpinteria, another massive vine was also growing. Planted in 1842 by Joaquina Lugodi Ayala, it was popularized in St. Nicholas magazine due to letters sent by Jack Bailard and Flossie Rasor in 1906. According to an article in the March 1911 edition of Technical World Magazine, the vine could grow more than 10 tons of grapes in a year and may have served as a voting site for Santa Barbara County's first election. Attempts by the Chicago World's Fair and the San Francisco Mid-Winter Exposition to buy the vine for display were denied. It was located near the intersection of Via Real and Santa Monica Road and is memorialized in a mural on Linden Avenue.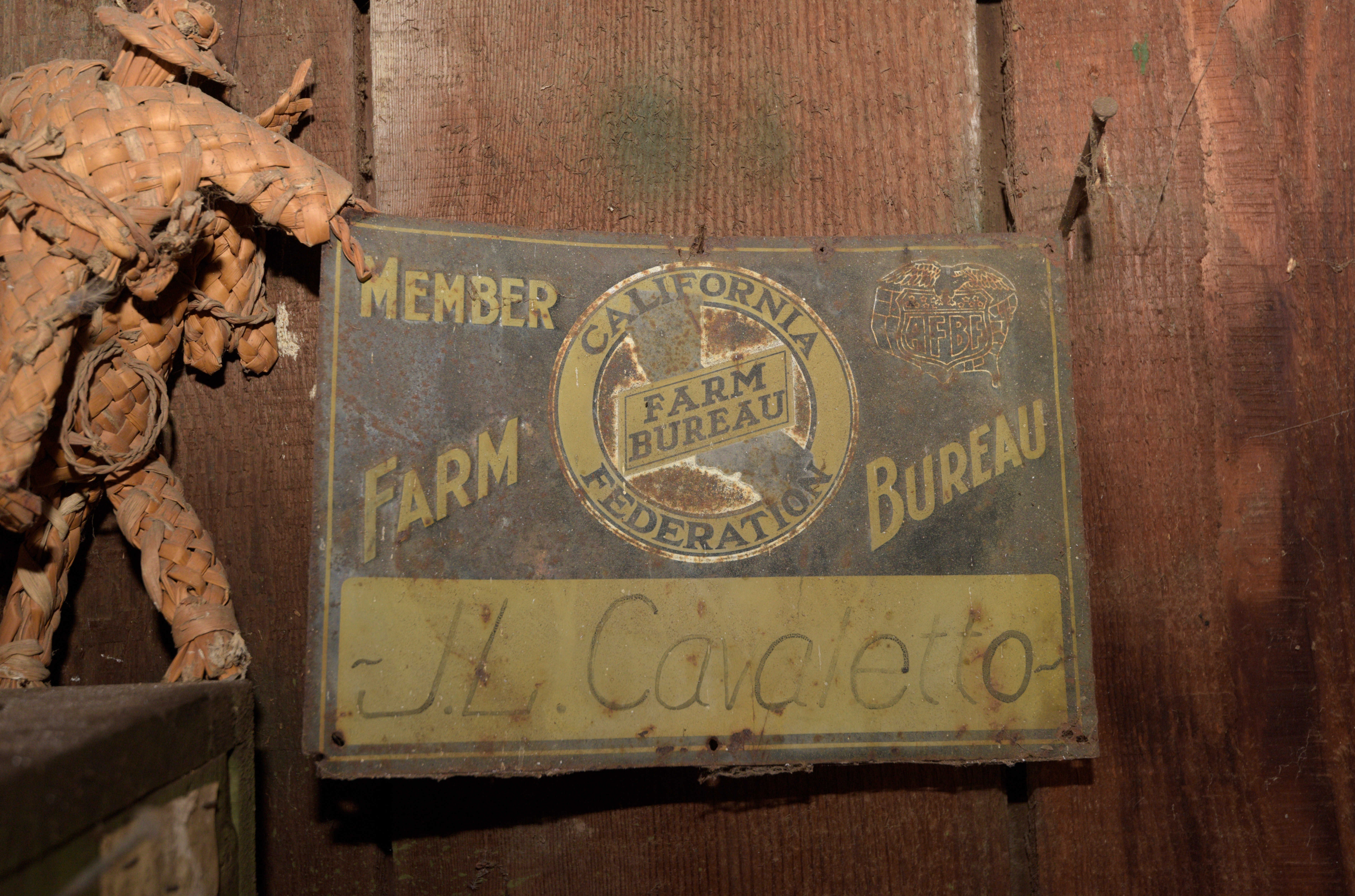 Tasting History
Though San Jose Winery isn't producing wine anymore, there are a handful of ways to celebrate history in the glass in Santa Barbara County.
Gypsy Canyon's Angelica
For a taste of California's winemaking past, there's nothing quite like the fortified wine called Angelica that Deborah Hall makes under the Gypsy Canyon label. It's made from mission grapes and is based on the descriptions of Angelica, the friars' preferred beverage, that Hall found at the S.B. Mission Archive-Library.
In 1994, Hall and her late husband purchased a foreclosed property up Gypsy Canyon off Highway 246 that was dry-farming lima beans. "We discovered a vineyard on the hillside that hadn't been farmed in 80 years," said Hall, who believes the vines date back to 1887. Despite advice to rip them out, she brought them back to life, thinking they were zinfandel.
Hall named her vineyard Doña Marcelina, after the legendary woman who planted a grapevine in Montecito in the 1780s that came to be known as La Parra Grande. (Read more about that in Legendary Grapevines, page 29.) She sold the grapes as such for two years, but then had them tested and found out they were mission grapes. The winemaker who thought they were zinfandel didn't want the fruit anymore. "That was right before harvest," said Hall. "That's how I got into winemaking."
No one knew what to do with the variety, so Hall hit the books. "The padres had the most experience with the mission fruit, so what did they do with it?" she wondered. "I found winemaking notes, where they wrote about what worked and what didn't work." In the book Agricultura General, which the king of Spain had given to the padres to teach them how to farm and raise animals, she found a whole chapter on winemaking, though that didn't solve the problem. "Of course, it's in Old World Spanish," she said. "I still haven't even had all of it translated yet."
One thing was certain. "The wine that the padres were raving about was Angelica," said Hall. She believes the fortified wine was invented at Mission San Gabriel, where they made the most wine and brandy in the mission system, and was named after Los Angeles. "That was the best the fruit would make," she said. "So that's what I set out to do."
Hers is a luscious, brown-gold concoction that's sweet, smooth, and undeniably delicious. But the process is not cheap, so half bottles cost $175. Unfortunately, 2017 will be Hall's last vintage as she is selling her property. But her Angelica will be on sale for years to come, and Ian Cutler of Cutler's Artisan Spirits is also making a brandy from the mission grapes. "No one's made mission-grape brandy for 150 years," she said, explaining of a recent tasting, "it was amazing. It just went right down."
Hall has made her historic grapevines available for anyone to purchase through UC Davis. "The vines were a gift to us," she said, "and I feel responsible for taking care of them and preserving this California heritage."
See gypsycanyon.com.
Standing Sun's Bodega
An even easier ​— ​and cheaper way ​— ​to get a sense of what wine culture may have been like in the early days of Santa Barbara is enjoying a glass in the same room as countless revelers did in the 1800s. That's what ensues at The Bodega in Casa de la Guerra, where Standing Sun Wines has operated a tasting room since August 2015.
"This was the original wine cellar to the property," said John Wright, a preservation architect turned vintner who started his brand back in 2007. "It was their bodega. It was their storage room for wine and food provisions. It was also an important room for entertainment. There are a lot of records of parties happening there, supposedly some wild nights. The comandante was quite the entertainer." That comandante is José de la Guerra, who oversaw the Presidio from 1827 to 1842 and lived in Casa de la Guerra.
Wright was allowed to open his tasting room after much consideration by the Santa Barbara Trust for Historic Preservation, which manages Casa de la Guerra and El Presidio State Park. The use came with restrictions, of course. "There was really nothing we could do," he explained. "I couldn't even put a nail in." But he loves that people can now sit aside wooden racks that held wine barrels more than 200 years ago and is impressed with the four-foot-thick adobe walls, the hand-hewn window headers, and the "double roof that vents well but keeps it well insulated."
The space reconnected Wright with his preservationist expertise, which was once focused on 200-year-old barns in rural Pennsylvania. "I was a fish outta water with preservation in California," said Wright, who started winemaking as a hobby but turned professional in 2007. Now he makes about 1,500 cases annually and also hosts regular concerts at his primary facility in Buellton.
The Bodega offers a much different experience. "It's very character driven, and people find it interesting," said Wright. "They're really tasting wine in a room where, 200 years ago, people were doing the same thing. For California history, that's pretty old."
The Bodega is open Thursday-Sunday, 1-6 p.m. See standingsunwines.com.
More Sips of the Past
Rusack Vineyards' Santa Catalina Island Wines: Geoff and Allison Wrigley Rusack took cuttings of Justinian Caire's old zinfandel vines and planted them on Catalina Island as well as on their Ballard Canyon property. See independent.com/catalina for a feature story from 2014 and rusack.com for more info.
El Alamo Pintado Adobe at Rideau Vineyard: This former stagecoach guest ranch was built amid a vineyard in 1884 by two Englishmen and, under the ownership of a French countess, became the intellectual hub of the Santa Ynez Valley in the 1890s. Today it serves as the tasting room for Rideau Vineyard. See rideauvineyard.com.
Rancho de Ontiveros: A ninth-generation Californian, James Ontiveros grows chardonnay on Rancho Viñedo, which is part of the original Rancho Tepusquet that brought Juan Pacifico Ontiveros to the Santa Maria Valley in 1855. See ranchodeontiveros.com.