Arts & Entertainment
A Perfect Circle to Play Arlington Theatre
Art-Metal Band Returns with New Album, 'Eat the Elephant'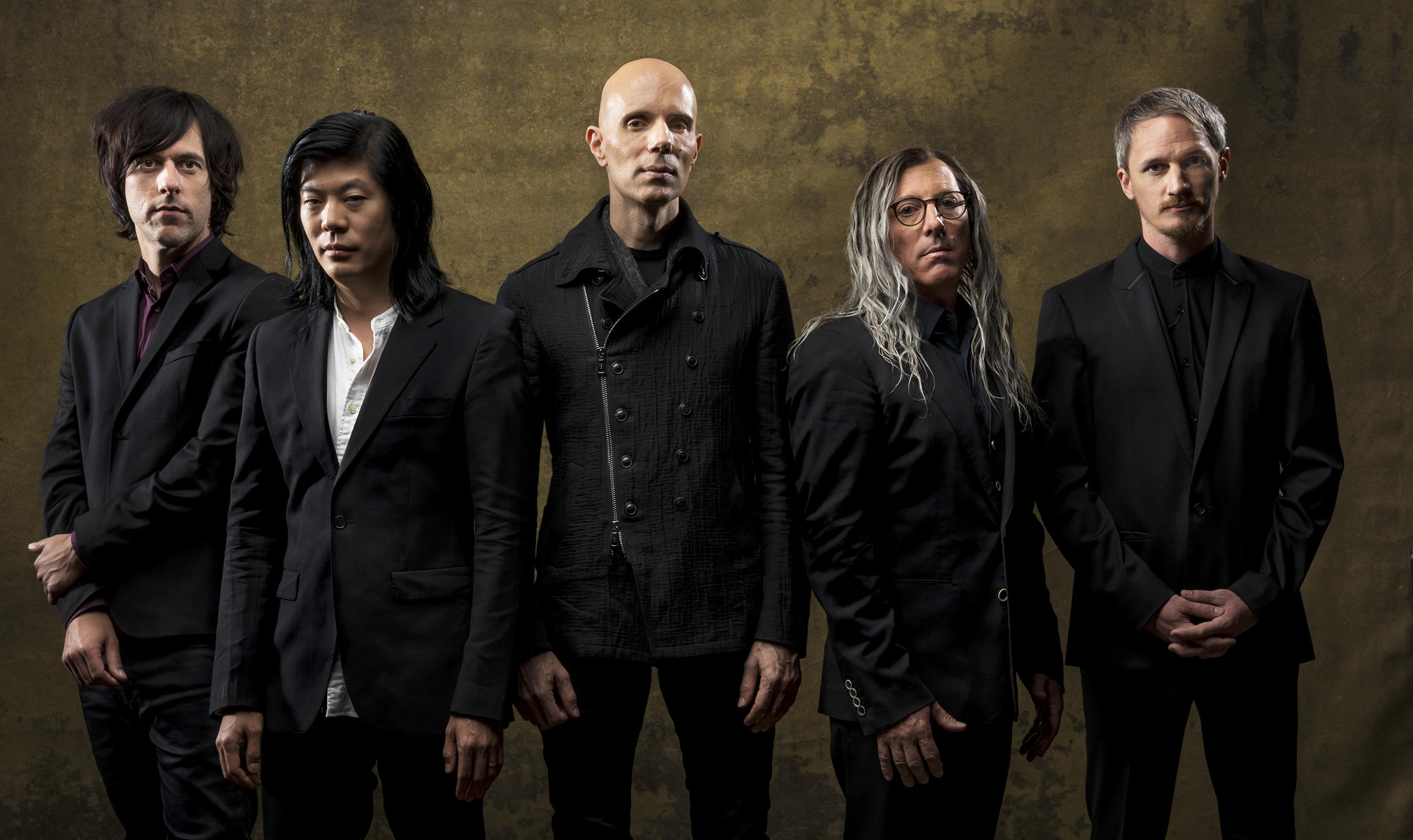 A Perfect Circle is back. Formed almost 20 years ago by guitarist Billy Howerdel and Tool vocalist Maynard James Keenan, the alt-rock/art-metal powerhouse will play The Arlington Theatre on Tuesday, April 17, with brand-new material and a revived lineup. Their newest album, Eat the Elephant, lands on April 20, and S.B. fans will find plenty of gorgeous rock to gorge on days before the wider world gets a listen.
Eat the Elephant finds the group circling back to the goose-bumping guitar intensity and vocal-driven drama that made the band famous, with an added maturity and delicacy, after a hiatus from new works. Howerdel said a "spirit of discovery" prevailed with this album, trying out piano or synth-based songs instead of his usual guitar. "You have less to prove, so give yourself space [to experiment]," he said. "I still hear the foundation of A Perfect Circle, combined with different colors: to be in the same world, but picking a different brush."
Eat the Elephant paints a portrait of an anxiety-ridden, uncertainly churning world. On songs such as "Disillusioned," "The Doomed," and "So Long, and Thanks for All the Fish," lyricist Keenan unleashes apocalyptic poems in tune with the last few years — Internet addiction, celebrity deaths, and the extremism of popular politics all find a harrowing home amid Howerdel's piano-laden soundscape. "I think my whole life I've felt optimistic; this is one of the first times when I feel less," said Howerdel of our current state of affairs.
But it's through his musical partnership with Keenan that Howerdel continues to find a hopeful catharsis. The two met back when Howerdel was a guitar technician for Tool, and the ever-inventive frontman offered to lend his pipes to Howerdel's developing compositions. "I'm just amazed sometimes — we started making our first record together in 1998, and I still remember that feeling with songs like 'The Hollow'; it was shocking to hear what he put on it," Howerdel said. "I'm always surprised what Maynard latches on to, and I've stopped guessing where things are going to go."
The two continue to push and challenge the other's musical boundaries, as Howerdel will offer up instrumentals and song sketches to find them reworked under Keenan's creative curveballs. "That's where I feel most fortunate. I'm definitely lucky to have him as a partner."
When I spoke with Howerdel, he was returning from a mini-vacation and deep in the process of readying the live set. The rock supergroup has featured a variety of members, including currently James Iha (Tinted Windows, Smashing Pumpkins), Jeff Friedl (Puscifer, The Beta Machine), and Matt McJunkins (Eagles of Death Metal, The Beta Machine). Each revolving of A Perfect Circle means a new set of creative challenges. "You kind of have to reimagine how you can pull them off in a live setting," he said.
Beyond music, the members of A Perfect Circle have taken to culinary pursuits. Keenan devotes a great deal of time and effort into his Caduceus Cellars wine label, and Howerdel, meanwhile, finds great solace in his own personal kitchen. "Cooking is one of the things I'm obsessed with; I'm as into it as music," he said, cooking up everything from Northern Italian to Indian to Vietnamese. The two passions counterbalance one another: "In music, I'm always trying to not follow a recipe, while in cooking I'm just getting off the recipe." Through his cooking, he's found a way to tune out the more terrible aspects of our times and focus on the positive. "Learning about what foods made me sick, then learning what those things were to avoid them — I became a better cook from those adversities," he said.
When they play the Arlington, the band will offer fans a means of release from adversity — internal and external — through the soft roar of their music. "I'm a parent, and you quickly find out when you whisper you get more results than when you scream," Howerdel said. "If you want someone's attention, you can get a lot done by whispering."
4·1·1
A Perfect Circle plays Tuesday, April 17, at 8 p.m. at The Arlington Theatre (1317 State St.). Call (805) 963-4408 or see thearlingtontheatre.com.