Arts & Entertainment
Kip Nelson Makes 'Waves After Work'
The Olés Guitarist Releases Excellent EP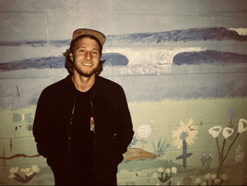 For fans of indie rock, surf rock, and all vibes oceanic, check out the blissed-out psychedelia of Kip Nelson's new EP, Waves After Work. In musical hues as lustrous and coolly warped as rippling waves through polarized frames, The Olés' lead guitarist here shines as an inventive, strong soloist, too. I interviewed Nelson about the new EP, beaches, and life in S.B.
Your work is beautifully produced. Do you also engineer/produce your own work?
Hey, thanks. I do the producing and engineering in my little home studio. My roommate Dom, who plays in the band Uncle Uncle, lent me his ear on a couple of the tunes, too.
Who (or where or what) are your inspirations in sculpting this sort of watery,
psychedelic sound world?
Old stuff like Cream and Bowie [and] new stuff like Allah-Las and Mac DeMarco were influences. The great, big Pacific Ocean was a pretty important influence — definitely helped with the watery part. Not to mention beer and whiskey, which were a crucial help on the vocals.
What was your favorite gear or instrument to use on Waves After Work?
I bought a 1980s Technics cassette tape player for $7 at Goodwill on Carrillo Street and ran all of my drums and bass through that thing in the mixing process. I didn't burn it to actual cassette tape or anything, but as outboard gear, that machine was responsible for pretty much the whole drum sound.
Describe your perfect beach day.
Late spring/early summer, sunset, when some surfable windswell kicks up and everyone brings beers, boards, and their dog.
Did you grow up here in S.B.? What keeps you?
Nope, I'm a UCSB migrant, but trying to stick around here if I can afford to. S.B. has a lot of great music, and the lifestyle, weather, and people are great.
What is next for the EP and the year ahead? Any live shows?
I hope fans of indie rock and experimental psych rock find and hopefully enjoy the tunes! The internet is an amazing place for sharing music. I have another few solo-album songs in the works. No live shows planned for solo project at the moment, but I play a lot with my band, The Olés. We are making a hard push this year, with a new album coming out this summer! But if the Kip tunes catch on, then the Kip will play live!
What is your favorite sea creature?
I like turtles.
Hear the new EP at soundcloud.com/iamkipnelson.