Take Patterson toward the mountains as far as you can go, and you'll find yourself in a countrified enclave of 10 custom homes, each set on five acres of land. The residences enjoy plenty of privacy, peace, and unobstructed views of the surrounding land and mountains. Some of the homes are situated so that they also have views of the ocean, which feels distant but is really only a few miles away.
Such is the case with the home located at 1120 Via del Rey, a stately showplace that's ready for comfortable living. Driving toward the house, you'll see a vintage tractor sitting off to the side of the car park area, providing a hint of the rustic undertones waiting to be enjoyed in and around this estate.
The house itself sports a classic colonial facade with two stories of gray wood siding with white trim, enhanced by a slender-columned covered front porch. As I walked up the winding, brick-lined walkway through a swath of bright green lawn, I noticed that the home's vertical windows mirror the glass panes inset on either side of the front door.
The entryway presents a traditional foyer with a staircase straight ahead; a kitchen and family room combo to the right; a living room, office, dining room, and bedroom/library to the left; and a sunroom through an arched doorway beyond. Before walking in to ogle the kitchen, I peeked behind a door off the foyer and made my first of many audible gasps of delight. While I had expected to find a coat closet or maybe a powder room, behind this door lies an adorable wine room, both functional and fanciful.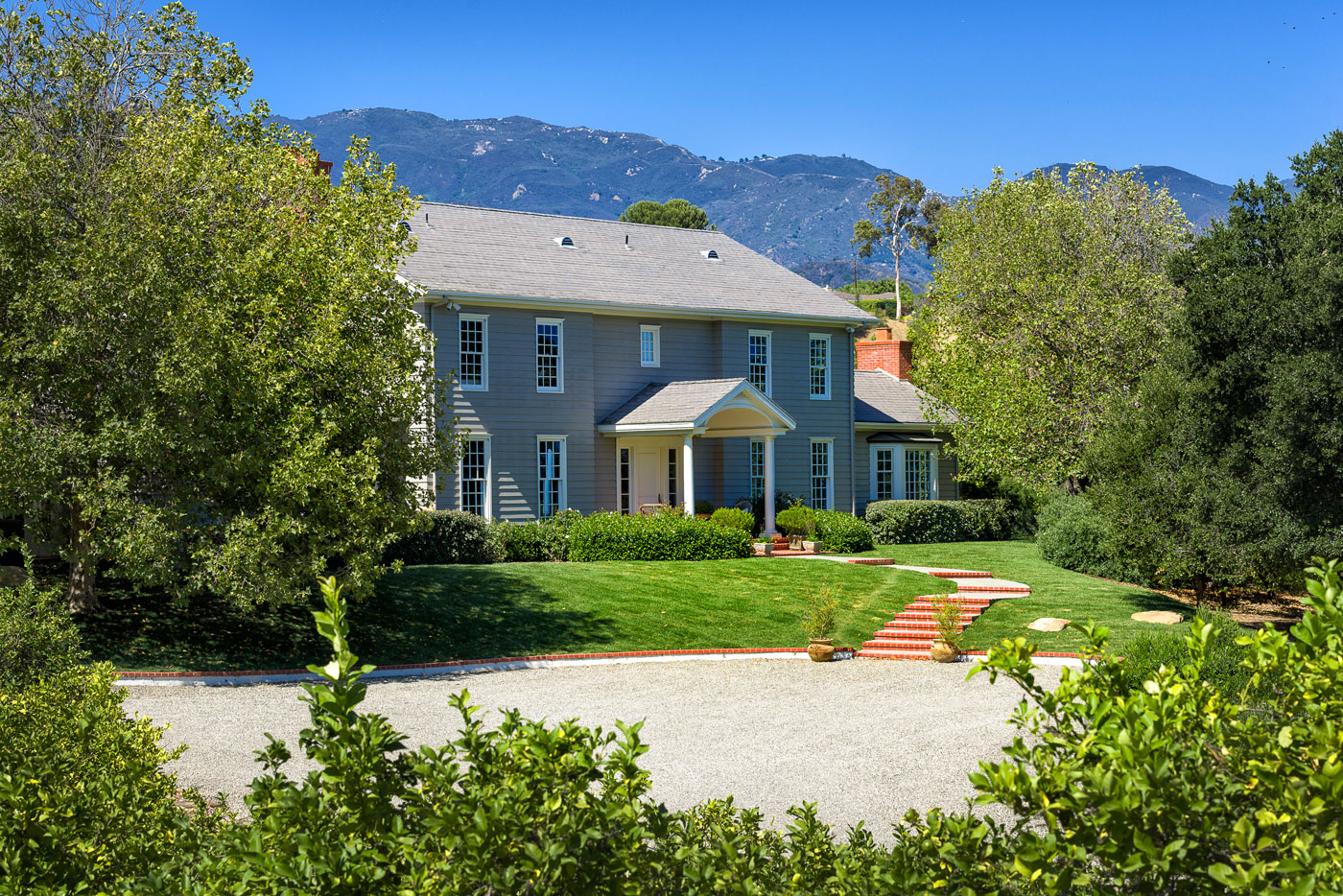 I was captivated by the wine closet's stylish tableau, and when I walked in and laid eyes on the kitchen, I realized that the designer touches throughout this home were going to provide plenty to love. I visit a lot of homes, and I've gotten pretty adept at seeing beyond the furnishings to the bones of the house itself. This house has great bones, but I have to admit I was so smitten with the decor that I had to reel myself in numerous times and remind myself to focus on the house and not its furnishings.
I could tell you about the collection of white bowls perched fetchingly high up on a kitchen ledge or the perfect blend of mismatched chairs placed around a table, but those treasures ​— ​while justifiably eye-catching ​— ​are not for sale. The house itself, however, has plenty to remark upon.
Reining in my focus, I found that the kitchen itself is a dream: a Viking stove, white-tiled island with both sink and built-in granite pastry board, pine cabinetry with just-enough-but-not-too-much glass-fronted cabinets, and a huge window over the main kitchen sink framing a perfect mountain view. Another delight off the kitchen is a walk-in pantry that's been designed to serve as a mini-office with space for cookbooks, coffee serving, and plenty of storage. White beadboard walls and tons of shelving combine versatile efficiency with vintage flair.
The kitchen opens to the family room. With rustic cathedral-beamed ceilings, a fireplace on the far wall, dining area in a bay window, and French doors opening to the backyard, this great room promises to contain the heart of the action in this home.
Throughout the rest of the first floor, high ceilings and hardwood floors, plus floor-to-ceiling windows emphasizing the country setting, keep a light, bright ambience. While the current owners built the house with specific uses in mind for each room, the floor plan is versatile and could be adapted in various options.
In addition to three more bedrooms, the second floor holds several delightful surprises. The master bedroom has tray ceilings, a walk-in closet, and a stunning bathroom. The bathtub is set under a window with ideal mountain views. Even admiring it on a sunny afternoon, it's easy to imagine bathing by candlelight surrounded by a sky full of stars.
The other two bedrooms share a large Jack and Jill bathroom. One room has a doorway out to an unexpected rooftop sun porch, and the other has a cozy office built into an alcove. The office, like the downstairs pantry, makes great use of limited space: It's almost a tiny house within this large home. The sun porch is my favorite "room" in the house: a long outdoor space that feels like part widow's walk and part patio. Even with parental approval, the fact that its entrance is through a bedroom makes it feel a bit forbidden.
No description of the amazing home at 1120 Via del Rey is complete without extolling its five acres of land. Three acres are planted in Eureka lemons. The current owners have detailed all of the resources they use to manage the orchard, from harvesting, pruning, and landscaping to marketing and business advisors. The property's water is on an agricultural meter that allows for lower rates and includes an oversized septic tank.
Beyond the beauty and utility of the lemon orchard, possibilities for the future are almost limitless. The farm-to-table lifestyle could be created and lived to the fullest, including horses, chickens, organic vegetables, and more. Whatever the future may hold for this lovely house and its grounds, the rustic designer spirit of its current owners sets a high bar, with charm and style to spare.