Arts & Entertainment
Rebelution Caps Off Tour at S.B. Bowl
Area Favorites Joined by Stephen Marley, Common Kings, and Zion I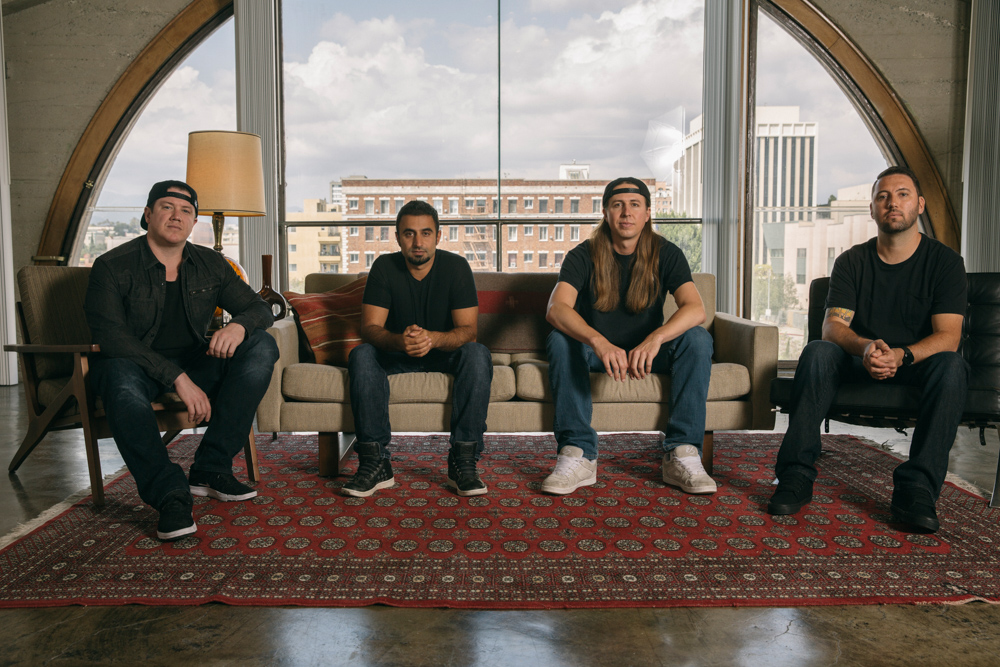 Rebelution's coming home. Since forming in the early 2000s while students at UCSB, the I.V.-rooted reggae-rock band has gone on to earn international acclaim, a loving fanbase, and recently, a Grammy nod. On its most recent album, Free Rein, the band expands its sound with a mix of soft acoustics and R&B grooves, plus collaborations with reggae greats such as Don Carlos. Rebelution returns to its city of origin on Sunday, September 9, with a Bowl show, featuring support from Stephen Marley, Common Kings, and Zion I, as the final stop on its Free Rein tour. I recently spoke with vocalist Eric Rachmany about the tour, the band's new album, and positivity.
How is this tour unique? We're touring with Zion I and Common Kings, whom we've toured with before, but we've never toured with Stephen Marley. We were listening to Stephen Marley when Rebelution first got started, so to have Stephen Marley on tour is pretty special. He performs a lot of his father's songs, but we get to hear him do original music, too, which we're all a big fan of. We enjoy just watching the three groups go ahead of us; they kill it every time.
Everyone on the tour comes from different ends of the reggae music spectrum. What is the dynamic like between you all? I think everybody on this tour has been influenced by reggae. Stephen, through his father, obviously; Common King have their own influences. Zion I is primarily a hip-hop group, but they have shown some reggae influence, too, and touring with them over the year, we've even influenced them to expand them with reggae a bit more. It's cool; we all influence each other.
We have really tried to show our listeners a lot of the music from Jamaica. I feel like a lot of those acts don't have the opportunity to tour here as easily as us or the other American bands we tour with. That's why we've really tried to expose Jamaican artists on our albums. For example, Protoje, Lutan Fyah, and one of my favorites, Don Carlos, from the '80s supergroup Black Uhuru. I think we're really trying to expose some of these artists that help influence us, and help show who they are to our listeners.
Your new album, Free Rein, to me seems a little more serene in a way — what brought that into the mix?
Whenever we make an album, there's not one theme or style we're going for; we just write what we think sounds good. There is a softer side to some of these songs; there's a couple songs that are just acoustic and completely different; but I think we just enjoy mixing it up. We're influenced by so many different styles of music.
Rebelution was nominated for a Grammy last year and performed this year at the Grammy Museum. Did the nomination change anything? You know, it hasn't really changed anything. I think it was a really cool experience to be nominated because it was very special for friends, family, and fans. I think they feel they're part of the Rebelution family. It's cool for our listeners, who say, here's a band we've supported for years; it makes them feel really good that we're finally getting some recognition, that Rebelution is getting the time of day … but you know, it's never been a goal of mine to win a Grammy. My goal is to write, to record, and tour compositions live. That's the best feeling in the world. It's more special for our fans than me personally or as a band …. We were only a cover band to start and have done pretty much everything independently. We choose who we work with, we've written everything ourselves, and we're very proud to see how far this has come, with these kinds of fans.
If you could teleport back in time to the cover-band days, what would you say to yourself or the band? Man, I think we really did everything the right way. It's awesome. We never really had a break; we didn't have a hit song or some sort of huge exposure that took us to a new level; it was always very gradual. The one thing I would tell myself is to just be comfortable in your own skin and enjoy the art. You know, I used to get really nervous before I hit the stage. I think I was too nervous about being accepted, or if people would like it or not, or how I was being perceived. Over time, I think I really learned to be more comfortable in my own skin. Singing is a really nerve-racking thing and still is, but I think now I get more into the art and stop thinking about how many people are in the audience. To get more comfortable with my own creativity: That'd be my advice to my earlier self.
Rebelution recently launched its own custom cannabis oil battery pen, vaporizer, and oil. How'd that come about? We've always been pretty big cannabis advocates since the very beginning. We're really proud to be part of a movement that we've seen change over the last 14 years. Our role in this advocacy is to help others just be educated about it. I grew up thinking cannabis was something never to touch and that it could ruin your life and all sort of propaganda. I found it to be the opposite; it's been a very useful tool medicinally, spiritually, and recreationally.
With our product we had some friends at the company Flav; they used to be called FlavRx. We worked with them to create indica and sativa products for someone who had never really tried cannabis, something that wasn't too intense and that they could get a feel for. People can see there's a product that's very mellow and that we endorse, and maybe they'll see if it's right for them. It's not for everyone, and that's okay, too.
The new album is full of positivity — has your approach to positivity changed in 2018? Yeah, well, I think a lot of these songs are a reminder to myself to think positively; when I get to sing these songs, I feel better about my day. Now that I'm 34, I still have days where I get down and days where I feel a little depressed, but I think I bounce back a lot quicker now. I remind myself to live in the present. I don't want to look back on this time that I was depressed and wish I had that time back. I immediately snap back into the moment and try to think positively, and I hope people can hear that hear that in the music.
How are you feeling about returning to Santa Barbara? It's the best way to cap off a tour. My second home is S.B., and sometimes it feels like my first home. My grandmother lives there; my mom grew up there; I have cousins, aunts, uncles who live there. To headline there is quite an amazing feeling. It's such a beautiful venue. Red Rocks in Colorado, the S.B. Bowl, and the Greek Theatre in Berkeley, those are my three favorites. We just played a legendary spot called the Gorge, and it was on our bucket list, and to end this tour at the home of this band is the best way to cap off the tour.
Anything else you'd like to say? Thanks to the Independent for all your support.
4·1·1
Rebelution plays Sunday, September 9, 5:30 p.m., with Stephen Marley, Common Kings, and Zion I, at the Santa Barbara Bowl (1122 N. Milpas St.). Call 962-7411 or see sbbowl.com.