News
Feinstein Speaks on Kavanaugh in Santa Barbara
Supreme Court Pick Believes President Is Above the Law
In Santa Barbara on Sunday, Senator Dianne Feinstein warned that U.S. Supreme Court nominee Brett Kavanaugh's legal beliefs could shield Donald Trump, "a president who thinks he's above the law."
"We're at an apex of presidential authority," California's senior U.S. senator told more than 200 people at the 48th annual luncheon of the Democratic Women of Santa Barbara County, at the Four Seasons Biltmore, as she compared Trump and Kavanaugh's view of the presidency to that of "an oligarch."
"This president believes he is above the law. And this nominee believes that the president cannot be investigated, cannot be tried, is actually supreme," she said. "And I find that is something that an oligarch would have, not an American president."
The 85-year-old Democratic incumbent, now seeking her fifth term, stopped short of declaring that she will vote against Trump's nomination, an old-school (and increasingly rare) display of senatorial courtesy pending a scheduled September 20 Judiciary Committee vote on the conservative U.S. Court of Appeals judge.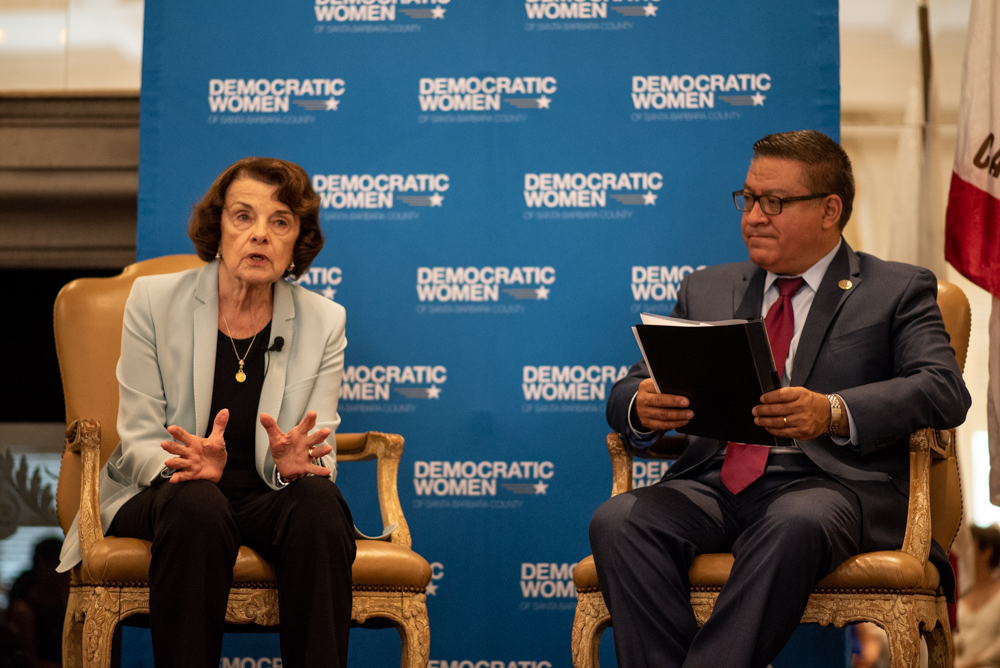 She made clear, however, that Kavanaugh's stances are unsupportable, not only his sweeping view of presidential authority, but also past opinions and testimony to the committee last week about gun control and abortion rights, as well as concerns about how he would rule on challenges to the Affordable Care Act.
Repeal of the 1973 landmark Roe v. Wade decision establishing a constitutional right to abortion has long been a goal of conservative Republicans and the evangelicals who are a crucial constituency of Trump and the GOP. Democrats and pro-choice advocates fear that Kavanaugh finally will tilt the court far enough to the right to nullify the decision.
"Roe was a long time coming," Feinstein said. "Kavanaugh is the deciding vote."
She pointed to two pro-choice Republicans, senators Susan Collins of Maine and Lisa Murkowski of Alaska, as key to whether Kavanaugh is confirmed. Republicans control the Senate 51 to 49, but the defections of the two GOP women could block him from the court if the Democrats vote as a bloc. Democratic unity is far from certain, however, because a handful of Dems are seeking re-election in states won by Trump in 2016, and opposing his nomination would open themselves to fierce Republican attacks.
"We'll see what happens," Feinstein said of the two, whom pro-choice organizers are heavily lobbying. "We'll see if it changes."
Most striking, however, were her comments about Kavanaugh's perspective on the immunity of a president from investigation, outside of congressional procedures for impeachment. In his testimony, Kavanaugh avoided direct answers about whether or not he would support a challenge to the investigation of Special Counsel Robert Mueller; Democrats in recent days increasingly have highlighted the issue, however.
For example, Senate Minority Whip Dick Durbin (D-IL) on Sunday used nearly identical language as Feinstein against Kavanaugh: "But the issue of the moment clearly is this situation with the Mueller investigation," he said in a TV appearance, "and the important element that we shouldn't overlook is Kavanaugh has been explicit in saying the president should not be subject to investigation or prosecution during his term in office."
Feinstein is opposed for re-election by Democratic State Senator Kevin de León, who has harshly criticized her for her failure to be more disruptive during the committee hearing.
"We should be praising the protestors and standing outside with them, not apologizing for their actions," he tweeted last week, after the often starchy Feinstein expressed annoyance with the loud protests that anti-Trump demonstrators conducted from the Senate gallery. "We need a senator from California who will stand up and #RESIST not #ASSIST."
A who's-who of prominent local Democrats attended the Sunday event, including State Senator Hannah-Beth Jackson, who served as "mistress" of ceremonies, and Assemblymember Monique Limón; supervisors Janet Wolf and Joan Hartmann; Goleta Mayor Paula Perotte; Santa Barbara City councilmembers Jason Dominguez, Eric Friedman, Oscar Gutierrez, and Kristen Sneddon; S.B. school boardmembers Kate Parker and Wendy Sims-Moten; Goleta school boardmember Luz Reyes-Martin; City College trustees Marsha Croninger and Peter Haslund; former U.S. representative Lois Capps; and former S.B. mayor Helene Schneider. Notable by her absence was Mayor Cathy Murillo.
Feinstein's remarks in the Loggia Room of the Biltmore came in a question-and-answer session with Representative Salud Carbajal, whose role was to serve one softball after another, e.g. "What has been your greatest accomplishment in the Senate?"
There was some entertaining political drama just below the surface. At one point, Carbajal forthrightly declared, "We need to send Senator Feinstein back" to Washington; a few feet away sat Jackson, who has strongly endorsed de León.
Whether Feinstein is aware of Jackson's allegiance, she gave the state senator a shout-out for her legislation blocking Trump's effort to expand oil leasing and drilling off the California coast, which Governor Jerry Brown signed on Saturday. "We're all one family," Jackson smiled later.
After the luncheon, Feinstein attended a $500-a-person fundraiser with about 50 donors at the Montecito home of artist Nancy Gifford and her husband, Michael Gifford. She then flew to her home in San Francisco to celebrate the Jewish High Holidays.
During her introductions, Jackson asked for 10 seconds of silence for the late Betty Stephens, a major Democratic patron and one of the founders of the women's organization, who died last month.