Food
In Search of Santa Barbara's Dive Bars
A Rundown of Where to Drink in Authentic Circumstances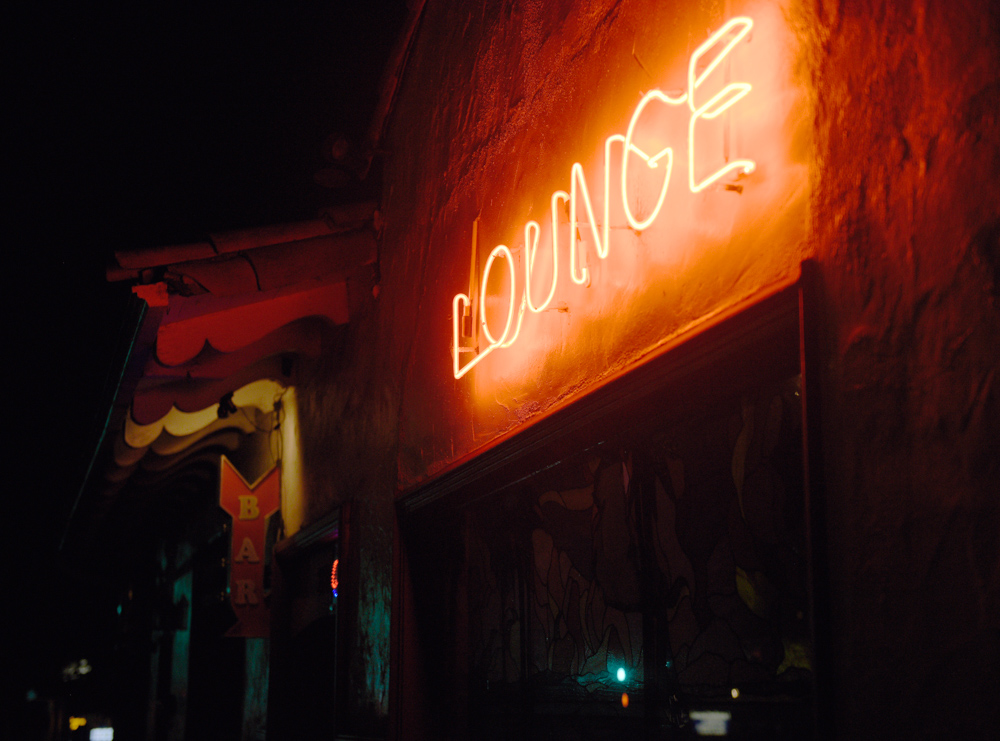 There are dive bars in New York City, and I've been to them: Places where one can sit beside the quasi-homeless and quite literally homeless, guzzling rock-bottom-shelf liquor while bartenders hand out bowls of burnt popcorn and insults as cutting as they are profane. Places near the Port Authority Bus Terminal where bikini-clad women with visible C-section scars provide flat beer in grimy glassware and service without even the suggestion of a smile. Places where the walls couldn't possibly talk, gagged such as they are with a thick patina of errant booze and abject neglect.
I miss them.
Even though I've left the mean streets of Hell's Kitchen for the one-way streets of Santa Barbara, I find that my desire for depravity and the pursuit of passing acquaintances in low places endures. There are times when a man simply isn't in the market for copper mugs and craft cocktails with names that evoke idyllic days at the beach. Now and again, a drinker needs a dark little den to match his dark little mood, where degradation is the prevailing aesthetic.
Following the demise of the magnificent Sportsman Lounge — which was reincarnated on State Street after I wrote this, though with much more polish — Santa Barbara's dive-bar stock is running quite low. And so I went looking for Santa Barbara's dives, the rough among the diamonds, the shadowy spots where paradise is lost and the California sun can find no purchase. Here's what I found.
The Tully
The Tully, a brief stumble from Super Cucas on the Westside, provides a pleasing alternative to State Street's culture of undergraduate blisters and barf. Though the space has cleaned up considerably since its time as BoHenry's and Palmieri's, there remains an air of authenticity and grit. It's a working-class bar in a refreshingly non-gentrified stretch of San Andres with generous pours and nary a bit of pretense or refinement. In other words, it's a great spot.
While drinking there after the Solstice Parade, I was warned by a friendly couple not to engage with the muttering vagrant in the corner. "If you buy him a beer," they counseled, "you'll never get rid of him." Couldn't the same be said of most of us? 1431 San Andres St.
Roundin' Third
Set behind a 7-Eleven in the hinterlands of west Goleta, Roundin' Third Sports Bar attracts a distinctive clientele. On a recent visit, I spotted a Wilford Brimley lookalike in a visor sitting beside a Glenn Beck lookalike in a tank top, loudly holding court on matters ranging from golf to farts. The interior of the bar looked like it was recovering from a trash tornado composed of beer ads and sports ephemera while the seldom-heard full-length version of the Cops theme song played on the stereo without an ounce of irony. Sipping Corona on the cigarette-strewn patio, I felt something approximating peace of mind. 7398 Calle Real, Goleta
The Mecca Sports Bar
A creepily unfinished wooden door dissuades curious güeros while loud Norteño music announces in no uncertain terms that The Mecca is principally para la gente. Inside, rugged rancheros guzzle undoubtedly well-deserved bottles of Modelo while fútbol, the bar's titular sport, plays on muted TVs.
On the back wall, a massive beer banner declares this to be the "fabulous" Mecca. Applying to a dive bar a descriptor typically reserved for Broadway and brunch may seem odd, but is it any stranger than naming a drinking spot after Islam's most sacred city? 512 N. Milpas St.
Break Time
Goleta's remaining truck and Skoal enthusiasts congregate here over tense games of pool and a shared disdain for well-functioning livers. Dogs sit on stools at the bar, gobbling popcorn and lapping up spilled drinks like a velvet painting come to life for the sole purpose of provoking the health inspector.
Some weeks ago, while drinking beside a particularly subdued pit bull, I was berated by one of the regulars for being overdressed. In full disclosure, I was wearing a coat. Suffice it to say, I had it coming.
Late into the night, one of the bar's elder statesmen sat beside me, stating with some degree of quiet pride that he was in his seventies and had lived in the area for decades. "What has changed most?" I asked him. He sat back, letting the question marinate in his mind, cataloging an index of memories and emotions reaching back through the years, before finally settling on the keen observation: "Well, there's more bike lanes now." 5977 Encina Rd., Goleta
Jimboz Lounge
At Jimboz, a cycloptic bartender with an eye patch dispenses whiskey and wisdom. The drinks are cheap and the lighting is harsh at this stalwart drinking destination that now sits incongruously beside an Airstream glampground and across the street from Santa Barbara's most hipsterized coffee house. A vestige of De la Vina's rougher days, and featuring a robust cast of rapidly aging regulars, Jimboz may well be the city's closest live-action approximation of Moe's Tavern as well as its dive bar par excellence.
A few months ago, I sat in one of the bar's booths, sipping a beer and enjoying the unsettling quiet that occasionally overtakes a room full of drunks who all appear to be taking mental inventory of their past missteps at the same time. A seemingly interminable stretch of silence was broken at last by a man at the bar who announced suddenly, "I slept in a parking lot last night."
I'll drink to that.

2711 De la Vina St.
"En búsqueda de los bares de mala muerte en Santa Bárbara"
Un resumen de dónde beber en circunstancias auténticas
Translated into Spanish by Guillermo Levine of Guadalajara, Mexico
Hay bares de mala muerte en Nueva York, y he estado allí: lugares en donde uno puede sentarse entre los casi desposeídos y los literalmente desposeídos, ingiriendo licores baratos mientras el cantinero reparte cuencos de palomitas quemadas e insultos tan hirientes como blasfemos. Lugares cerca de la terminal de autobuses del muelle en los que mujeres con bikini y cicatrices de cesárea sirven cerveza a granel en tarros mugrientos y los entregan sin el menor asomo de sonrisa. Sitios en los que las paredes jamás podrían hablar porque están cubiertas de una densa capa de líquido errante y descuido abyecto.
Los extraño.
Aunque me alejé de los malos rumbos del barrio de Hell's Kitchen para venir a las ordenadas calles de Santa Bárbara, me encuentro con que mi deseo de depravación y búsqueda de compañía pasajera en tugurios se mantiene. A veces un hombre simplemente no pretende vasos finos y cocteles elegantes con nombres que evocan idílicos días en la playa. De vez en cuando el bebedor necesita una lóbrega guarida para hacer juego con su humor oscuro y con la degradación como estética predominante.
Luego de la desaparición del magnífico Bar Sportsman —que reencarnó en la calle State después de haber escrito esto, aunque con mucho más lustre—, la reserva de bares de mala muerte de Santa Bárbara anda baja, así que los fui a buscar: los ásperos entre los diamantes, los tenebrosos sitios en donde el paraíso está perdido y el sol de California no arraiga. Esto es lo que encontré.
THE TULLY: A un tropiezo de Super Cucas en el lado oeste, The Tully ofrece una agradable alternativa a la cultura de ventanas y eructos de estudiantes de la calle State. Aunque el sitio se ha limpiado considerablemente desde que era Palmieri's, todavía conserva un aire de ruda autenticidad. Es un bar de clase trabajadora en una zona de San Andrés que afortunadamente aún no ha expulsado a sus moradores originales, donde sirven bien y con apenas un poco de refinamiento y pretensiones. Un buen sitio, en pocas palabras. Mientras bebía allí luego del Desfile del Solsticio, una pareja amistosa me advirtió no acercarme al susurrante vagabundo de la esquina: "Si le invitas una cerveza", me aconsejaron, "ya no te lo podrás quitar de encima". ¿Acaso no se podría decir lo mismo de casi todos nosotros? 1431 San Andres St.
ROUNDING THIRD: Entre un 7-Eleven en los interiores de West Goleta, el bar atrae a una peculiar clientela. En una reciente visita, vi a un tipo parecido al actor Wilford Brimley con gorra, sentado junto a otro parecido al locutor Glenn Beck con chaleco, a grandes voces dando cátedra sobre asuntos que iban del golf a los pedos. El interior del bar se veía como si se estuviera recuperando de un tornado de basura formado con anuncios de cerveza e insulsos recuerdos deportivos mientras, sin la menor ironía, el estéreo tocaba la versión completa del tema de Cops que casi nunca se escucha toda. Tomándome una Corona en el patio cubierto de colillas de cigarro, sentí algo aproximado a la tranquilidad interior. 7398 Calle Real, Goleta.
THE MECCA SPORTS BAR: Una siniestra puerta de madera sin terminar disuade a los güeros curiosos mientras la fuerte música norteña anuncia en términos claros que La Meca es principalmente para la gente. Adentro, toscos rancheros se empinan botellas de Modelo indudablemente bien ganadas mientras que el fútbol, el deporte titular del bar, pasa por las teles sin sonido. En la pared del fondo, un masivo anuncio de cerveza declara que ésta es la "fabulosa" Meca. Aplicar a un bar de mala muerte una descripción típicamente reservada para Broadway y el brunch puede parecer raro, ¿pero acaso no lo será más ponerle a un lugar para beber el nombre de la ciudad más sagrada del Islam? 512 N. Milpas St.

BREAK TIME: Los camioneros y los entusiastas de mascar tabaco Skoal en Goleta se congregan aquí entre tensos juegos de billar y su compartido desdén por un hígado que funcione. Los perros se sientan en los bancos del bar devorando palomitas y lamiendo la bebida derramada, como una pintura de terciopelo traída a la vida con el único propósito de provocar al inspector de salubridad. Hace algunas semanas, mientras bebía junto a un particularmente manso pit bull, uno de los asiduos me regañó por estar demasiado arreglado. Totalmente a la vista, yo traía un saco. Baste con decir que me lo tenía merecido. Tarde en la noche, uno de los caballeros de edad se sentó junto a mí, indicando con cierto aire de suave orgullo que andaba en los setentas y había vivido en la zona por décadas. "¿Qué es lo que más ha cambiado?", le pregunté. Se recargó, dejando que la cuestión marinara en su cabeza, catalogando un índice de sus memorias y emociones a lo largo de los años, hasta finalmente decidirse por la aguda observación: "Bueno, ahora hay más carriles para bicicletas". 5977 Encina Rd., Goleta.
JIMBOZ LOUNGE: En Jimboz, un cantinero cíclope con parche en el ojo reparte whiskey y sabiduría. Las bebidas son baratas y la iluminación áspera en este baluarte de la bebida, hoy incongruentemente situado junto a un campamento de remolques y frente a la cafetería más hípster de Santa Bárbara. Vestigio de los días rudos de la calle De la Viña, y con una robusta cohorte de clientes que envejecen con rapidez, Jimboz bien pudiera ser la mejor aproximación en vivo de la Taberna de Moe en la ciudad, así como su antro por excelencia.
Hace unos meses estaba sentado en un gabinete del bar tomando una cerveza y gozando el inquietante silencio que a veces se apodera de un cuarto lleno de borrachos figuradamente realizando un inventario mental de todos sus tropiezos al mismo tiempo. Lo que parecía un interminable lapso de silencio se rompió cuando finalmente un hombre anunció de repente, "anoche dormí en un estacionamiento". Brindo por eso.