Make Myself at Home
Make Myself at Home: Duo of Downtown Options
Take a Look Inside Two Downtown Homes for Sale
Addresses: 1104 Castillo Street and 1121 Bath Street
Status: On the market
Prices: $739,000 and $1,365,000
The recent stormy weather has wreaked havoc with my walking schedule. Just ask my canine sidekick, Scout. Our daily sunset saunters have frequently been rained out, and some days it's been so gloomy that there's nary a sun in sight to set.
Fortunately, there are two houses for sale in our immediate neighborhood in downtown Santa Barbara. Since most of our Realtor friends have a "rain-or-shine" attitude, I was able to visit both of them this week, in between the showers. Scout got to come along, too, giving her an extra walk as well.
The cute cottage at 1104 Castillo Street was built in 1920, but it was completely renovated in 2014 to include new flooring, windows, plumbing, electric, heating system, water heater, and more. Part of this transformation included converting the single-story home from one bedroom to two, so all of the walls are new and newly insulated as well.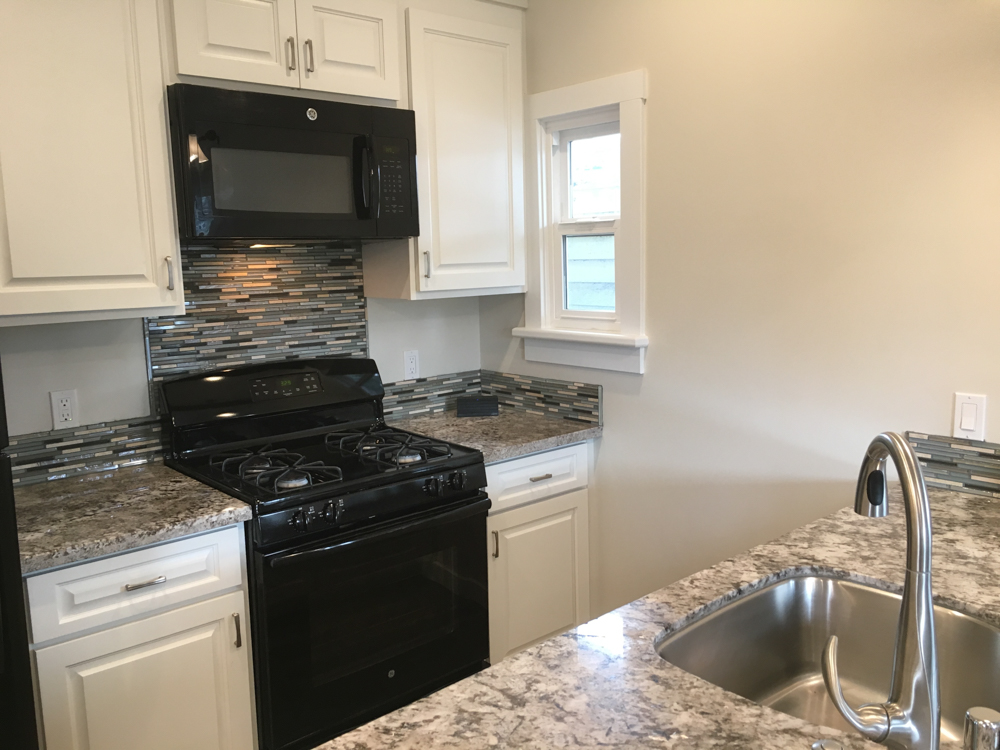 The front door opens into the living room and kitchen, which are separated by a versatile built-in island with a breakfast counter. Newer black appliances are set off by gray subway tile and stylish white pendant lights. A hallway leads to the bedrooms and the remodeled bathroom and continues through to the attached garage.
I was particularly impressed with the storage niches that were built into both bedroom walls, the stackable washer and dryer tucked into a hall closet, and the extra-large bedroom closets. These thoughtful touches made my storage-space-deprived self slightly envious.
The exterior of this house is sage green with white trim, contrasted by dark wood on the front door, the garage door, and a clever wood fence that frames the extra off-street parking space. There's a small front yard, and I was happy to see that the original Santa Barbara stonework still lines the walkway and hedge along the front of the house.
Around the corner and down one block lies a house I've been curious about for years. It sits behind a wooden gate and a tall hedge at 1121 Bath Street. Scout and I have walked past it literally hundreds of times, peeking over the hedge at the gingerbread detailing on the roofline and second-story dormer windows.
Built in 1910, this two-story Queen Anne revival–style home has been redesigned into two separate living units, one upstairs and one down. Two front doors sit side by side on a lovely elevated porch that presides over the secret front garden, protected on all sides by the gate and hedge.
The downstairs unit has two bedrooms and one bath, with a charming kitchen. Big picture windows in the large living room look onto the front garden, and built-ins in the bedrooms include a covered window seat with drawers underneath. Working pocket doors and glass-fronted display cabinets add elegant touches to this home, and period details like wainscoting and wood trim have been lovingly preserved.
The second front door opens to reveal a staircase leading up to the top unit. There's only one bedroom upstairs, and the ceilings aren't quite as tall, but these drawbacks are more than outweighed by the treetop views enjoyed from every room. The bedroom sits over the front of the house, with the living room in the middle and the kitchen on one side.
The compact kitchen boasts state-of-the-art appliances and plentiful white cabinets. In the back of the house, a covered sleeping porch functions as a second bedroom, but it could be reimagined as a bright study or sitting room, with windows all around to let in the morning light.
French doors open onto my favorite spot on this property: a big, triangle-shaped sundeck sheltered by a tall wooden fence. An oval hot tub sits in the middle of the deck, perfectly shaped for this private outdoor perch. Just about every room in this grand home feels ideal for curling up with a good book, especially this back sundeck.
I pondered these two beautiful houses as Scout and I walked back home through the drizzly afternoon. Both abodes offer various living options, and they will likely attract different types of buyers. No matter who their lucky new owners are, they'll find themselves in what Scout and I consider one of the best neighborhoods in town, rain or shine.
1104 Castillo Street is listed by Sina Omidi of Berkshire Hathaway HomeServices California Properties. Reach Sina at (805) 689-7700 or sinaomidirealestate@gmail.com.
1121 Bath Street is listed by Morton B. Maizlish of Maizlish Realtors Inc. Reach Mort at (805) 963-9555 or maizlish@silcom.com.