News
UCSB Grad Students Strike for Cost-of-Living Adjustment
Thousands Demonstrate at Santa Barbara University to Demand Better Pay for Graduate Student Instructors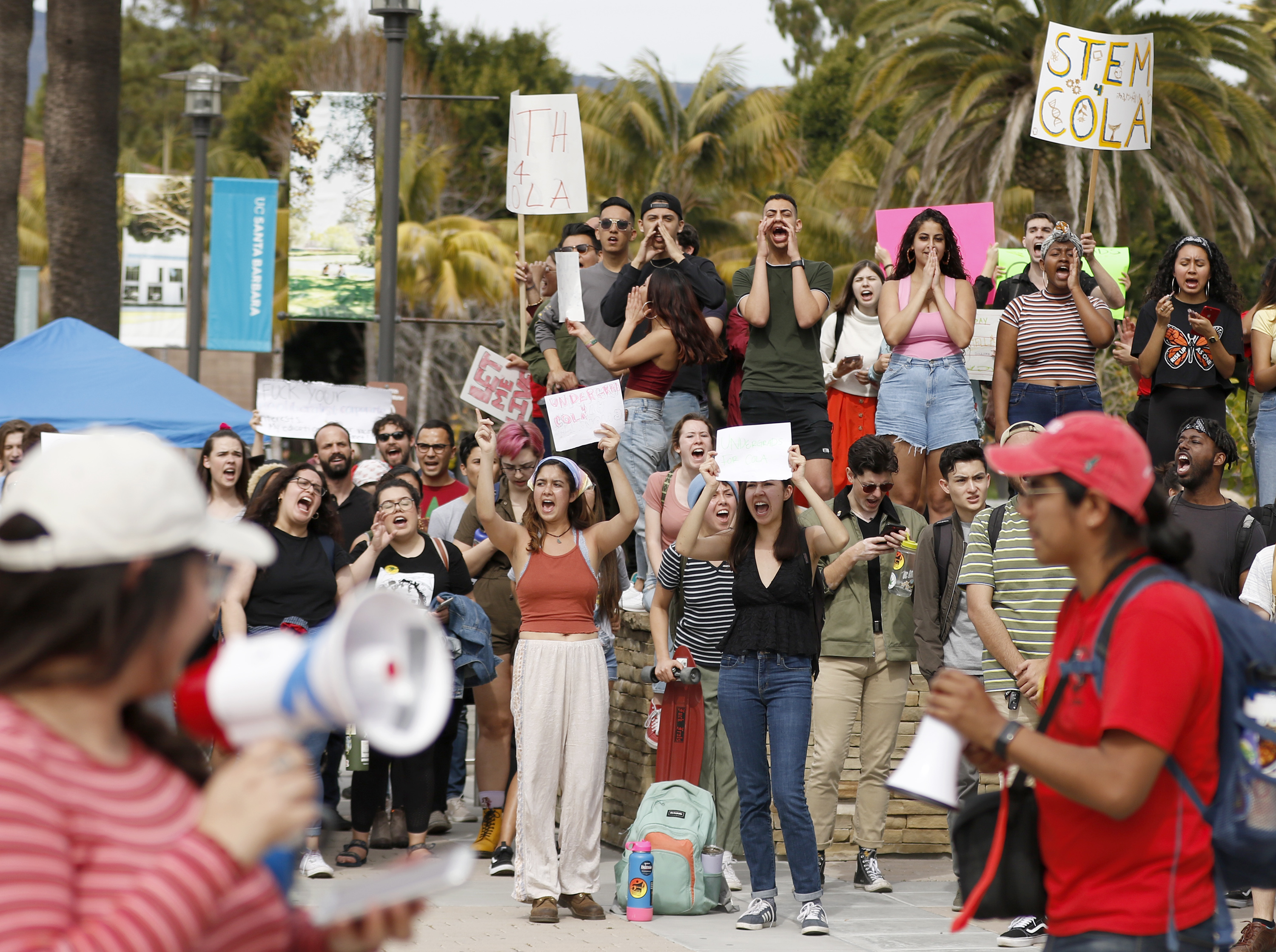 [UPDATE 2/28 2:10 p.m.:] On Friday afternoon, UC Santa Cruz followed through on its threat to fire striking grad students, according to the UCSC strike Twitter account ON STRIKE!!!: #COLA 4 UCSC (@payusmoreucsc). Janet Napolitano, president of the UC system, had previously stated that the strike "will have consequences, up to and including the termination of existing employment at the University." A letter of termination issued to a UCSC graduate instructor states: "Your abandonment and sustained willful dereliction of your job responsibilities as a Teaching Fellow constitutes serious misconduct. Your conduct has harmed graduate students and disrupted university operations."
The termination of students is a step that seems likely to escalate the stakes of the strike and, potentially, draw in more campuses that had previously limited their actions to solidarity demonstrations. The UCSB strike Twitter account UCSB 4 COLA – ON STRIKE (@ucsb4cola) stated: "Over 50 striking UCSC students are officially fired. Shining a light on a broken system has been labeled 'insubordination' and dismissed. We at #UCSBstrike will not stand down until justice is restored for participants in the #UCSCstrike"
The original story follows:
Thousands of students hit the pavement on Thursday afternoon at the University of California, Santa Barbara, to demand better pay for graduate student instructors, joining a strike that began at UC Santa Cruz and now looks poised to spread to other campuses across the UC system. Squeezed by rising costs of living and low wages, graduate students are calling for a cost-of-living adjustment (COLA) to help cope with the skyrocketing costs of housing in California.
While grad students from different departments had been taking part in demonstrations, grade-ins, and other solidarity actions for weeks, they voted on Monday to escalate to a strike, becoming the first other UC to join their colleagues at UC Santa Cruz, who are now being threatened with termination if they don't return to work.
Adam Parison, a classics graduate student at UCSB, says that threats of termination against students at Santa Cruz were a factor that tipped the scales in their own decision to go on strike. "We feel we need to protect them, and the more of us striking, the safer we all are. If they do take the step to fire people, it's just going to make people more passionate," Parison said.
Monthly pay for teaching assistants (TAs) at UCSB varies by department but tends to be in the neighborhood of around $2,300 a month. The students are calling for a $1,800-a-month COLA to make sure that all grad students are "rent secure." They're also asking for a freeze on tuition increases.
"This isn't just about better wages; it's about making sure that grad school is a viable option for people from all walks of life, not just those with extra money in their bank accounts," said Parison. "If we really want this institution to be diverse and inclusive, as they claim, then it has to be viable economically. None of us go to grad school expecting to get rich, but people shouldn't have to skip meals either."
Asked about the response from admin, Parison was cautiously optimistic. "I think they're willing to come to the table, and they haven't been outright dismissive. In Santa Cruz, the administration pretty much refused to acknowledge the students and called the police on them right away. We're happy that those mistakes haven't been repeated here."
Andrea Estrada, a spokesperson for UC Santa Barbara, stated, "We recognize the challenges and pressures that our graduate students face, especially those related to housing, and we hope to work collaboratively to address these challenges."
However, a statement released by the UC Office of the President struck a more confrontational note, stating, "This wildcat strike negatively impacts undergraduates, whose hard-earned grades and progression to the next course level are being inappropriately leveraged. In fact, actions by these ASEs [Academic Student Employees] violate their current contract, which was negotiated by UAW [union] leadership and ratified by thousands of ASEs systemwide."
The contract, however, is more nuanced than the statement implies: It contains a no-strike clause and was met with strong disapproval from many union members, particularly in Santa Cruz, where the contract was approved by union leadership despite 80 percent opposition by membership. "It really wasn't a very good deal, and a lot of people opposed it," said Jonathan Abboud, a candidate for the 37th District of the California State Assembly. "I'd like to see the UC system going to bat for the students in the legislature instead of opposing their demands."
While some undergraduates are frustrated with class closures and the inconveniences that could accompany the withholding of grades, others say they're supportive. "I'm here in solidarity with them," said Lupe Solis, an undergraduate student who joined the rally Thursday. "I want to continue my education after I graduate, and housing affordability is a big factor. The TAs are the backbone of this school, and I'm standing with them."
Another undergrad named Sophie, working on an assignment at a café as the protesters marched past, said, "I support the strike 100 percent. Classes being canceled might be inconvenient, but this is the only way you get social change."
Asked about potential frustration among undergrads, graduate student Sarah Robinson said that the reception has been mixed, and she stated that it was "up to the movement to communicate the importance of the strike to the undergrads."
The strikes and demonstrations have attracted national attention. On February 19, Democratic presidential candidate Bernie Sanders posted on Twitter: "UCSC grad students are fighting to have their labor rights acknowledged. I strongly urge the president of the UC system to stop threatening them, especially immigrant students, for organizing. I stand with @payusmoreucsc."
Third District County Supervisor Joan Hartmann, who represents Isla Vista and is running for reelection, also joined the march Thursday, stating, "We're all standing with the grad students. The UC system is our crown jewel, and the grad students are the ones who make it possible."