Food
Simple Feast Makes Plant-Based Meals Fancy and Fun
Nordic Meal Delivery Company Developing New Menus for American Market in Santa Barbara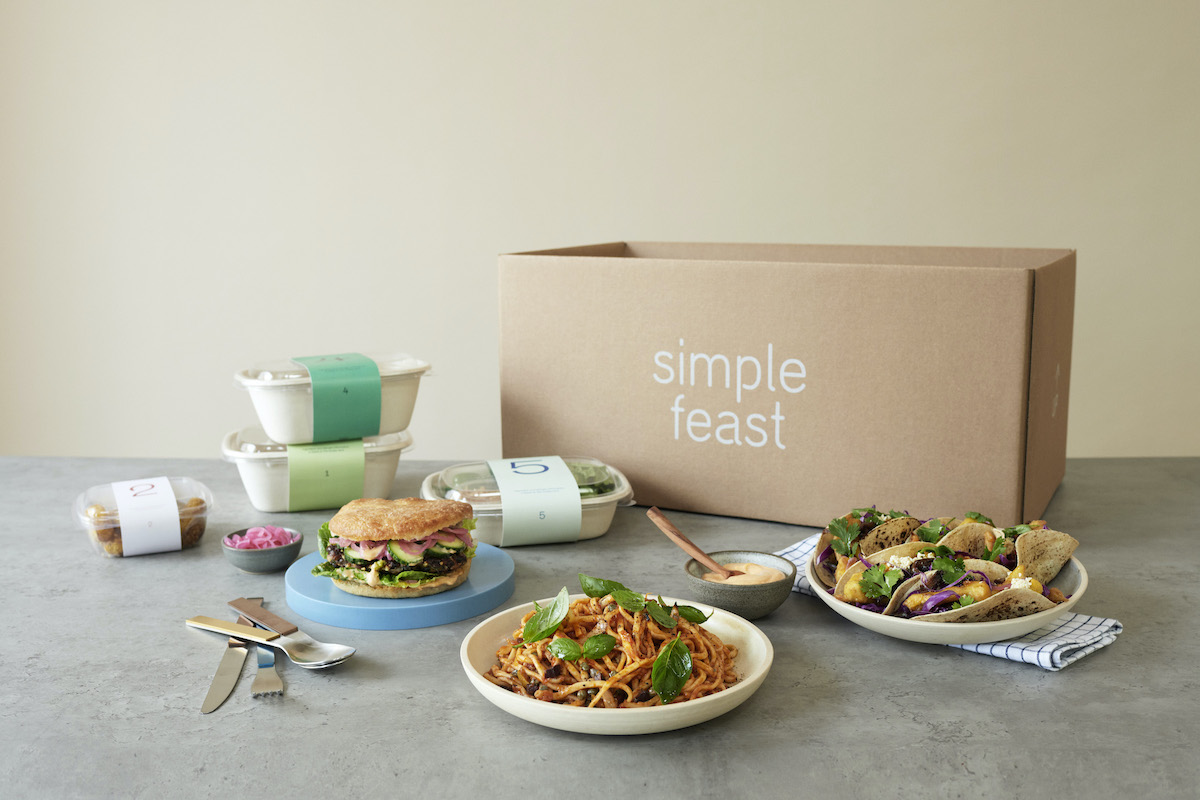 For a few nights earlier this year, Chez Kettmann was one of the best vegetarian restaurants in town. Night one was a Mediterranean theme, starring chickpea falafel — hand-rolled by my daughter — with a sesame-white-bean spread alongside a cucumber-tomato salad and roasted zucchini topped with crunchy dukkah, with tomato-chile paste as the kicker.
Night two shifted Asian: sweet and sour veggies on hearty soba noodles, with chili-garlic stir-fried green beans and bok choy coated in a garlic-sesame glaze. "I'm very impressed with this dish," said my wife of the piquant noodles, though my son craved the beans, and I most enjoyed the savory bok choy.
Then night three leaned Indian: chickpea tikka masala and black caraway-dressed quinoa, with lightly browned cauliflower and yellow squash slathered in herb butter. Like the other dishes, the spice was ample but not overwhelming (yet my kids are well-trained), the ingredients über-fresh, and the recipes easy enough to follow, though requiring a bit of technique. I had all four burners firing simultaneously for the soba meal and three going for the tikka masala, satisfying my chef urge without requiring the forethought needed to plan out such spreads.
That prep was handled by Simple Feast, which designed the menus, sourced the veggies and dry goods, crafted the sauces, packaged everything in numbered containers, and shipped them to my porch. The Copenhagen-based company was founded as a recipe app in 2014, shifted to selling meals three years later, and then also took Sweden by storm, now delivering nearly a quarter million meals per month to its Scandinavian fans. But it's brand-new to the United States, just sending its first meals to Southern California subscribers this past April, and now calls Santa Barbara as its American home.
Credit: Courtesy
"Everything we have in the boxes is developed by chefs," explained Anders Vald, the company's chief innovation officer, as we stood in Simple Feast's office/test kitchen on East Haley Street. Part of The Mill development, the headquarters are actually in the same space that was once the barbecue joint Wildwood Kitchen, and the irony of a plant-based operation taking over a smoked meat mecca isn't lost on anyone. "It's a little different," admitted a smiling Vald, whose team redesigned the interior into a sleek, streamlined space that they hope to show off with occasional pop-up dinners once the pandemic fizzles out.
As we chat, a trio of chefs led by Ciara Crivello tweaked new dishes in the kitchen, steps away from the grid of ideas that they've scribbled on a large whiteboard in what was once Wildwood's dining room. A majority of those creations eventually find their way into shipments, but there are a number of thresholds to get there.
---
Sign up to get Matt Kettmann's Full Belly Files, which serves up multiple courses of food & drink coverage every Friday, going off-menu from our regularly published content to deliver tasty nuggets of restaurant, recipe, and refreshment wisdom to your inbox.
---
"We cook like a customer would to make sure that the full user experience is on board with what we want to achieve," explained Crivello of their process. The chosen dishes must rely on ingredients that are 100 percent organic, grown by farms near to Simple Feast's distribution center in Oxnard, and can survive a shipment in the company's sustainable packaging, all of which is either reusable or biodegradable.
Such earth-minded ethics form the core of Simple Feast's mission. "We put up a lot of barriers for ourselves in the beginning," said Vald of those commitments. "We believe we can change something in the food system. The one thing everyone agrees on is that the more plants you eat, the better it is for you and for the planet."
But they didn't want to fall into the granola-or-bust stereotype either. "It's still a little stigmatized," said Vald of the vegetarian lifestyle. "We didn't want to be those people. We are family people who like good things and good food." That's why the company started with chefs who had worked in Michelin-starred restaurants, a fact they tout loudly.
As to the style of cuisine, it's quite varied, as evidenced in my meals or what was on the website last week, a mix of Mexican, Thai, Chinese, Italian, and Indian. In fact, Simple Feast was always inspired by California cuisine, which is to say globally minded but bringing regional produce to your table. Throw that in with the polished Nordic aesthetic, and out comes the moniker "CoCal," as in Copenhagen-California. Though CoCal hasn't caught on quite yet, there's potential there, especially with Simple Feast's ambitions leading the way.
The company is a much larger entity in Denmark and Sweden, where they also sell prepackaged meals such as Bolognese and tikka masala in grocery stores, as well as sauces, condiments, and fermented items. "That's the goal here too," said Vald. "From the beginning, we always wanted to be a global company."
COVID threw a slight screwball at their business model. "The competitive picture changed a lot," said Vald, referring to the rise in restaurants doing takeout and other delivery services that popped up. But Simple Feast gets the word out through advertising, across the digital and social media realms as well as on billboards and through the entertainment industry, which was an early adopter of the service.
For now, Simple Feast — whose three-meal shipments cost either $89 or $150 a week, depending on quantity — is delivering to Santa Barbara and Southern California, with plans to expand to the Bay Area early next year. In the meantime, there will be constant activity in their kitchen on East Haley, where the chefs are spinning out the latest pakoras, pot stickers, and pozole at a steady pace.
"We just want to do good food, that's what it's all about for us," said Vald. He's not even a vegetarian himself, and nor am I, but we both believe that Simple Feast should satisfy even meat-eaters. And the more of us who opt for veggies more of the time, the better our bodies and the planet will be. As Vald put it, "Let the plants be a larger part of the plate."
See simplefeast.com.