Opinion
Not Just a Pretty Face
The Journey to Discovery and Belief of a Drag Queen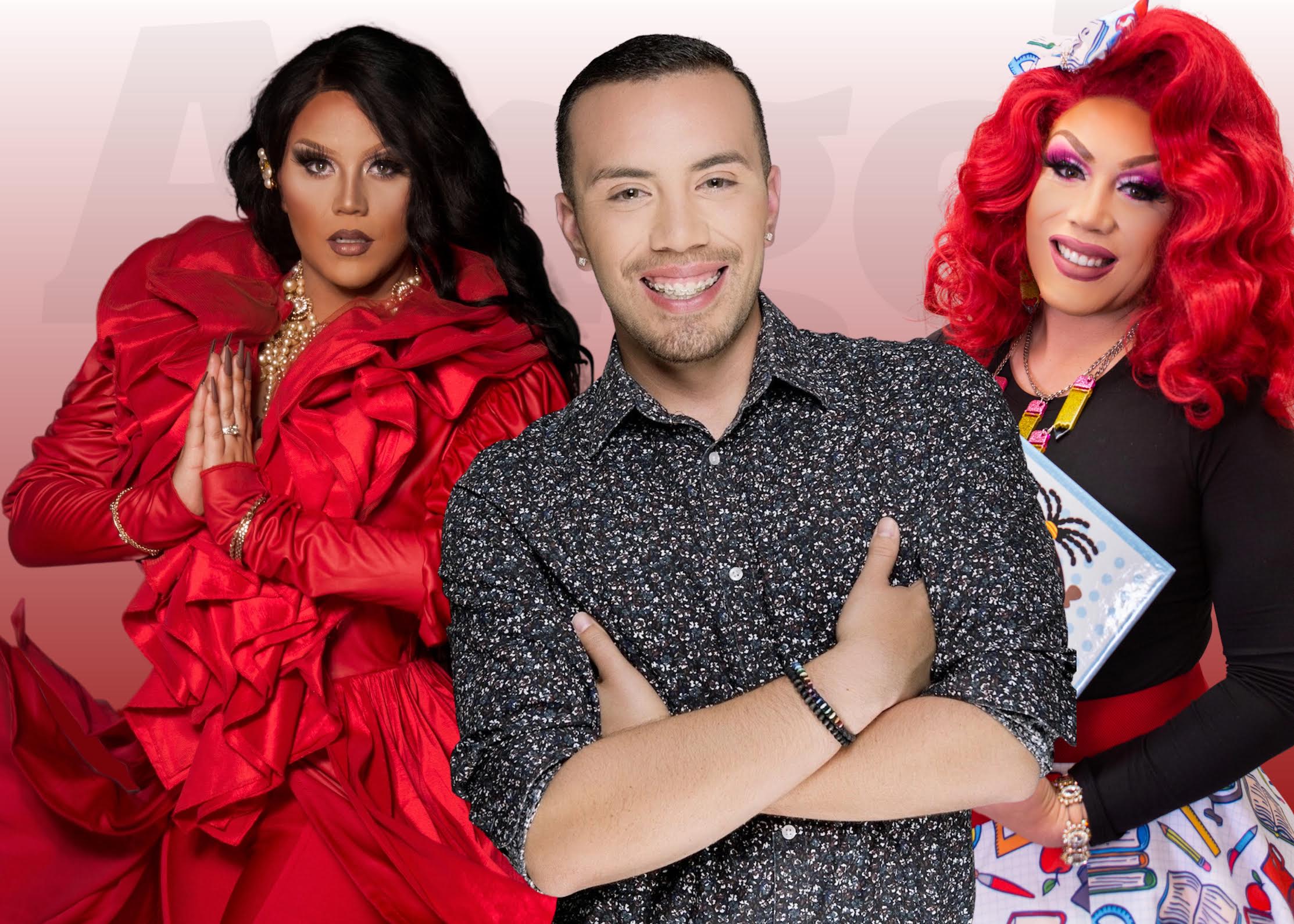 It takes hours to create the look and illusion of a drag queen, but it takes years to gather the cosmetics of life and the know-how to apply it. The lip gloss, eyeshadow, and mascara for the stage might say Revlon, L'Oréal, or Sephora, but the foundation comes from life. So, what's in a face?
Boys Don't Cry
Those three words were among the many chisels hammered by society and my environment to shape the boy who would become the man I was expected to be. There were other carving tools: "Get up; that didn't hurt," "Stop your crying," "Stop being a sissy," and "Only girls do that." The heteronormative world pounded and chipped at me daily.
The strikes against my psyche came with greater impact when delivered by the machismo battering of my Mexican culture. The separation of identities between men and women were well-defined and nonnegotiable. There was no place in the cultural gallery of gender for who I was. Unfiltered sensitivity and unrestrained self-expression were not features in the mold for "masculinity."
My parents did their best to raise me, but they were still raising themselves. Around my uncles, I had to "man up" and hide my feelings. Around my aunts, I was treated like a prince and groomed to be a gentleman who provided for women. Around everyone else, I had to be like everyone else.
Growing up a queer person in a Latinx community meant making a constant effort to conceal myself or face the added trauma of having more of me reduced to rubble. It was only when I was alone that the pounding of those expectations and demands let up. During those moments, I would search the ground of my life to retrieve the pieces of who I felt myself to be. Alone with my thoughts, I had to become my best friend and convince myself to have a dream of becoming the artist of my existence, which would one day end my nightmare of being sculpted away to nothingness.
Because You're Gay
Hearing a slur for the first time is like experiencing a broadside collision for your emotions. There is no airbag to protect you from injury, no roadside assistance to call for help, and no insurance to pay for repairs. Crossing the social intersections of adolescence, I had to constantly look both ways for oncoming insults, lane-changing in my blind spot, and head-on bullying. My peers were formed by the same Latinx community and Mexican culture that was shaping me. Their homophobia was taught as a "rules of the road," a safeguard for being "normal," but for me, it became the stigma that crash-tested my life. Being mocked and called names, before knowing why, led to me internalizing their negativity as my reality.
Living through my teen years with no role models, hormones raging, anger building, and sadness trailing close behind, navigating through life was a day-to-day struggle to avoid the hazards and not wreck myself. With no place to freely drive or safely park who I was, I had to learn to stay on the side streets of interactions and that conversational spaces were only temporary loading zones that came with a big fine for staying beyond the time on the meter of intolerance.
Choosing Me
Family has incredible significance in the Latinx community. Belonging to one means acting with obedient respect and blind allegiance to the dictates of la familia. This often meant suppressing and relegating my individuality in order to ensure my place among my people. Doing this created personal difficulties and forced me to make self-negating compromises to "feel" accepted.
Seeking "unconditional love" can be a hurtful and damaging prospect when people view you as having a "condition." Being queer often means living with the fear of rejection, and being exiled by people you share biology and surnames with can be terrifying and crippling. Even more, when the meaning of family also culturally means the community you exist in, the feeling of not belonging to anyone, anywhere, can lead to a level of alienation and depression that brings about self-destruction.
This is why most queer people, at some point in their lives, must make a choice between the value they need to give to themselves and the value being assigned to them by everyone else. My time came during my twenties, when taking care of myself meant making more decisions for myself. With those decisions came the desire to live as authentically as possible. To do that, I had to accept the risks of permanent losses within my family and my community — or otherwise permanently losing myself, the essence of who I am. But I had faith in making a commitment to myself, to believing that I was worthy of a full acceptance of my humanity. I felt doing so would make it possible for magical people to come into my life, and for magical things to happen for me, because nothing is more magical than living the truth of who you are.
I was right, and part of that magic was that no one in my family draped a hate cloak over me, tapped me with the phobia wand, and made me disappear. I have learned and have advised others that when forced to make a choice, always choose "You."
Discovering Angel
I have often been asked, "Would you go back and change anything in your life?" My response is always the same: "Absolutely … not."
Yes, there were some hard times and plenty of tears. I would have certainly preferred not having some of the difficulties and traumas I have experienced, but (cue Destiny's Child) I'm a survivor. My life experiences forced me to emerge from the world and culture I grew up in, and ultimately become the person I am today. That person is someone who now knows my worth and the essentiality of my happiness, and that both are properties of my life that I can and should determine. Part of that caterpillar-to-butterfly emergence was the discovery of "Angel." Without her, I don't think I could have arrived at the place of self I now live at. It might sound strange to refer to a drag persona as a separate entity or individual, especially when you consider that a drag persona is a self-made creation.
However, most people in drag culture will share with you that fully accepting themselves became the paradise shown to them by the self-invention of performing drag. This is my experience. Angel became the map reader I needed in the passenger seat to arrive at "Me." With her, fear no longer rules my sense of direction and worry no longer guzzles the gas of my courage. Angel has gotten me across the unpredictable landscape of self-discovery, and around the tricky turns of bias and bigotry, and over the steep mountains that led me to the peak of my humanity. In route, I picked up the souvenirs of character — the confidence, self-love, determination, and resolve to be me out on the open road of life, going where I want to go without apprehension or apology. Angel is who I needed in my life to arrive at happiness and to be able to model for other people their destination of joy.
My Intersections
Today, I am an educator, an activist, an author, and a fabulous drag queen. It took me 30 years to get there. I had a lot of miles to travel before arriving at my authenticity. It has been an incredibly liberating irony that through gender play, I was able to transform myself; it created an emotional opportunity and mental space to sit with my feelings and assess myself without guilt, fear, and the pressure of expectations.
I wish and hope that more people, regardless of the "why" of it, will take a similar journey to self. It isn't about getting off the beaten path or taking the road less traveled. It's about using the compass of your intuition to follow the direction of your truth. There's no place like it.
As I move on into the future, I want to help more children on their path of self-discovery with a greater representation of queer Latinx main characters in children's literature and social-emotional learning (SEL) curriculum. As a child, I needed this, I wanted a role model, and I longed to see myself and those like me in literature. Not having it made me invisible to myself and to the world around me. Today, the need for this is greater than it ever has been.
The banning of books, the hostile protesting of drag queen storytelling events, the violence against transgender people, and the legal attacks against the queer community are bringing this need to an existential level of awareness. I want to be involved in helping generations of children experience the feeling that comes from the freedom to be yourself and know that it is far more powerful than the feeling that comes from the fear of living with the judgment of others.
Carlos Mendez is a Latinx, LGBTQ multihyphenate from Santa Barbara. With a BA from California State University Channel Islands and a Master's in Education from Antioch University Santa Barbara, he recently developed a weeklong curriculum for the Chicago Public School System based on the children's books "The Skin You Live In" and "Mirror Face." Mendez is an award-winning K-1 educator in Ventura and pursuing his first children's book publication. When not in the classroom, Mendez has successfully cultivated and uses a performance drag persona, Angel D'Mon, to interact with children, their parents, caregivers, and teachers via the book-reading platforms Drag Queen Story Hour and Story Time with Miss Angel. Both platforms encourage children to look beyond gender stereotypes and embrace the unfettered exploration of self. Story Time with Miss Angel takes place once a month at The Crafter's Library, a queer-owned business in Santa Barbara. Angel promotes self-love through children's literature in hopes they will grow up being their true authentic selves.