Food
Black Sheep on the Move
S.B. Fav Lets its Francophile Flag Fly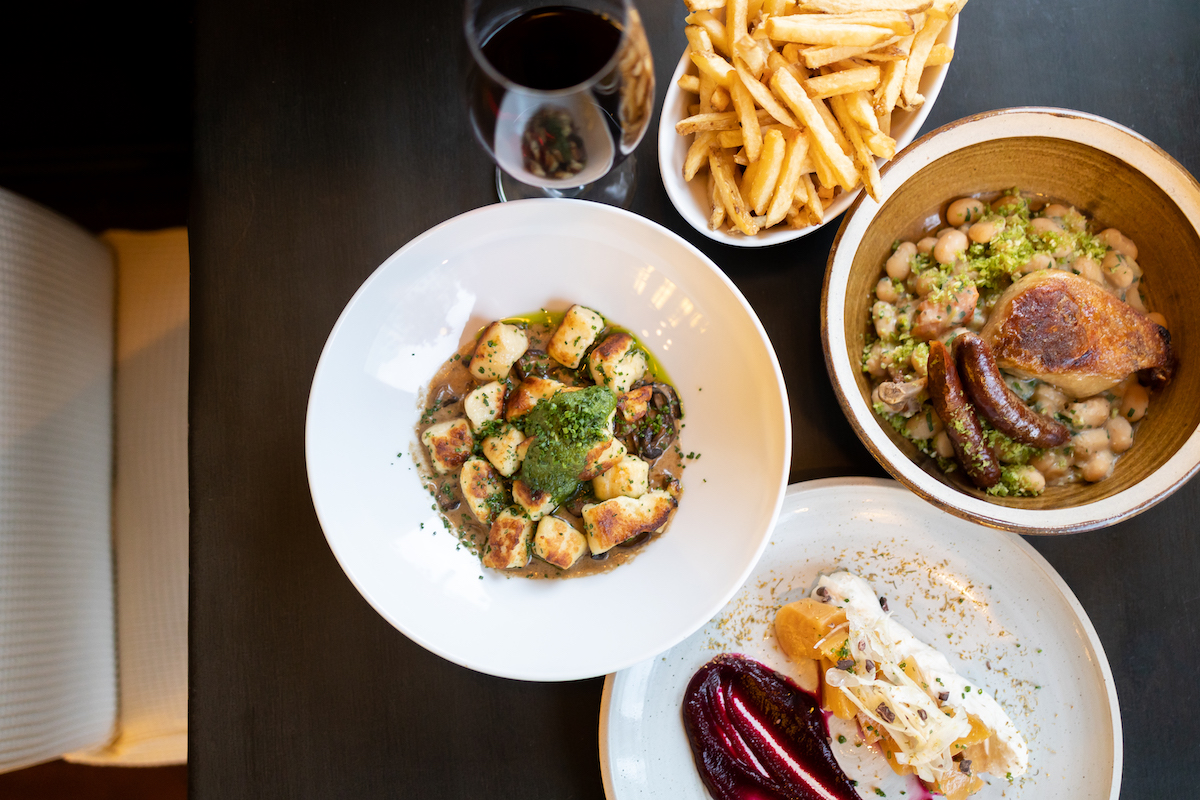 The Black Sheep is putting down French roots on Cota Street with the opening of The Black Sheep SB Brasserie. Home to the beloved Mousse Odile for almost two decades (circa 1980s and 90s), more recently the space was home to Venus in Furs, Rascals, and the Middle Child.
Post pandemic, after leaving their previous space on Ortega Street, the father-son team of head chef Robert Perez (father) and general manager Ruben Perez (son) was ready for a reinvention.
Meanwhile chef and co-owner Jake Reimer — who has a more than 30-year history of working with renowned chefs Remi Lavaund and Michael Otsuka and high end spots like the Bacara, Ojai Valley Inn, and Wine Cask — was also looking for new challenges and the right business partners. All three are eager to create a modern classic brassiere that captures the heart of Old Town Santa Barbara while also giving a gentle nod to Mousse Odile.
This is not the first time around the restaurant rodeo for any of the partners. When asked about lessons learned, Ruben Perez said, "I think the two biggest things for me are listening to the local community about what and how they want to dine and creating that atmosphere of casual but on-point service, great, elevated food but unstuffy."
He continued, "We really wanted to give something unique and organically spun with the feel and respect of Old Town Santa Barbara back to the locals. We felt with so many restaurants having absentee owners or from out of town lately that we could really deliver a unique special experience for everyone to join."
Asked to back up his claim about other restaurant owners, Ruben Perez said, "You can look into the hall of records perhaps, but we would estimate more than half of the restaurants in Santa Barbara alone are not owned by people who work the day to day in their establishments. We are not trying to call anyone out or wish anyone anything but success, our comment was to let everyone know we are here and working hard for a more personalized experience."
As to the vibe, think Parisian style pub with eclectic, elevated, from-scratch California cuisine in a modern classic design. An ever-changing farmers'-market-driven menu features classics and favorites such as Santa Barbara rock crab beignets, a bahn mi French dip, Channel Island ling cod bacalao with black truffle, and a 48-day dry aged bavette steak.
Also on the menu is a Chef's Table, where Reimer and other local guest chefs will put on a unique and memorable gastronomic experience he describes as "several courses cascading to the table with unique, thoughtful dishes presented from the chef in stylish fashion and matched with pours from our award-winning wine list featuring reserves from some of the best wine makers locally and abroad." The brasserie will also proudly offer three-, four-, or five-course plant-based experiences with vegan dishes such as Vadouvan roasted cauliflower tagine, homemade harissa & cashew dukkha, or celebrity squash soup.
Executive Pastry Chef Lele Miranda of Lele Patisserie also will be whipping up one-of-a-kind sweet creations such as a dark chocolate gateau with cappuccino genoise and hazelnut caramel and Mutsu apple tarte Tatin.
There's also an early dinner option served daily from 5-6 p.m., with a three-course tasting menu for $39.
The Black Sheep SB Brasserie, 18 E. Cota St., blacksheepsb.com
The Black Sheep dining area | Credit: Ingrid Bostrom

Cassoulet | Credit: Ingrid Bostrom

Hand-Rolled Ricotta Cavatelli | Credit: Ingrid Bostrom

Compressed Beet Salad | Credit: Ingrid Bostrom

Hand-Rolled Ricotta Cavatelli and Pommes Frites | Credit: Ingrid Bostrom

Creekstone Farms Filet Tartar | Credit: Ingrid Bostrom

Creekstone Farms Filet Tartar | Credit: Ingrid Bostrom

Ruben Perez, Co-Owner & Manager | Credit: Ingrid Bostrom

The Black Sheep decor | Credit: Ingrid Bostrom

The Black Sheep decor | Credit: Ingrid Bostrom

The Black Sheep staircase | Credit: Ingrid Bostrom

The Black Sheep bar | Credit: Ingrid Bostrom

The Black Sheep decor | Credit: Ingrid Bostrom