Birding
Bird Brains
Something to Crow About in Santa Barbara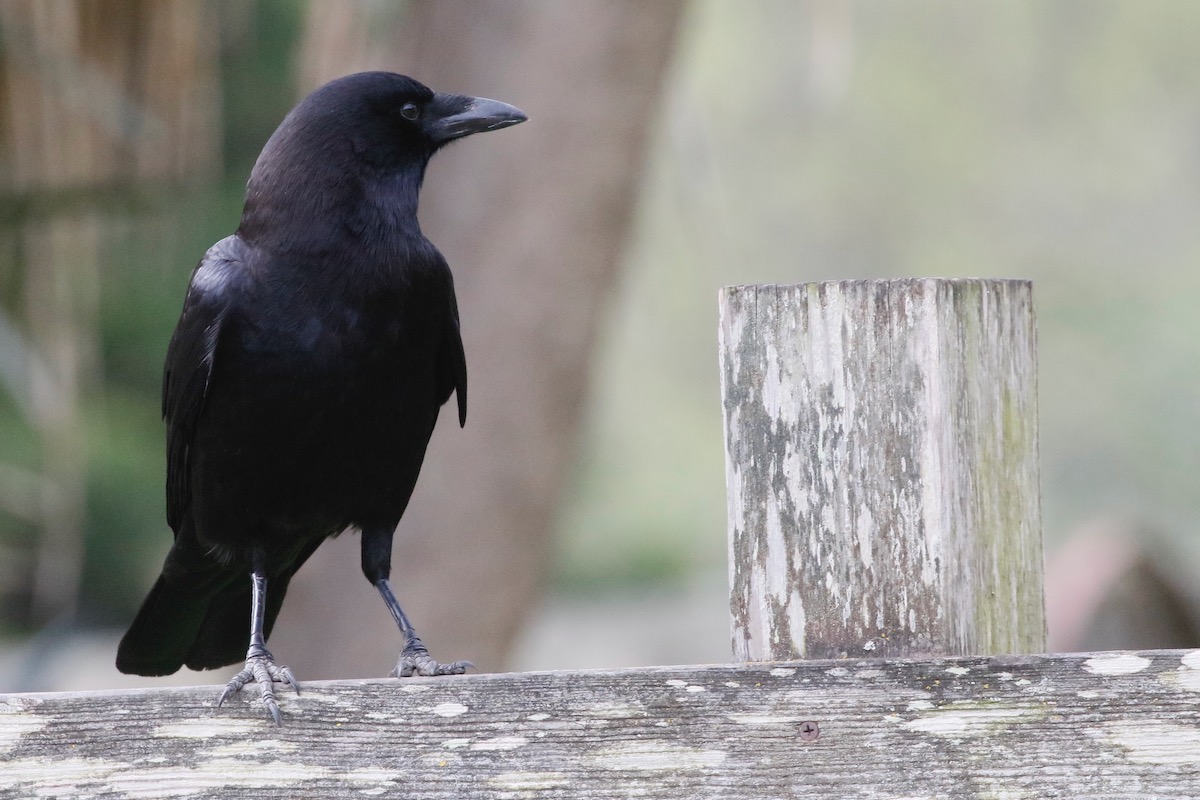 Do we have crows or ravens in Santa Barbara? The short answer is: both. The flocks of black birds you see flying around town, though, are always American crows. In our county, ravens rarely form large flocks and are more often seen singly or in pairs. Ravens are more birds of the wild, of the mountains. Ravens are considerably bigger than crows, weighing in at more than twice as much. The raven has a deep, gruff voice while the crow's calls are much higher in pitch. If you get a close look at a raven, you'll see that its beak is enormous, a formidable weapon. They are both fascinating birds with a wealth of folklore behind them, and they are some of the smartest creatures on the planet.
A few years ago I watched an American crow flying over my house carrying a walnut. It dropped the nut, and I assumed it was aiming for a hard surface on which to break the shell. But before the walnut reached the ground, the crow folded its wings, and in an elegant swoop and with incredible coordination, caught the prize in its bill. I assumed the bird had thought better about where the nut was going to fall, but much to my surprise, the crow circled around and repeated the procedure, dropping the walnut from a considerable height, and successfully diving after it. It repeated this feat twice more, before two other crows took an interest in the performance and chased off the acrobat.
What was going on? Whatever it was doing it certainly looked a lot of fun. And then I realized that was it — the bird must have been feeling a sense of exhilaration in its mastery of the air. I think crows know how to have fun. I'm often asked why crows will chase hawks, and I used to answer something along the lines that they want to get a dangerous bird out of their territory. There might be something to that, of course, but after watching crows spend up to ten minutes dive bombing a circling red-tailed hawk, I think a likelier explanation is that they do it because they can and it's enjoyable, like a bunch of smart kids singling out a bully for some special treatment.
Crows are in a family of birds known as the corvids, a group that also contains ravens, magpies, and jays. Corvids are thought to be the world's smartest birds, surpassing most primates in problem solving abilities. You've probably heard of, or perhaps have even seen, crows dropping walnuts onto roads so that when a car runs over the shell the bird can then retrieve the nutmeat. They have even been known to drop nuts into crosswalks, only going to gather their food when the pedestrian light comes on. I frequently see crows hopping about in the roadway, but rarely do you see a dead crow on the road — they always seem hyper aware of their surroundings.
In the Aesop fable "The Crow and the Pitcher," a crow drops stones in a pitcher of water in order to raise the level high enough for it to take a drink. Scientists recently tried the experiment with a rook, a European corvid, to see if the fable held any truth. The rook was placed in a room with a pile of pebbles and a narrow jar containing both water and a worm, the latter just out of reach of the bird's bill. The rook immediately got to work, choosing the largest pebbles first and dropping them into the jar, until the water had risen high enough for it to grab the worm.
The New Caledonian crow is thought to be one of the smartest corvids. They've been observed taking pliable twigs and bending them into hooks in order to reach food hidden in a log that a straight stick wouldn't reach. This species has been seen planning ahead. In an experiment, the bird was given a stick that was too short to retrieve food that was just out of reach; the bird used the stick to retrieve a longer stick with which it was able to procure the food.
If any of the above piques your curiosity, the next program of the Santa Barbara Audubon Society is for you. Dr. Kaeli Swift, who earned her PhD in avian ecology from the University of Washington with a special emphasis on American crows and their behavior around death, will present Something to Crow About: Stories and Biology of Crows, Ravens, Jays, and Magpies. This program will be via Zoom on Wednesday, March 22 at 7:30 p.m. Here's the link with more information: https://santabarbaraaudubon.org/events/program-2022-03-22/

If you can't make it, the recording will be available on the SBAS website through April 12.