Visual Arts
'Ephemera in Form' at Elverhoj Museum of History & Art in Solvang
Trash and Treasures Take on New Manifestations and Meanings in the Work of 19 Artists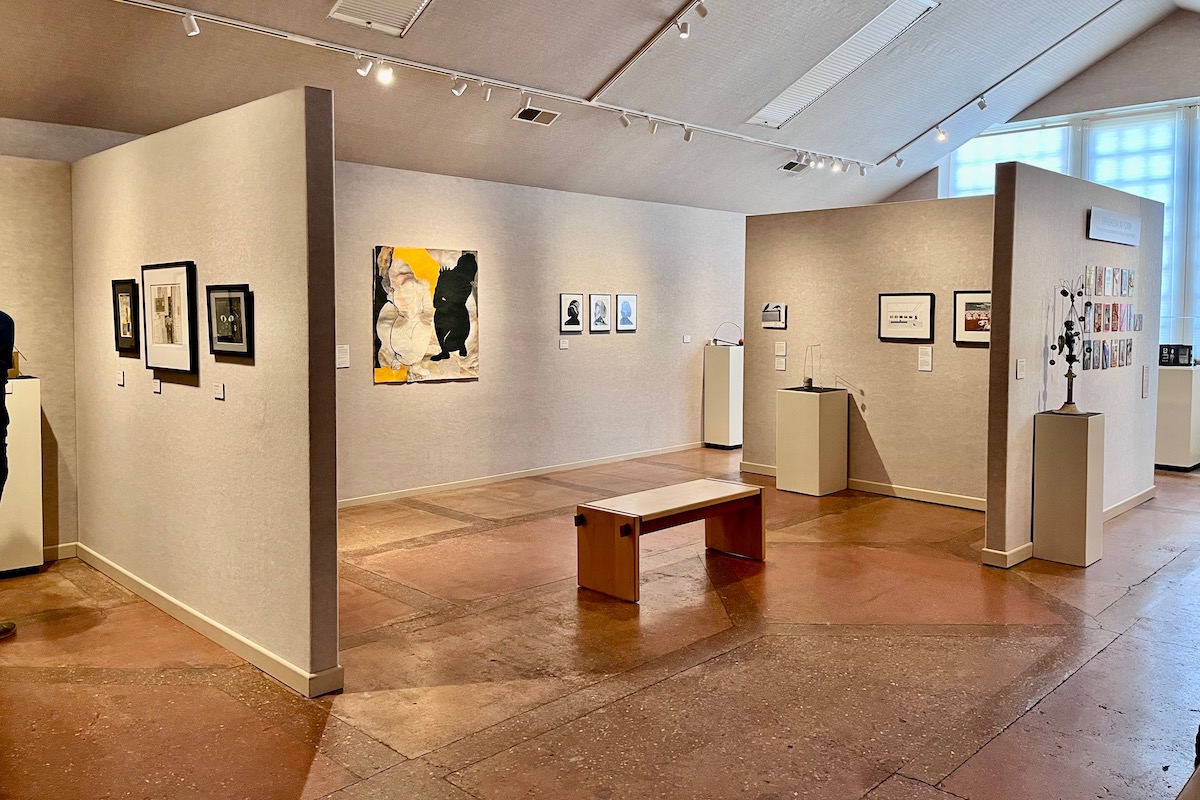 Contemporary artists continue to discover creative new ways to use the seemingly limitless supply of media, found objects, and mixed materials to create something wholly new, which is the topic explored in Ephemera in Form, currently on view at the charming Elverhoj Museum of History & Art in Solvang. The exhibition invited 19 artists — most of whose work will be familiar to those who follow the art originating in our region — to show off their uniquely individual approaches to fine artmaking from the objects and detritus of everyday life.
The continually fertile mind of poet, painter, and collage artist Mary Heebner is on elegant display with two larger pieces in the exhibition, both of which take inspiration from antiquities. In this case, the work was inspired by a marble sculpture of a Crouching Aphrodite, that Heebner first encountered at The British Museum in London and has been playing with for decades, according to her artist statement. Both "Speak to Your Shadow No 3," a flat handmade paper collage of Japanese and rag papers, graphite, pigments, graphite and wax tissue; and "Speak to Your Shadow No 2," a hanging mobile, two-sided diptych collage of handmade, pulp-painted paper cut out and embellished with collage graphite and colored pencils, honor the classic female form of the Greek goddess of sexual love and beauty with a clearly contemporary mindset and materials borrowed from her earlier works.
Where Heebner turns to Aphrodite for inspiration, Dan Levin rolls his attentions to his lifelong passion for skateboards, which show up in two of his nostalgia-invoking works in the exhibition: "Old Old School," which transforms a traditional wood board into a possibly amphibious sailboat/skateboard, and "Rod," which features a souped-up board with shiny naugahyde upholstery and mag wheels.
Literally toying with the notion of time through the use of clock parts, an ancient bell and toy monkeys, is the whimsically thought provoking "Monkeying Around," by accomplished assemblage artist Marcelino Jimenez, who I remember as a talented educator from Art From Scrap years ago. Other work which caught my eye was a pair of "Dream Boxes" from Michael E. Long of The Rondo fame, and an assemblage piece "Falling Into a Dream" from Dug Uyesaka. 
In addition to the individual works from each of the 19 invited artists — Georganne Alex, R. Anthony Askew, Paige Bridges, Annie Guillemette, Mary Heebner, Angela V. Holland, Sukey Hughes, Marcelino Jimenez, Dan Levin, Michael E. Long, Penny Mast McCall, Susan Owens, Tara Patrick, Linda Pearl, Marcia Rickard, Dug Uyesaka, Sue Van Horsen, Siu Zimmerman, and Pamela Zwehl-Burke — one of the most striking images on view is a grid of very small original collages on illustration board, selling for just $150 each and created specifically for the exhibition.
On Saturday, March 18 at 4 p.m., Elverhøj Museum of History and Art (1624 Elverhoy Way, Solvang, elverhoj.org) will host an "illustrated" Conversation with Artist Mary Heebner and her mentor, William Dole, as well as introduce a new series of Heebner's works called "Cut-Ups," inspired by Greco-Roman floor tiles. Admission is free.
The museum is open to the public Thursday-Monday, 11 a.m. – 5 p.m.